Josh Barnett went 2-6 and hit a home run, sparking the Santa Fe Fuego (27-29) to an 8-5 victory over the Trinidad Triggers (32-26) on Saturday at Central Park.

He singled in the second inning and homered in the fifth inning.

Frank Florio did his best to jumpstart the offense for the Trinidad Triggers, reaching base four times. He also drove in one runner. He doubled in the seventh inning and singled in the fifth and ninth innings.

Brian Hicks improved to 2-0 on the year by picking up the win for the Santa Fe Fuego. He allowed one run over one inning. Hicks struck out none, walked one and gave up two hits.

John Sullivan was charged with his second loss of the year. He lasted just one-third of an inning, walked two, struck out none, and allowed three runs.

" />




The Trinidad Triggers outdone by Barnett and the Santa Fe Fuego 8-5
---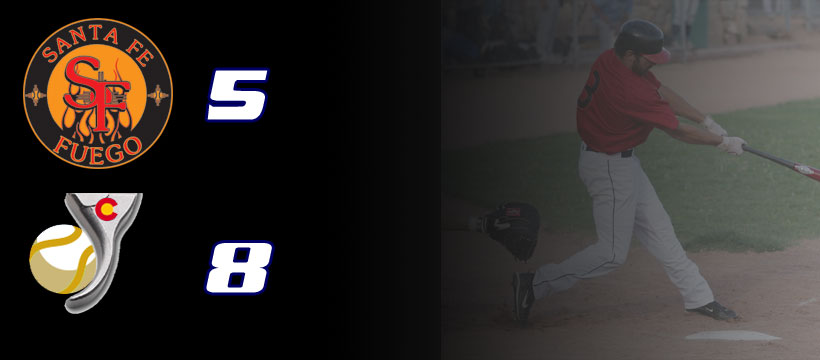 7/14/2013-
Josh Barnett went 2-6 and hit a home run, sparking the Santa Fe Fuego (27-29) to an 8-5 victory over the Trinidad Triggers (32-26) on Saturday at Central Park.
He singled in the second inning and homered in the fifth inning.
Frank Florio did his best to jumpstart the offense for the Trinidad Triggers, reaching base four times. He also drove in one runner. He doubled in the seventh inning and singled in the fifth and ninth innings.
Brian Hicks improved to 2-0 on the year by picking up the win for the Santa Fe Fuego. He allowed one run over one inning. Hicks struck out none, walked one and gave up two hits.
John Sullivan was charged with his second loss of the year. He lasted just one-third of an inning, walked two, struck out none, and allowed three runs.