Pupfish explode in eighth to take rain-shortened victory
---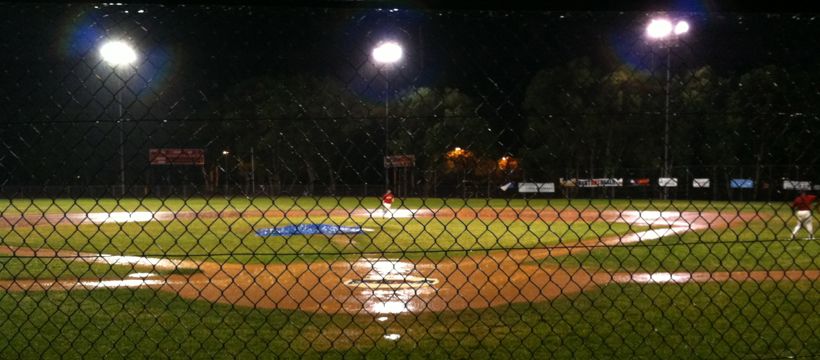 6/14/2013- The rains came down late Thursday, forcing the White Sands/Santa Fe game to end after only eight innings. (Photo by Phil Grondin)

By Karen Boehler
Pecos League writer

SANTA FE — Rain stopped the game between White Sands and Santa Fe for about 30 minutes between the fourth and fifth innings, and forced it to end after eight after it began coming down again. But nothing could stop the Pupfish as they put up nine runs in the eighth to break open what had been a competitive game but somewhat sloppy between the Fuego and 'Fish, winning 16-11.

"We got our ass kicked," said an understandable frustrated Santa Fe manager Bill Moore. "You can put that in the newspaper. Our bullpen gave up nine runs in the top of the eighth inning."

Santa Fe seemed to have control early, but couldn't hold on for the final outs, and the early lead meant nothing to Moore.

"Obviously we didn't play well enough to win at any point," he said.

White Sands went up 3-0 in the first when J.J. Costantino walked; Christian Ramirez doubled; Costantino scored on the second out then George Ban homered.

But the Fuego put up two runs of their own on on singles by Josh Barnett and Devonte Odums, a bases-loading walk to Jimmy Maxwell and a 2 RBI single by Kellen Lee.

Santa Fe added a trio of runs in the third when Barnett doubled and scored on a wild pitch; Maxwell walked; and Lee homered. THe Fuego made it 6-3 in the fourth when Bryson Sims walked and came in on a wild pitch and Barnett single, then the rains came and the game was put on hold.

When it resumed, the Pupfish came back with three runs — scoring when Jerry Gonzales singled, Chris Anklam walked; and, after Costantino scored on a putout, Ramirez homered. But the Fuego answered right back, scoring two on a Zimmerman single and Lee's second home run of the game.

White Sands cut the lead to 8-6 in the sixth when Chris DeBiasi singled and pinch runner Steven Rogers came in on a walk and singles by Gonzales and Jacob Anderson.

Reliever Nick Alexander kept Santa Fe scoreless in the bottom of the inning, and MIke Londino did the same to the Pupfish in the seventh. Then the Fuego added three runs in the bottom of the stanza — scoring on singles by Zimmerman, Mansell, William Smalls, Charlie Calamia, and Sims, and a fielder's choice off Justin Mauldin — and the game seemed to be going Santa Fe's way.

But the sky fell in both literally and figuratively in the eighth, as neither Nick Huff nor Charlie Hejny could stop White Sands, but neither could the fielders, as they committed five errors, making only one of the nine runs earned.

There were three hit batters, a walk, a passed ball and wild pitch, and singles by Leacox(2), Mike Mendoza, Ramirez and Steven Rogers before the carnage finally came to an end.

Then, despite getting two runners on base on walks off Brian Hobbs, the Fuego couldn't bring anyone across, and the game was mercifully over early because of the rain.

Moore said starter Jon Sintes "threw OK. He threw well enough to win the baseball game," but called the loss a team effort. "We got our ass kicked. We. We. We is the key word. I don't like to point fingers. I can't say this guy lost. This guy won. It's a team game and we didn't play very well."

The Fuego will try to stop their six-game losing skid Friday when they again face the Pupfish at 6:05 p.m. at Fort Marcy Park.
---
For more information visit Pecos League of Professional Baseball Clubs LLC. http://www.PecosLeague.com 575-680-2212