Invaders make it seven straight with 17-5 victory over Osos
---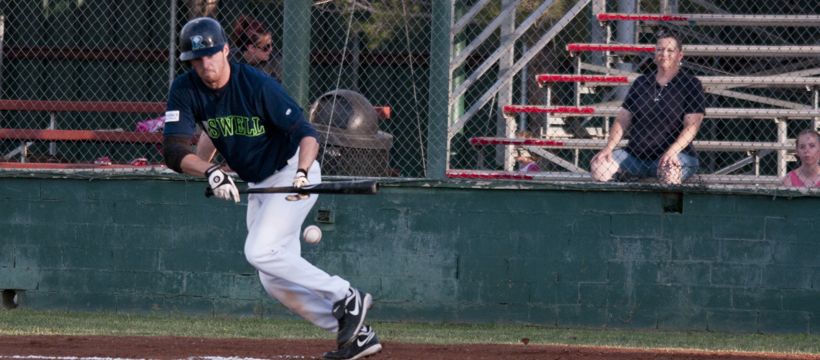 6/14/2013- Ryan Normoyle has been on fire the last five games. Overall, he's hitting .371, but in just the last week, he's 15-for-26, with six home runs, four doubles, 14 runs and 18 RBI. (Photo by Robert Bailey)

By Karen Boehler
Pecos League writer

ROSWELL — The Invaders continued their torrid pace Thursday, getting their seventh-straight victory with a 17-5 win over Raton. But despite the fact Oso manager Ray Hancock said Wednesday night that his squad had no pitching left, starter Will Casey didn't do too badly.

"It wasn't too bad, but Roswell is just better," the manager said. "Bottom line is, you just can't keep putting numbers up there every inning and not expect to lose. You just can't keep giving runs every inning and think we have a chance. It's impossible. The good part is we did hit. We got 11 hits."

While the Invaders had 19, and capitalized on most of those.

"They've always been a good hitting team," said Roswell manager Chris Ebright of Raton. "Heck, they got 11 hit tonight and you know, the situations they needed to get hits at they either hit it right at our guys or a pitcher finally made a good pitch. I tell you what. They get a couple more arms, because I know they're short on them, they're going to beat some people."

Through four innings, the Osos stayed with the No. 1 team.

After Roswell went up 4-0 in the bottom of the first — scoring when Ryan Normoyle singled, Andrew Deeds was hit, Vincent Mejia singled and Mike McCarthy homered — and one in the second when Reggie Taylor singled, stole second and came home on a Deeds single — the Osos battled back.

They closed the gap to 5-3 in the fourth when Zach Kreegar walked; Louie Saenz singled; Westley Jones hit a sacrifice fly; Matt Lynch walked and Nicholas Hinojo and Casey each singled.

Roswell added one in the bottom of the stanza on Normoyle's ninth home run of the year, and three in the fifth when Goose Kallunki walked, Roger Bernal singled, Taylor tripled and Chad Kruse singled.

Normoyle continued his hot hitting — he was 3-for-6 with three runs and 2 RBI — but said he isn't doing anything differently.

"I'm just seeing the ball better," the left fielder said. "I guess it just took a little time to make an adjustment, but I guess I've done that."

The home run, Ebright said, was the real deal. "This is a regular sized ball park and he hit it to opposite field over the 380 sign, so when you're on, you're on. We're just going to keep riding it and good for him. His hard work's paying off. He shows up early every single day and hits. I"m happy for him."

"I was just looking for one pitch, Normoyle said. "I was looking for a fastball and I got it. Luckily I made contact and hit it out."

Raton added one more run in the sixth when Jones singled, Hinojo walked and pinch hitter Travis Fuquay hit an RBI single, then Oso reliever Derek Sampell set Roswell down 1-2-3 in the bottom of the inning.

The seven was when things finally got away from the Osos, as the Invaders scored sin runs on five hits — four singles and a grand slam home run by Mejia, his second of the season.

"(I was) just looking for something high," Mejias said of the shot. "I saw (Sampell) when he was warming up. He was elevating his curve ball so that's exactly what I was sitting on. Sure enough, he threw me one and I took advantage of it."

Roswell got their last two runs in the eighth when Kallunki doubled, Bernal singled and both scored on the only Raton error of the night, putting Normoyle at first.

And the top of the ninth showed why it won't take much for the Osos to be successful, as they added one more run on a Stedman Smith double and Vince Smalelli single, then loaded the bases and left them that way, unable to get the timely hits.

"Just about every inning we left two or three (runners), which is killing us," Hancock said. "I told them before the game started we had to start taking more pitches, because especially last night, their pitcher had a couple of innings where he only threw like six pitches. That's crazy. We've got to take more pitchers, which I think it actually helped us tonight. But even so, we had one error out of all that. Our defense was a good as we could get and our offense is actually pretty good. We got 11 hits off of Roswell, which is a very good team."

"They're going to hit and their hitting keeps them in games," Ebright said. "We just got lucky tonight in where their 11 hits, they didn't get them in situations they needed them.

"We struck the last guy out and Dakota (Laufenberg), he battled. He's coming around. He's still not there yet, but he's coming around."

The one bright spot for the Osos is a trade with Santa Fe that sends them Larry Rodriguez, not only a solid starting pitcher but an infielder and hitter as well.

"I'm not really sure where we'll put him in the rotation just yet, because I haven't talked to him, but I'm sure he'll be an asset if he doesn't have any problems," Hancock said, noting he should join the team Friday.

(He'll) make a difference," Ebright said. "Definitely. He's going to be one of their starters and he adds another hitter to their lineup. He can easily add two to four hits a night to their lineup."

Whether or not Rodriguez plays, the teams square off again Friday at 7 p.m. at Joe Bauman Field.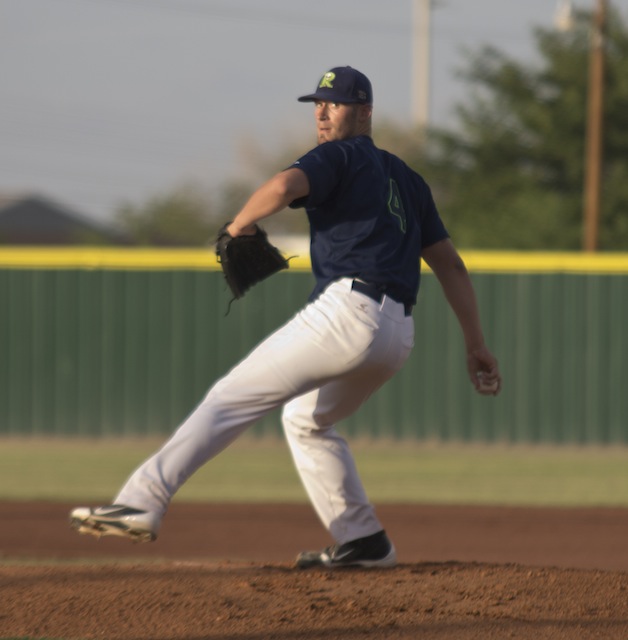 ---
Jacob Cook allowed only three runs on seven hits against the solid hitting Osos. (Photo by Robert Bailey)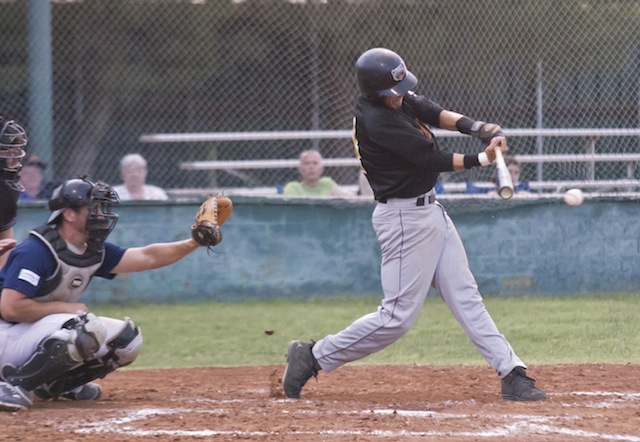 ---
Jacob Cook allowed only three runs on seven hits against the solid hitting Osos. (Photo by Robert Bailey)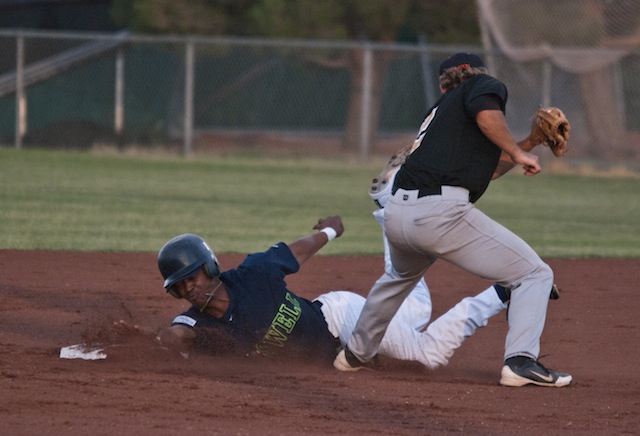 ---
Jacob Cook allowed only three runs on seven hits against the solid hitting Osos. (Photo by Robert Bailey)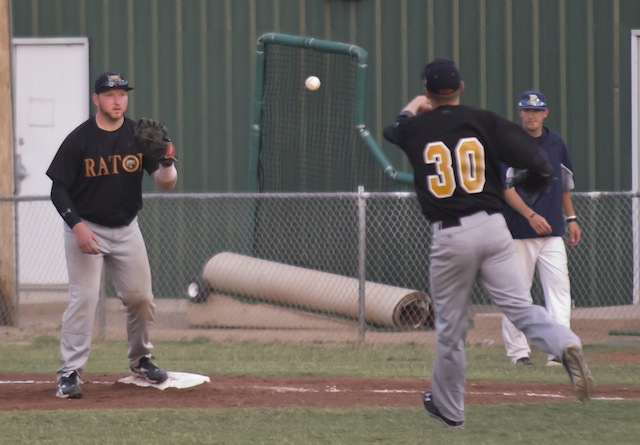 ---
Jacob Cook allowed only three runs on seven hits against the solid hitting Osos. (Photo by Robert Bailey)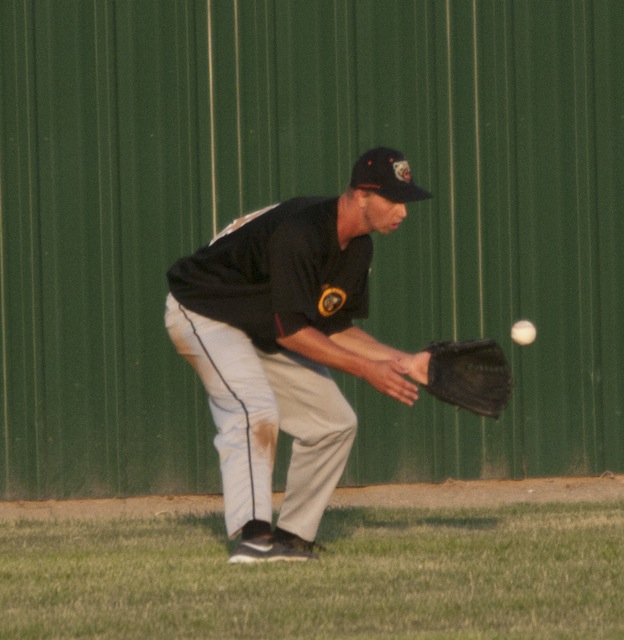 ---
Jacob Cook allowed only three runs on seven hits against the solid hitting Osos. (Photo by Robert Bailey)

---
For more information visit Pecos League of Professional Baseball Clubs LLC.
http://www.PecosLeague.com
575-680-2212