Lambe strong on mound, Invaders get solid hits
---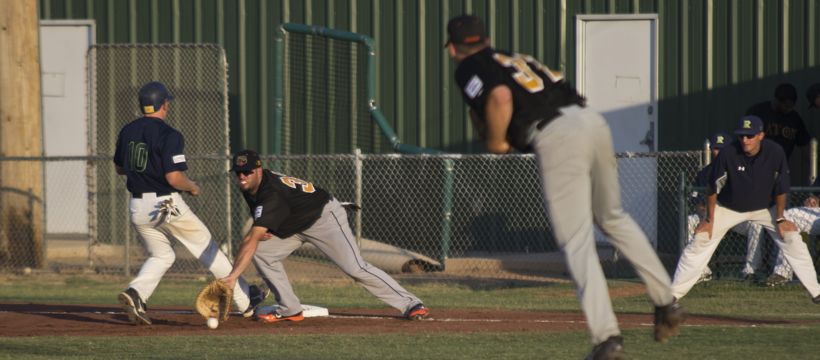 6/13/2013- Chad Kruse gets back to first ahead of the ball as Michael Lange makes the grab. (Photo by Robert Bailey)

By Karen Boehler
Pecos League writer

ROSWELL — After getting home from Santa Fe in the wee hours of the morning Tuesday, the Invaders were a little slow to get started against Raton Tuesday night. But once they did, there was no stopping the Roswell juggernaut as they won 16-1.

"We got back about two in the morning from Santa Fe, and we told them to stay off their feet today and we kind of showed and go today," said Invader manager Chris Ebright. "And it kind of showed that we were tired the first three innings, but then we came around. We woke up a little bit."

For Raton, the problem was slightly different than what they've seen in the past few games. While starting pitcher TIm Sylvester came out and threw well, the defense faltered.

"He did good," Oso manager Ray Hancock said of Sylvester. "We let him down as we had a couple of errors that were very bad. Very bad. They were at a bad time. He gave me everything he had but we failed him in the infield. Just couldn't pick up a couple of little grounders and throw it. Then we come back to the pitching again. Just start giving up hits. You give up four, five hits every inning, it just kills you. Roswell played a good game. They did everything they had to do. They did it right, we didn't."

Both Sylvester and Raton starter Eric Lambe did well through the first two innings, but while Lambe only gave up one run through eighth innings — a solo home run by Zach Kreegar in the fourth — the Oso errors started adding up in the third.

Chad Kruse walked, then Ryan Normoyle, Vincent Mejia, Mike McCarthy and Charles Dubanoski each singled, scoring three runs.

Roswell plated another trio of runs in the fourth, scoring when Kruse was hit, Normoyle doubled and Andrew Deeds tripled, scoring two. Camron Powers came in and got all three outs, but Deeds scored on one of those outs.

The fifth inning was the biggest for the Invaders, as they scored five runs on four hits and another Raton error. After Powers gave up four runs on three singles, a wild pitch, hit batter and error, Jared Rolan gave up a final single to McCarthy, making it 11-1.

Trinidad added one in the sixth when Reggie Taylor doubled and came home on a Normoyle single, then, after a scoreless seventh, added a final four in the eighth.

Taylor walked, Cruse was hit, Normoyle hit an RBI single and Mejia and McCarthy each singled, bringing in the final runs.

Lambe, meanwhile, only allowed six hits through eight and Casey Jacobson, a new Invader addition, wrapped up the ninth.

Great outing by (Lambe)," Ebright said. "Today was an all around good day."


Continuing an all-around great week was Normoyle, who was 5-for-5 with four runs and 3 RBI.

"Ryan Normoyle, he's doing great and we're going to keep with him until this thing slows down a little bit," Ebright said. "He's been really seeing the ball lately. We've had a few other guys coming around too."

Wednesday, that included McCarthy, 3-for-5, 4 RBI; Mejia 2-for-4, two runs, 4 RBI; and Bernal, 2-for-5, one run.

Travis Fuquay was the only Oso with multiple hits, going 2-for-4.

Even though there were a few new faces on the mound for Raton, they didn't help much.

"Absolutely. We got a couple of new arms, they just didn't help," Hancock said. (Commissioner Andrew) Dunn's supposedly bringing me a couple of new arms; hopefully we'll get a combination here that we can stop somebody. This is starting to wear on me, I know that. It's wearing on my players."

And the fact his squad was playing the No. 1 team didn't matter to Hancock.

"I don't care. Still got to make the small plays," he said. "Bottom line is, you've got to make the plays. I don't care who you're playing. If you don't play small ball or don't play ball at all, then you just don't have a chance."

The two teams face off again Thursday at 7 p.m.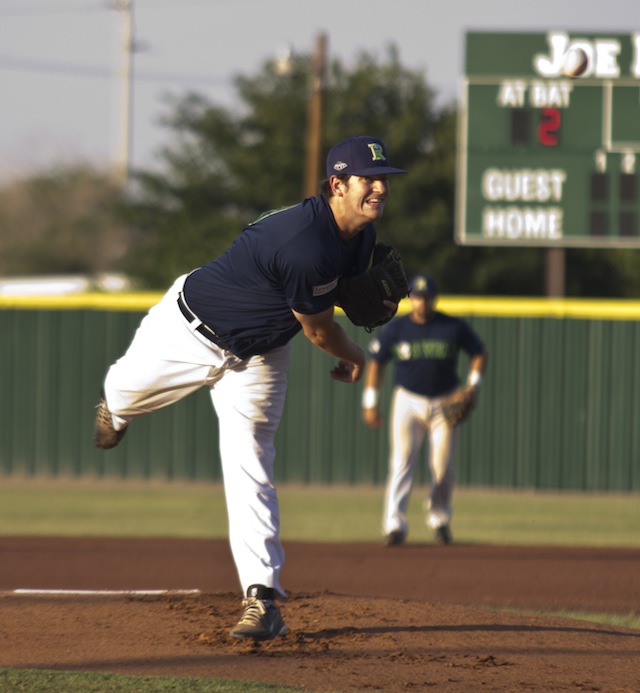 ---
Eric Lambe allowed only one run and six hits in eight complete Wednesday. (Photo by Robert Bailey)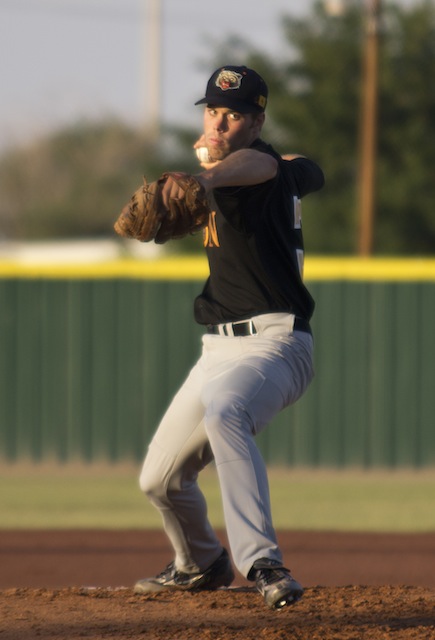 ---
Tim Sylvester shut the Invaders down through two innings, but was betrayed by his defense in the third. (Photo by Robert Bailey)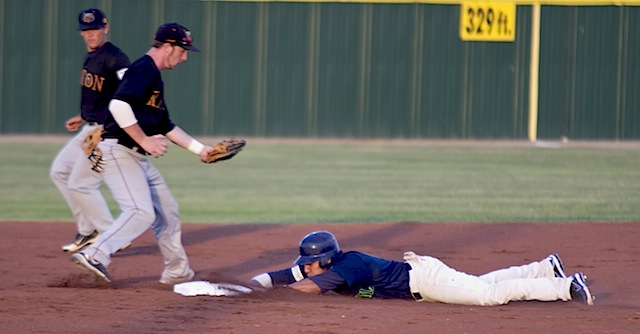 ---
Roger Bernal steals second. (Photo by Robert Bailey)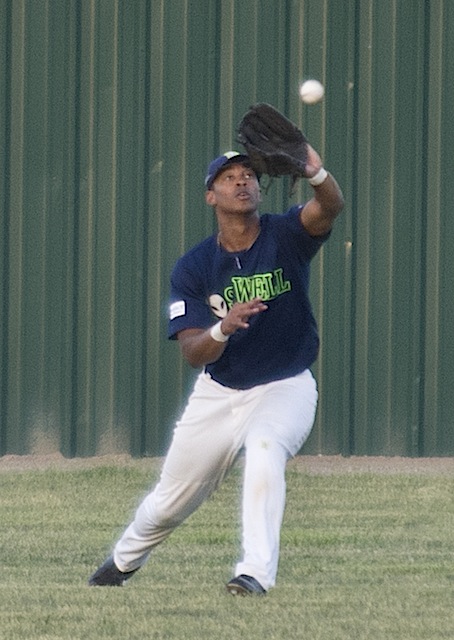 ---
Reggie Taylor makes the catch in right. (Photo by Robert Bailey)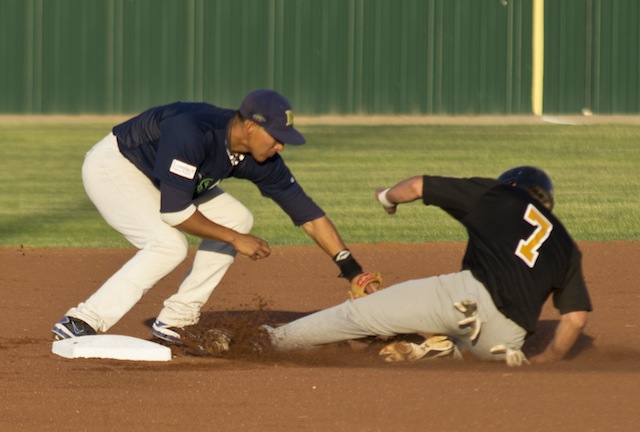 ---
Roger Bernal catches Travis Fuquay as he tries to steal second. (Photo by Robert Bailey)
---
For more information visit Pecos League of Professional Baseball Clubs LLC.
http://www.PecosLeague.com
575-680-2212