Raton comeback vs. Trinidad just misses in 16-15 slugfest
---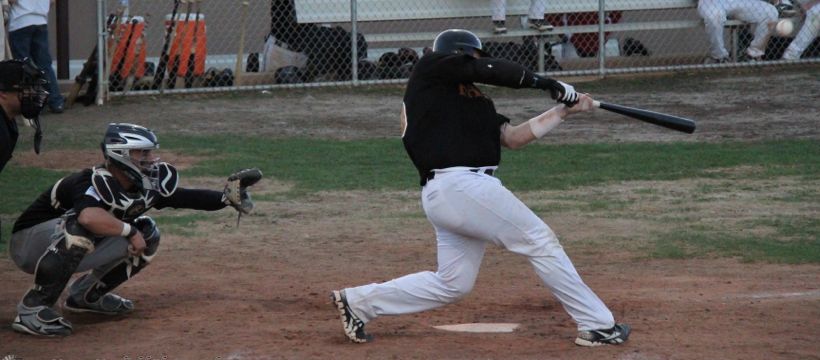 6/12/2013- Zack Kreeger does it again, this time for a 2-run homer to tie the game for the Osos.(Photo by Marty Mayfield)

By Karen Boehler
Pecos League writer

RATON — The losing manager in Tuesday's hit-fest between the Triggers and Osos — a 16-15 finale that Trinidad manager J.D. Droddy called "a typical Pecos League pitcher's duel" — was actually a bit happier than the winner.

Expect, again, for pitching, Raton manager Ray Hancock sounded OK with what he saw.

"Played a really good game tonight, but as usual our starting pitching let us down big time," he said. "We were seven runs in the hole before we even got started, which put a big damper on everything. But my players did well. We had three home runs. I"m very happy with my defense. Vey happy with my hitting."

"Our pitching didn't hold up too well tonight, frankly," Droddy said. "This was not our finest hour, quite frankly. But we did hit and kept hitting and finally brought Benji (Waite) in to put out the fire at the very end and we squeaked out a one runner. But it counts as one on the win side, so that's all that matters."

With 31 combined runs and 32 total hits, there was a lot of scoring going on. The Triggers opened up with that seven-run first inning, sending 11 batters to the plate and driving starter Freezy Smalls from the game with only one out. The Trigger runs came on a three-run home run by Sam DiMatteo; a 3-RBI double by Andrew Azzopardi and an RBI triple by Matt Hunt.

Raton came back in the bottom of the home stanza with a solo home run by Ryan Barban, and slowly worked their way back.

It was 7-2 after two; 9-5 after three and 9-7 after four. Errors and sloppy pitching on both sides scored the runs in those innings. Raton came back to tie in the bottom of the fifth on a two-run homer by Zach Kreegar — scoring Barban, who singled earlier — but Trinidad came back with a big sixth, making it 14-9 on home runs by Wink Nolan and Frank Florio, and a 2-RBI single by Jason Venya.

A Nolan single, error and Florio single made it 15-9 after seven, then Trinidad got its final run in the eighth on a Venya single, two wild pitches and balk.

But Raton — which never says die — came back with five in the bottom of the stanza.

The first two runs came on a Travis Fuquay double and Michael Lange home run, with the last three coming on an Aaron Carman single, a walk, Matt Lynch and Westley Jones singles, a fielder's choice and a passed ball.

That cut the lead to 16-9 going into the ninth, and while Jesse Meier set Trinidad down 1-2-3, all the Osos could manage was a lone run on an error, fielder's choice and wild pitch.

"My players don't quit," Hancock said of the oh-so-close loss. "That's the one thing about us. We don't quit. If we just had the arms I feel like we'd be as competitive as anybody."

And, those arms may be coming.

"(Pecos League commissioner Andrew) Dunn did give me a couple of pitchers, which I think are going to help us," the manager said. "I did have a couple of relievers come in, which really did make a difference. We kept the game close. We got beat 16-15, but we had to fight for everything we got."

Just about everyone who played — except the pitchers — got at least one hit, with Venya 2-for-3 with three uns and 2 BI; Matt Goldy 3-fo-5 with two runs; Florio 4-for-6, two uns, 4 BI; and Nolan 4-for-6, three uns, 2 RBI. For Raton, Lange was 3-for-5, two runs, 3 RBI; Carman 2-for-4, three runs, 1 RBI; Fuquay 2-for-5, two runs; and Barban 2-for-5, two runs and RBI.

It won't get any easier for the Osos, as they head back south to once again face No. 1 overall Raton. Trinidad, meanwhile, has a six-game — two home, two on the road, then two back home — series vs. Las Vegas which could determine who's on top of the northern division.,

"It's a big, big series," Droddy said. "One of the things that's been going on with us the last couple of days it I've been trying to save ammunition for Vegas, because I didn't want to use guys. So I probably let them get closer than they should, but we came out of it so we should be fairly-well set to go against them."

Dylan Porter and Chris Tuttle will square off against Edison Alvarez and Atsushi Hebisawa in the opening two games.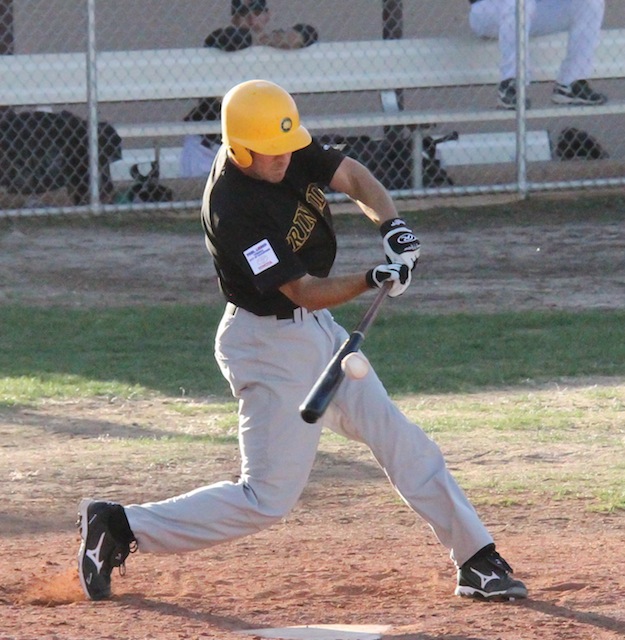 ---
Trigger Wink Nolan makes contact for a foul ball, one of three fouls before planting one deep for a stand up double and two runs in. (Photo by Marty Mayfield)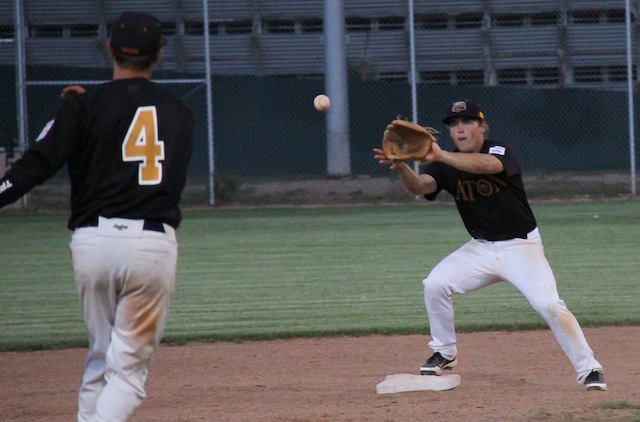 ---
The start of another double play goes from shortstop Travis Fuquay to second baseman Ryan Barbon. (Photo by Marty Mayfield)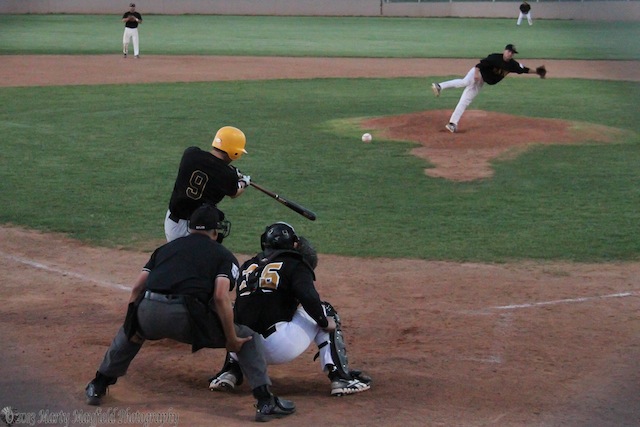 ---
Wink Nolan turns around and slams one over the fence and a starts a five run rally for the Triggers. (Photo by Marty Mayfield)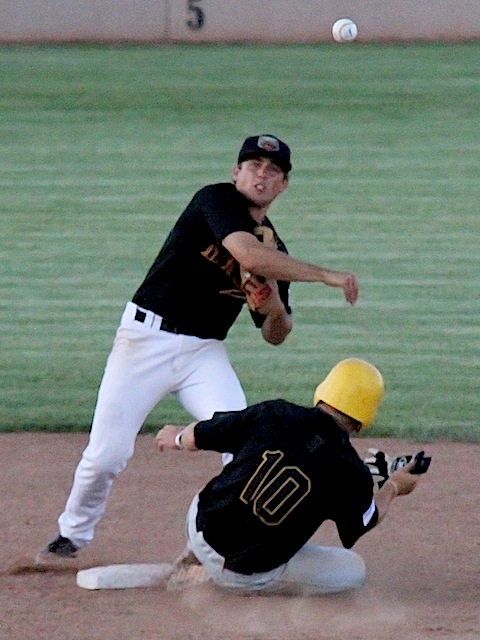 ---
Ryan Barban makes the play at second and throws to first for the double play as Trigger Mike Goldy slides. (Photo by Marty Mayfield)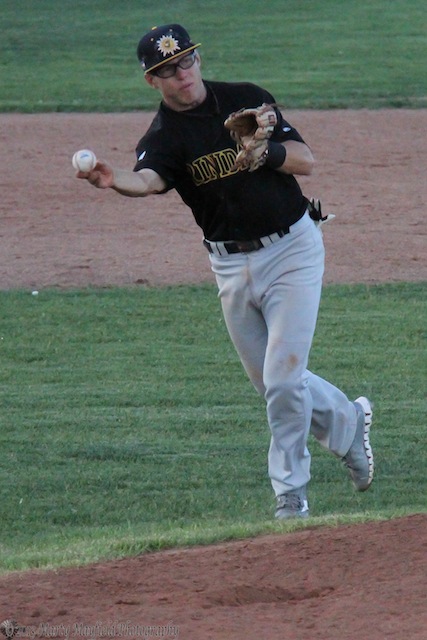 ---
Mike Goldy fields the ball just past the pitching mound and throws to first. (Photo by Marty Mayfield)
---
For more information visit Pecos League of Professional Baseball Clubs LLC.
http://www.PecosLeague.com
575-680-2212