Roswell 10-runs Santa Fe
---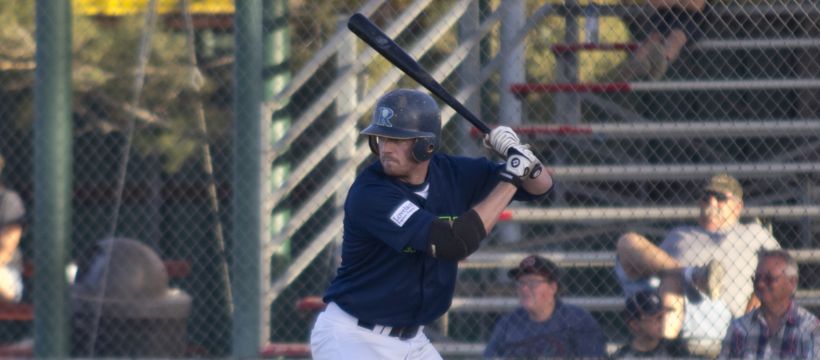 6/11/2013- Ryan Normoyle has had strong two games vs. Santa Fe. Sunday, he hit three home runs. Monday he added another and a double,


By Karen Boehler
Pecos League writer

SANTA FE — Nothing much changed in Fort Marcy Park Monday as Roswell downed Santa Fe 14-4 for the Invader's third victory in a row over the Fuego.

The Roswell runs started early and didn't let up, while Invader pitcher Ed Kohout had a strong 5.2 innings, giving up only two runs on five hits before surrendering the mound to Ryan Richardson, who gave up the final two runs, only one earned, before Jesus Carlos closed out the ninth.

One difference from the night before is that there were only two home run in the hitter friendly park, but that didn't matter much as the other hits added up.

With two outs in the first Roger Bernal walked and scored on a Vincent Mejia single. Mejia scored on a Mike McCarthy double, and the Invaders were off and running.

They made it 5-0 in the second when Kohout walked and came in on a Reggie Taylor double — Taylor was out trying to stretch the hit — then Chad Kruse doubled and Ryan Normal hit his fourth home run in two days.

Andrew Deeds, Kohout and Taylor all singled for one more run in the third, then the Fuego finally got on the board in the bottom of the stanza when Kellen Lee — who's been on fire — singled and came around on two outs and an Eric Scott single.

Roswell made it 8-1 in the fifth on Deeds, Kohout and Chad Kruse singles and an RBI double by Normoyle. They added one more in the sixth off Charlie McCready — in for Kevin Camacho — when Mejia singled, advanced on a pair of outs and scored on a Deeds single.

The Fuego cut the margin by one in the bottom of the inning when Jimmy Maxwell doubled and came in on a Kyle Zimmerman single that sent Kohout to the showers, then both relievers had a quick seventh before both teams started hitting again in the eighth.

Against Charlie Hejny, Mejia walked, McCarthy singled; Daniel Baptista doubled then McCarthy scored on a put out and Baptista on a Taylor single. After Richardson got the first Santa Fe out, Barnett singled and stole second, Larry Rodriguez doubled, Zimmerman walked and Even Mansell got an RBI single.

The Invaders added a final two runs in the top of the ninth on only the second home run of the game — Bernal walked and Mejisa brought him in — then Carlos faced only three batters in the bottom of the ninth, giving up a single but striking out three.

The Invaders amassed 25 hits against Santa Fe, with pitcher Kohout 3-for-3 with two runs scored. Taylor was 3-for-4, 2 RBI; Mejia 3-for-4, four runs, 2 RBI; Kruse 4-for-6, one run and RBI; Deeds 4-for-6, two runs and an RBI; Normoyle 2-for-5, one run, 3 RBI; McCarthy 3-for-6, one run and RBI; and Baptista 2-for-6, one run and RBI.

The Invader pitchers held the Fuego to nine hits, with Zimmerman 2-for-3 with an RBI and Scott 2-for-4, 1 RBI.

The teams wrap up the series Tuesday at 6 p.m. at Fort Marcy.

Neither manager left comments on the game.
---
For more information visit Pecos League of Professional Baseball Clubs LLC. http://www.PecosLeague.com 575-680-2212