Trinidad bats sizzle in victory over Raton
---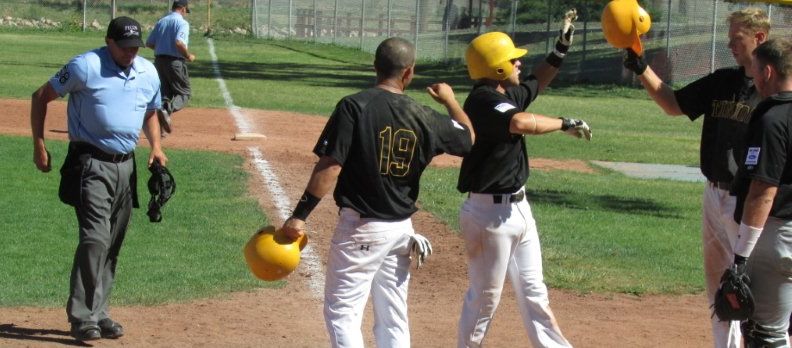 6/10/2013- Mike Goldy gets congratulations after hitting a home run. (Photo by Kim Schultz)

By Karen Boehler
Pecos League writer

TRINIDAD, Colo. — It was not a pretty night in Trinidad if you were a Raton fan. Maybe not even a Trinidad fan, said Trigger manager J.D. Doddy of his team's 23-5 crushing of the cross-border rival Osos.

"it wasn't that much fun," Droddy said. "You might think it might be fun to be on the winning side, but it really wasn't that much fun. It was just one of those things that happened. They didn't have the pitching to stop our hitting."

For one, two, maybe even three innings, the game was fairly close.

Raton went up 1-0 in the top of the first when Vincent Smarelli reached on a fielder's choice and came home on a Michael Lange single.

Trinidad didn't score until the bottom of the second when they took a 2-1 lead on a walk to Frank Florio and doubles by Mike Goldy and Will Leonard.

A Jacob Fabry single, Florio double and Goldy single made it 3-1 in the third, then Florio made it 4-1 two outs later on a bases-loaded walk. But things started getting out of hand in the fourth as the Triggers scored four runs each in the fourth, fifth, sixth and seventh innings, and three in the eighth.

Raton's offense never gave up — and neither did the defense, which had zero errors — adding one run in the fifth when Ryan Barban and Smarrelli each double; two in the seventh on an error and Lange home run; and a final run in the ninth when Lange singled, advanced to third on the throw and came home on a wild pitch.

Every non-pitcher starter for Trinidad had at least one hit, led by Florio, 6-for-6 with six runs and 5 RBI; Goldy, 6-for-7, four runs, 7 RBI; Fabry 3-for-4, four runs; and Serritella, 3-for-4, 2 RBI.

Oso starter Mason Caldwell didn't do too badly, giving up six run on six hits, but he was pulled after three, and that's when the damage started. Raton manager Ray Hancock even put in two position players to pitch — Matt Lynch and Adam Ziegler both saw time on the mound — to try to find someone to get the outs.

"We don't do anything to try to run up the scoring, but you can't tell our guys to go up and strike out. They're going to do what they're going to do," Droddy said, notining the Osos were solid at the plate and in the field. "They just didn't have anybody who could keep us from hitting the ball."

And Droddy was happy with his starter, Chris Shaklee, who went seven, giving up four runs on seven hits.

"Chris Shaklee pitched very well today," Droddy said. "And his velocity stayed up the whole game. He did a great job. And had the game been close and tough, he could have been the difference."

Raton will try to regroup while Trinidad will hope it still has some firepower left when the two teams meet again Monday at Central Park in Trinidad.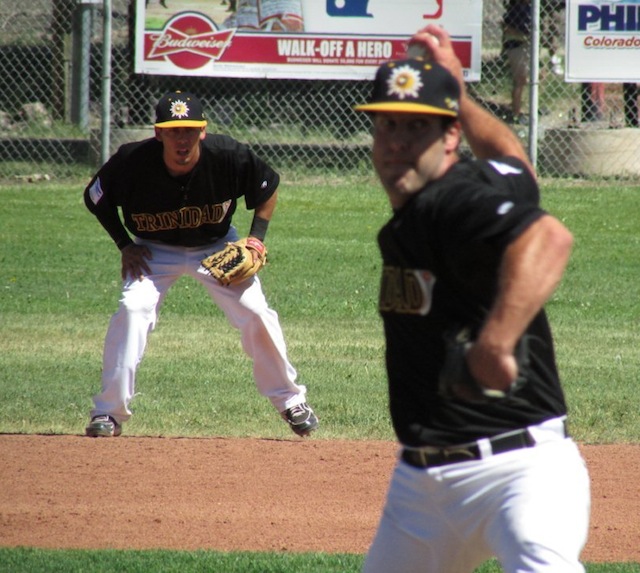 ---
Second baseman Jason Veyna watches as stater Chris Shaklee throws. (Photo by Kim Schultz)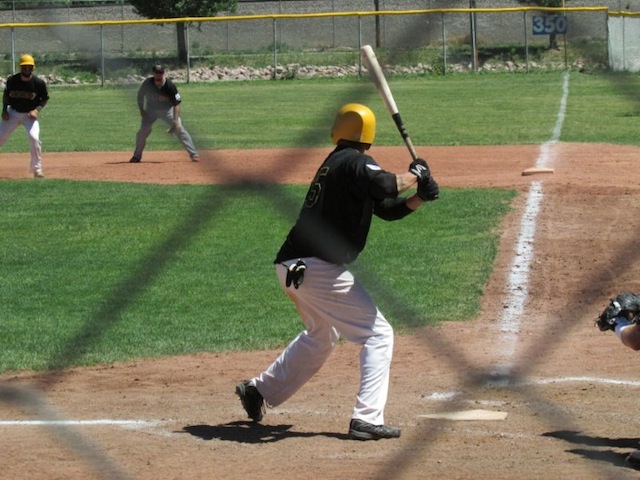 ---
Bryce Miller gets a single. (Photo by Kim Schultz)

---
For more information visit Pecos League of Professional Baseball Clubs LLC.
http://www.PecosLeague.com
575-680-2212