Triggers come from behind once again
---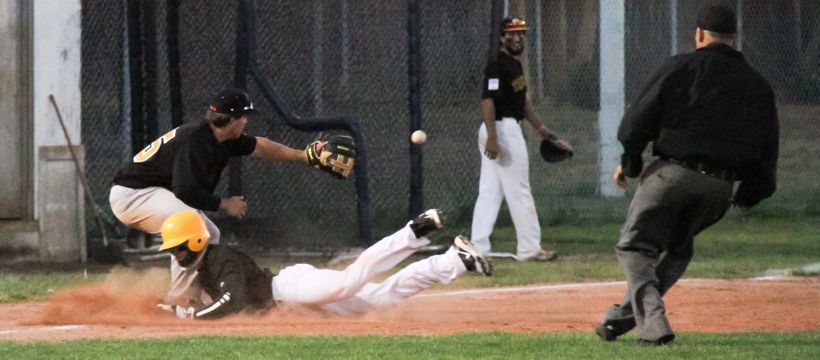 6/9/2013- Jacob Fabry slides in safe at third as the ball comes in from left field Saturday night in Trinidad. (Photo by Marty Mayfield)

By Karen Boehler
Pecos League writer

TRINIDAD, Colo. — It was a close game between Trinidad and Raton at Central Park Saturday night, but once again, the Triggers struck from behind for the 9-6 victory.

"I told the guys, it's just another routine come-from-behind win for the Triggers," said Trinidad manager J.D. Droddy. "That's how we play. If we can't get to your starting pitching we'll get to your relievers. Their starting pitcher did a heck of a job. He struck out 10 guys. Did a great job, but as soon as they took him out, we started pounding on them a little bit."

Osos manager Ray Hancock said almost exactly the same thing.

"We played a great game tonight. Starting pitcher went seven innings. Will Casey gave everything he had. We just could not help him out of the bullpen. The bullpen just gave up a couple of three hits. Loaded the bases. Brought another reliever in and he gave up a double that cleared the bases. We just couldn't get it going. There were no errors. Nine or 10 hits. The ballgame really should have been ours. Just don't have the pitching to close out the games, bottom line."

Raton drew first blood, getting one run off singles by Stedman Smith, Michael Lange and Zach Kreegar in the first. The Triggers took the lead in the bottom of the stanza on back-to-back home runs by Jacob Fabry and Sam DiMatteo, then went up 3-1 in the third on a Matt Hunt double and Fabry single.

But the starters got through the next few innings unscathed until the top of the sixth, when the Osos put up four runs to take a 5-3 lead.

With two outs, Kreegar hit a solo home run. Louie Saenz tripled and came home on a Nicholas Hinojo single. A single by Casey, a hit batter and a Smith single plated four runs for Raton.

But in the seventh, after Casey gave up a one-out single to Andrew Azzopardi, Logan Morelloi gave up a Bryce Miller single; Jesse Meier did the same to Matt Hunt; and Brian DelRosso gave up a 3-RBI double to Fabry, a DiMatteo triple and a wild pitch that scored DiMatteo.

Trinidad was back on top, 8-5.

Both teams put one run on the board in the eighth. Cody Langham scored on an error and Wesley Jones double while Miller homered for Trinidad to keep the difference three runs. Zach Leitten set the Osos down 1-2-3 in the ninth to earn the save.

The only errors in the game were from Trinidad, showing how much Raton has improved defensively since early in the season, and, Hancock said, "My hitting is about as good as anybody's, but I just can't keep giving up home runs and stuff like that. I can't defend against the home run."

Besides geting the win, Droddy described the game as "sort of a storybook night" for two of his players.

Fabry's family was in the stands, and he just missed hitting for the cycle, but still got on base four times with a walk, single, double and home run. Miller's wife and little girl were there, and he came in to pinch hit in the seventh.

"I put him in to pinch hit, and he gets a hit and an RBI, so I left him in at second, and the next time he came up he hit a bomb," Droddy said. "He turned and waved at his little girl as he was coming in. It was a real sweet moment. One of the umpires said, 'I got all goose-bumpy when he waved at that little girl.'"

It may not be another storybook night Sunday, but the two teams will face off again with Hancock hoping his pitching can hold up, and Droddy knowing his team can always come from behind.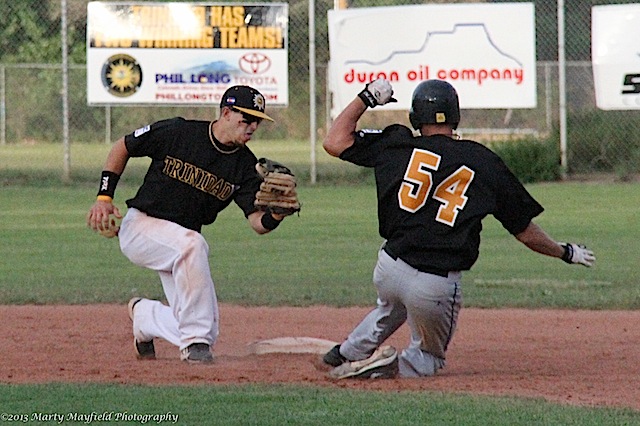 ---
Matt Hunt makes the play at second base Saturday night in Trinidad as Westly Jones slides in. (Photo by Marty Mayfield)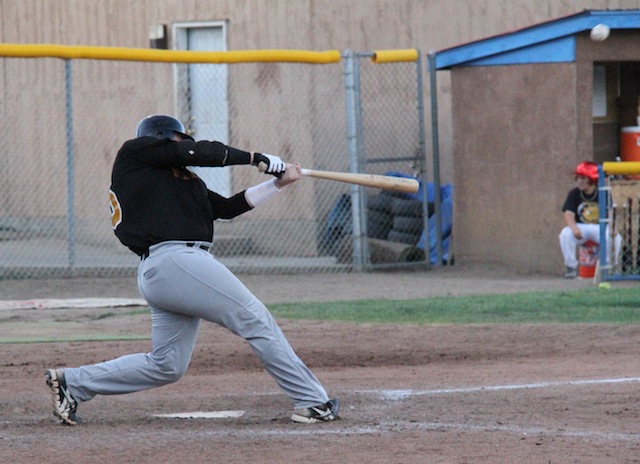 ---
Matt Hunt makes the play at second base Saturday night in Trinidad as Westly Jones slides in. (Photo by Marty Mayfield)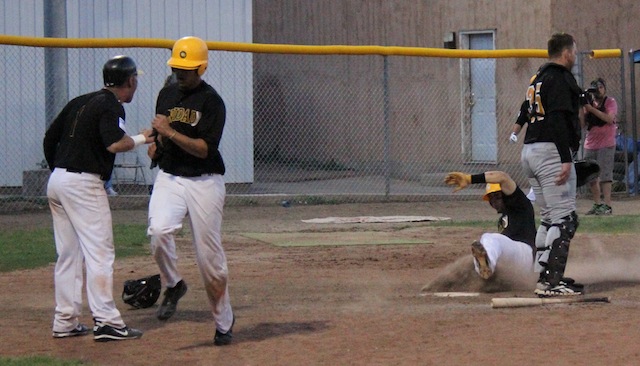 ---
Matt Hunt makes the play at second base Saturday night in Trinidad as Westly Jones slides in. (Photo by Marty Mayfield)

---
For more information visit Pecos League of Professional Baseball Clubs LLC.
http://www.PecosLeague.com
575-680-2212