Cowboys top Pupfish in error-filled game
---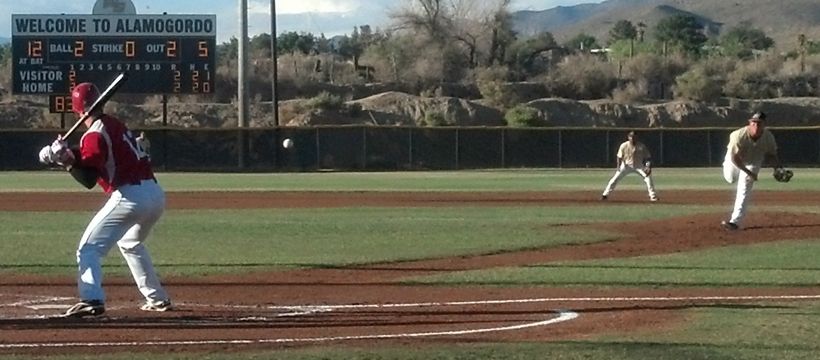 6/6/2013- Tyler Rost waits for the pitch from Eric Zagone. (Photo by Josh Szwaczkowski)

By Karen Boehler
Pecos League writer

ALAMOGORDO — The only game played Wednesday in the Pecos League was a comedy of errors, with nine combined mistakes and neither manager very happy with his team when it was all over.

Still, Alpine got back on the winning side of the ledger with a 15-9 victory over the Pupfish at the Aquarium.

"We hit the ball a little bit. Did better with runners in scoring position. We had way too many friggin' errors," said Alpine manager Ryan Stevens.

"We made a lot of errors and we had a lot of walks," echoes Pupfish manager Ernie Munoz. "It was a game we gave away. It's the same story, different day, lately."

Early on, it looked as though it would be another close game as starters Shane Youngdale and Eric Zagone kept the runs to a minimum.

The Cowboys went up 2-0 in the first when Derrick Fox and Logan Lotti walked, Joel Carranza singled in Fox the Mike Dobre hit an RBI double.

White Sands came back in the bottom of the stanza with a two-out single by Munoz, and error that put Cody Collins on base and a 2 RBI double by George Ban. The 'Fish took a 3-2 lead in the second on another error and J.J. Costantino double.

The third and fourth were scoreless and mostly errorless, but Alpine went up 5-3 in the fifth when D.J. Johnson singled and scored on a Dobre single and error, the Brycen Bell hit a two-run home run.

The Pupfish tied it in the sixth when Collins doubled, Ban was hit and Mark Leacox singled to load the bases. An error brought in Collins and a putout scored Ban.

Despite seven runs in the seventh, only two were earned, as both teams bobbled the ball equally.

Alpine scored four runs on two singles, two walks and a wild pitch and two errors, while White Sands scored three on three hits — including doubles by Ban and Collins — a walk, wild pitch and an error.

The Cowboys added another five in the eighth, with again, only one earned, on a walk and four singles.

The Pupfish added an earned run in the bottom of the stanza when Joey Friedman and Miguel Flores each walked, the Friedman came in on a Costantino single.

Alpine padded its lead by one in the ninth when Johnson doubled, advanced on a wild pitch and came home on a sac fly by Bell.

"It was very sloppy," Stevens said. "I was not impressed with my team's performance today. It's always tough, getting right off the van and playing, but still no excuse. We've got to do a better job and with four or five sloppy errors that looked like crap. We're a far better team than we showed tonight."

Even though many of the runs came in on something other than hits, several players still had good nights. For Alpine, Dobre was 3-for-4 with two runs and an RBI; Fox 2-for-4 with three runs and 2 RBI; Bell 2-for-3 with three runs and RBIs; and Tyler Rost 2-for-5.

"We capitalized on their mistakes; they capitalized on our mistakes," Stevens said. "We've got to do a better job as a whole and we're still working to move forward. The one positive I thought we did is we did a better job of hitting with runners in scoring position than we have in the past. But we're still a very young team. Hopefully we're going to hit our stride at the right time and when we hit our stride we're a very dangerous team. But we have not hit our stride yet."

For White Sands, Leacox was 2-for-4; Ban 2-for-4 with a run and 3 RBI; Collins 2-for-5 with three runs and an RBI; and Costantino 2-for-5 with one run and 2 RBI.

"We beat ourselves again and we gave the game away," Munoz said, explaining there's little time to fix the mistakes. "We've got to come out tomorrow and do our best, I guess. Unfortunately, we don't have days to practice so we'll have to roll with the games and go with the lineup that's out there and see what happens."

The teams will be in action Thursday at 6 p.m. at the Aquarium.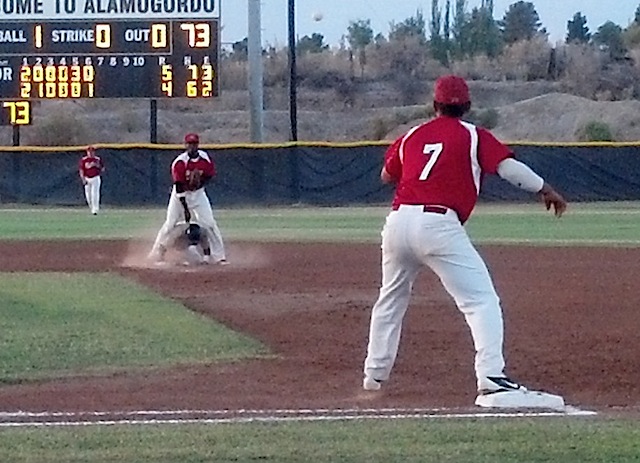 ---
Derrick Fox tags Joey Friedman to start a double play with the bases loaded in the sixth. (Photo by Josh Szwaczkowski)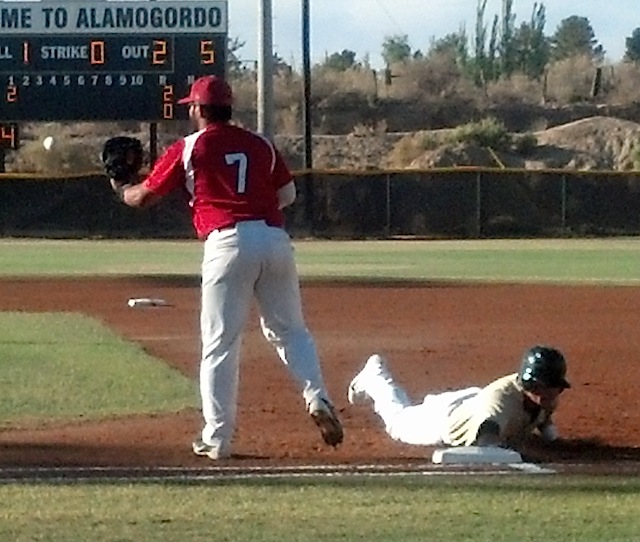 ---
Ernie Munoz slides back in safely into first ahead of the throw to Joel Carranza. (Photo by Josh Szwaczkowski)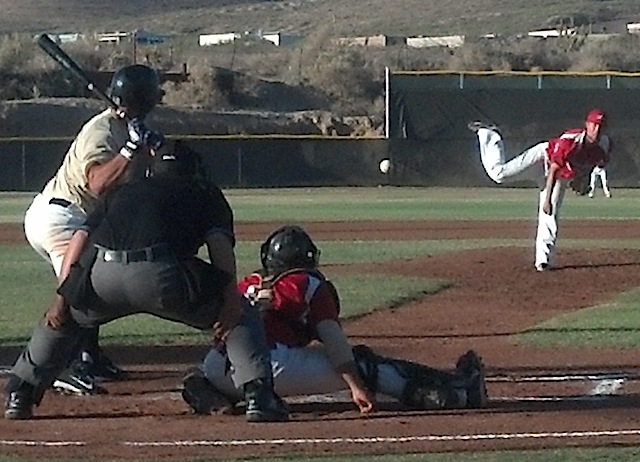 ---
Shayne Youngdale throws to Cody Collins. (Photo by Josh Szwaczkowski)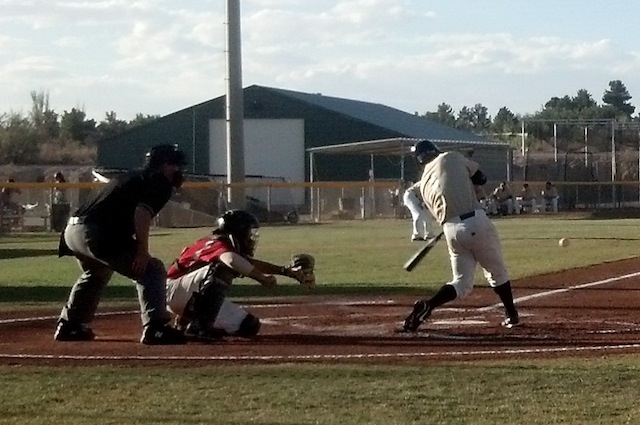 ---
Christian Ramirez grounds out to end the second. (Photo by Josh Szwaczkowski)
---
For more information visit Pecos League of Professional Baseball Clubs LLC.
http://www.PecosLeague.com
575-680-2212