Osos win four-hour slugfest in Alamogordo
---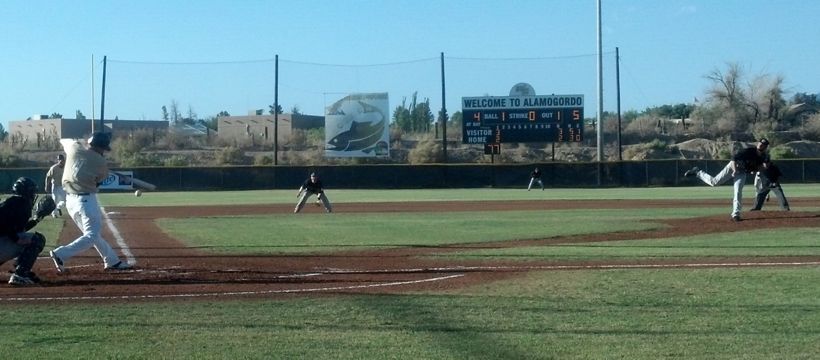 6/2/2013- Chris DeBiasi gets a hit off Raton starter Cameron Powers. (Photo by Josh Szwaczkowski)

By Karen Boehler
Pecos League writer

ALAMOGORDO — There were a lot of hits and runs in Saturday;s game at the Aquarium in Alamogordo Saturday, and Raton was the beneficiary of more of those than White Sands, giving the Osos a 19-14 victory.

"Things are going my way again for a minute," said Raton manager Ray Hancock. "Our starting pitching did well, which kept us in the game. Like I told you before, I think I've got a team here."

Pupfish manager Ernie Munoz sounded less-than-pleased with the outcome.

"They came out and put up 23 hits on us," he said. "You're not going to win the game when you give up 23 hits. I think we only made a couple of errors. We scored 14 runs. It was a ridiculous game. We didn't play to the best of our ability, and giving up 23 hits is not going to win a lot of games. We'll let today pass and we'll just come out tomorrow and pretend today didn't happen."

The Osos used those hits — there were actually 24 — to come out big early, and while the 'Fish had two big innings, for the most part, the Raton pitchers shut them down.

The Osos made it 3-0 after one on two doubles (by Stedman Smith and Westly Jones), three singles and a walk. The Pupfish made it 3-2 on three straight singles and the only Oso error of the game, but Raton starter Cameron Powers shut White Sands down for the next two innings. Meanwhile, Raton added four runs in the fourth (on four singles, two hit batters ands a walk) and five in the third.

A Smith triple and doubles by Michael Lange and A.J. Doyle contributed to the dmage, as did a walk and error.

After Raton made it 13-1 in the fourth, White Sands came back with its biggest inning of the game. The 'Fish put up seven runs on six hits, with Chris DeBiasi, Andrew Parrish, Brett Mendoza and Mike Mendoza each doubling.

The inning drove Powers from the mound, with Tim Sylvester coming in in relief. He gave up one of those doubles but got all the outs in the inning and kept the fifth scoreless.

Both sides scored big in the sixth.

Raton put up six runs on six hits and yet another Pupfish error (Westly Jones tripled and Zach Kreegar doubled), while Syulvester walked the first three batters he faced in the bottom of the inning, then gave up a 2 RBI single to George Ban before heading to the showers.

Brian Del Rosso was a bit wild, giving up three more Pupfish runs on a single, a hit batter, a walk and wild pitch, but he settled down in the final three innings to keep White Sands scoreless the rest of the way.

Three Pupfish pitchers — Chris Anklam, Justin Mauldin and Nick Alexander did the same to the Osos, and after almost four hours, the game mercifully ended.

"Both sides put up a bunch of donuts, and that kept both sides in the game because of it," Hancock said, crediting White Sands with their comeback.

"They came back. They didn't let us go. I've got to give them credit. They played to the very end too."

Lots of Raton hitter added to their batting averages Saturday. Lange was 5-for-7 with four runs and 5 RBI; Smith 4-for-7 with four runs; Kreegar and Powers both 2-for-3, Kreegar with two riuns and RBI; Powers 1 RBI; Nicholas Hinojo 3-for-6 with two runs and 3 RBI; Doyle 2-for-4 with two runs and 3 RBI; and Jones 2-for-5 with two runs.

"All I can say is everybody hit well tonight," Hancock said.

Only the top of the Pupfish lineup had multiple hits. Ramirez was 2-for-4 with three runs and 2 RBI; Ban 2-for-4, one run, 3 RBI; Mike Mendoza 2-for-5, 1 run, 2 RBI; and DeBiasi 2-for-3, one run and RBI.

"We tried to take today to give some guys some rest, and took some guys who are usually in the lineup out, but we still should have been able to come away with a win," Munoz said. "We didn't have any fire. There was no excitement about the game. There's just no energy. I had a talk with the guys after the game and tomorrow's going to be a new day."

Both coaches feel good about their pitching staffs despite the long game. Raton only used three hurlers, and while White Sands went through seven, Munoz isn't worried."

"Once the game got out of hand, we tried to get everyone in and our pitchers are fine," he said. "We still have a lot of depth with our pitching."

The teams wrap up the series Sunday with a 4 p.m. game in Alamogordo.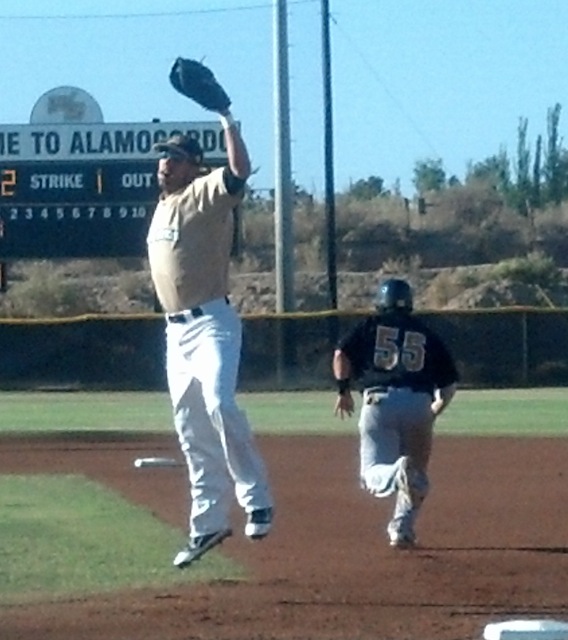 ---
Andrew Parrish goes up for the ball as Matt Lynch advances on a Zach Kreegar single. (Photo by Josh Szwaczkowski)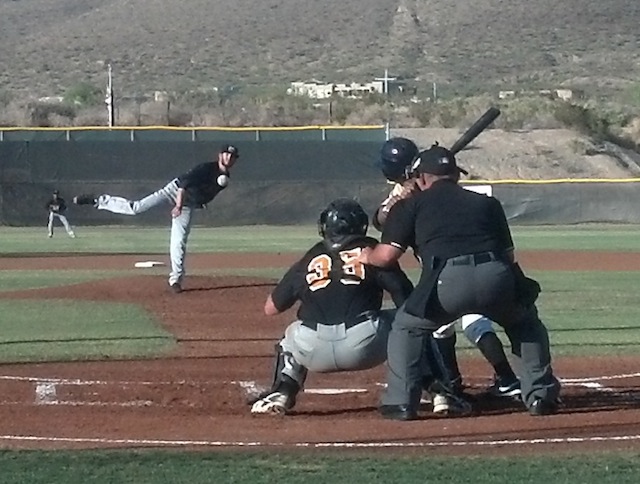 ---
Andrew Parrish goes up for the ball as Matt Lynch advances on a Zach Kreegar single. (Photo by Josh Szwaczkowski)


---
Andrew Parrish goes up for the ball as Matt Lynch advances on a Zach Kreegar single. (Photo by Josh Szwaczkowski)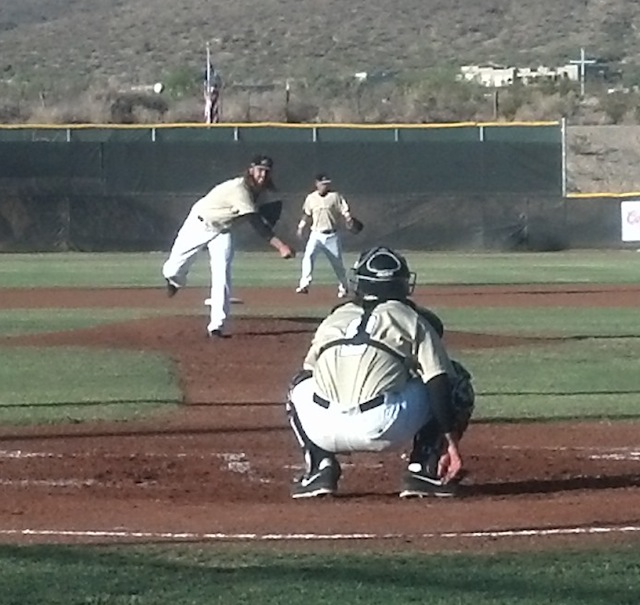 ---
Andrew Parrish goes up for the ball as Matt Lynch advances on a Zach Kreegar single. (Photo by Josh Szwaczkowski)

---
For more information visit Pecos League of Professional Baseball Clubs LLC.
http://www.PecosLeague.com
575-680-2212