Errors sink Osos in 18-7 loss to Pupfish
---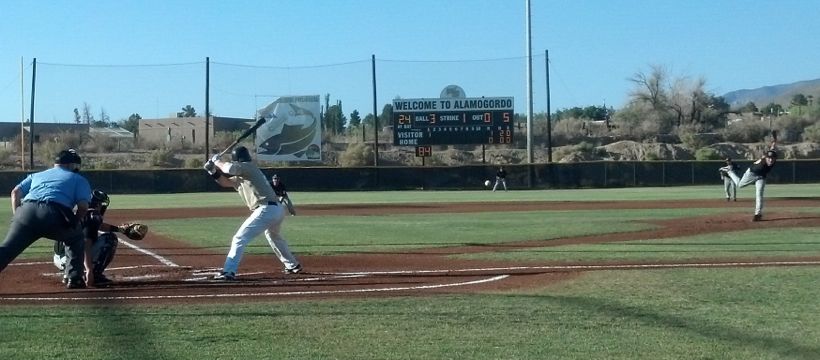 6/1/2013- J.J. Constantino looks at a pitch from Oso starter Shawn Flynn.(Photo by Josh Szwaczkowski)

By Karen Boehler
Pecos League writer

ALAMOGORDO — One day after handing the top team in the Pecos League only their third loss, Raton was pounded 18-6 Friday by upwardly mobile White Sands, a team that's been improving almost daily since manager Ernie Munoz arrived in town.

Since Munoz joined the team from his job as an assistant softball coach at U.C. Berkeley, the Pupfish handed the Invaders their first loss of the season; went 2-and-2 vs. Trinidad then 3-and-1 against Alpine. It's not hard to see Munoz has made a difference.

"I know they were struggling before I got here," the player-manager said. "I think it was just a lack of leadership. Not that we didn't have any, there was just nobody holding the reins. You need somebody in this position with experience, and in the last couple of years, I've been that guy for teams I've been on, and there was nobody here who's been in that position before."

Friday, whether at first base or managing at third, Munoz again led his team to a win.

"We know what we're going to do: we're going to swing the bat and score a lot of runs. The defense was fine and our pitchers threw a lot of strikes. Everything was fine."

The Ososo actually led briefly, going up 1-0 in the top of the first on a Travis Fuquay double and Zach Kreegar single. But White Sands came back with three in the bottom of the first and never looked back.

"Looked very ugly today," said Raton manager Ray Hancock. "Pitching was actually pretty good. The starting pitching was fairly good. We just couldn't make simple plays behind him. Had three little popups that anybody should have been able to catch and couldn't do it. Basically just did not play baseball. That's the bottom lime."

The runs in the first came after two walks and a Mike Mendoza home run. All four runs in the second were unearned after an early error followed by two outs then back-to-back doubles by Cody Collins and Mendoza and a Jerry Gonzales single.

Fuquay again scored for the Osos in the third, walking the comping home on singles by Matt Lynch and Kreegar, but the Pupfish put up four more runs in the bootom of the stanza on another set of doubles (Erik Zagone and J.J. Costantino) — and singles (Collins and Mendoza.)

"Once they got on base they stole on us and got a hit here and there and before you know it we're down 10 runs," Hancock said.

The fourth, fifth and sixth were scoreless, then Raton closed a bit with a trio of runs in the seventh off a Lynch home run.

But another costly error in the seventh let White Sands put up seven unearned runs and that, Hancock said, is unacceptable.

"It's time I have to make some decisions," he said. "I'm going to make some decisions and chips have to fall where they may. I've not got much choice in the matter now."

Of the 18 runs the Pupfish scored, only seven were earned, maning it should have been a much closer ball game. Munoz got multiple hits from most of his starters — Mendoza was 5-for-6 with 6 RBI and five runs scored — and both Fuquay and Kreegar were 3-for-4 for the Osos, but Hancock said a lot of their hits were going right at Pupfish.

The teams meet again Saturday, and while Munoz is going to make some changes just to give players a break — "We're changing it up tomorrow. Giving a some guys a few days off in the next couple of days. We're strong, all 26 of us. I don't doubt anybody I put on the field," he said — Hancock may be making some more serious moves.

"Hopefully it'll be a better outcome tomorrow," he said.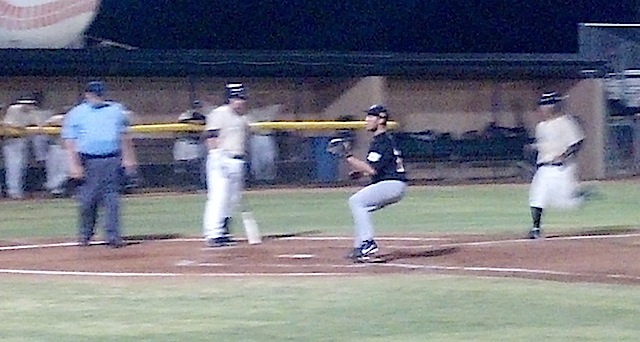 ---
Christian Ramirez gets in safe on the wild pitch. (Photo by Josh Szwaczkowski)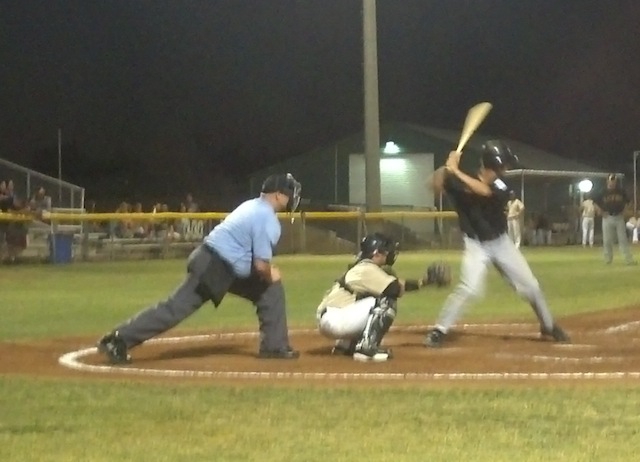 ---
Christian Ramirez gets in safe on the wild pitch. (Photo by Josh Szwaczkowski)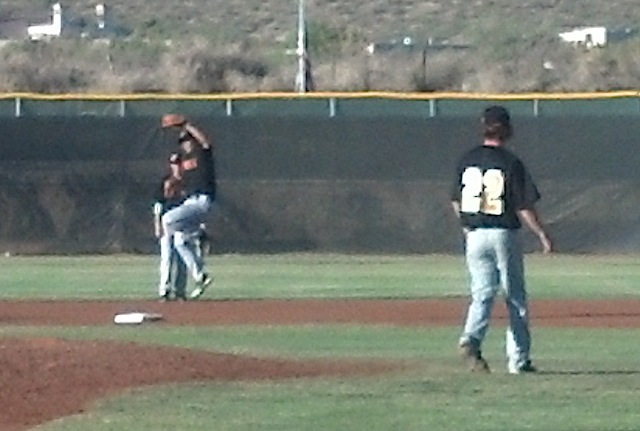 ---
Christian Ramirez gets in safe on the wild pitch. (Photo by Josh Szwaczkowski)

---
For more information visit Pecos League of Professional Baseball Clubs LLC.
http://www.PecosLeague.com
575-680-2212