Trinidad wins "best baseball game" with walk-off single
---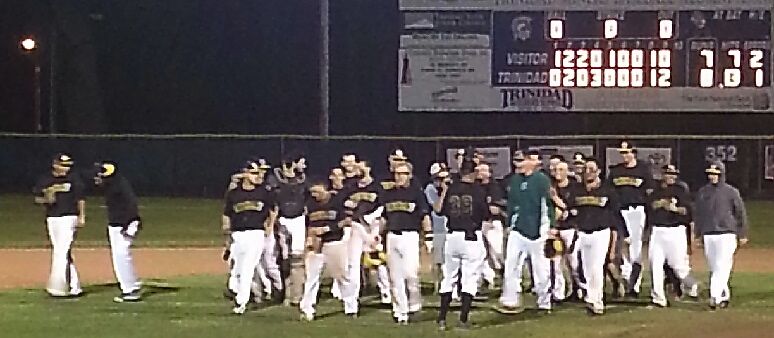 6/1/2013- The Triggers celebrate after a come-from-behind victory over Taos. (Photo by Emily Olguin)

By Karen Boehler
Pecos League writer

TRINIDAD, Colo. — It's not often you hear both the winning and losing coach raving about a game, but that was the case FRiday as Trinidad down Taos 8-7 on a walk-off single by Sam DiMatteo that capped a well-pitched, well-hit, back-and-forth match.

"It was a great game," said Trinidad manager J.D. Droddy. "We out-hit them all night, but we had to come from behind in the ninth to win."

"Best baseball game I've been a part of in a long time, and at the end of the day, you tip your hat to Trinidad," said Taos manager Matt Leahy. "They had pretty much just one more hit than us at the right time. J.D. and I talked and heck, it could have gone either way for the longest time. We both wouldn't have changed a thing we did during the game, so we'll live to see another day and it was fun."

The biggest inning anyone had all day was three runs, with most innings getting just a run or two on the board.

Taos struck first in the first when Khyle Richardson reached on an error, stole second and came in on a single by Chris Costantino.

The Blizzard made it 3-0 in the top of the second on an Eric Berkowitz single and John Apostolo RBI double. Kyle Richardson then singled and Apostolo came home on a putout.

The Triggers closed the gap to 3-2 in the bottom of the stanza when Frank Florio doubled, Mike Goldy singled and both came home on an Andrew Azzopardi single.

Taos added another two in the third when Chris Coffman walked and Louis Gonzales homered but Trinidad had the one big inning in the fourth, scoring three to tie the game at 5-5.

Florio walked, Goldy singled then Azzopardi hit into a fielder's choice that left runners on second and third. Jason Venya loaded the bases with a single then Wink Nolan singled and, combined with a Taos error, three runs came across.

But the Blizzard re-took the lead in the fifth when Gonzales was hit, balked to second , advanced on a put out and scored on a passed ball.

Trigger reliever Kellen Quintana, in for Grant Ledbetter, and Taos starter Berkowitz had scoreless innings in the sixth and seventh — both sides went 1-2-3 in the seventh — then both teams added a run in the eighth.

Gonzales gave Taos a brief two-run lead with his second home run of the night, then Blizzard reliever Shayne Miller hit Goldy, gave up a single to pinch hitter Bryce Miller then, with two outs, an RBI single to Nolan before going out for Richard Ruff, who got the third out.

That set up the fireworks in the ninth, as Benji Waite came in for Trinidad and did what he's been doing all season: shut down the opposition. And, down 7-6, the Trigger hitters came through.

Matt Hunt was hit, went to third on a Jacob Fabry double and tied the game on a wild pitch. DiMatteo then hit the first pitch he saw for a single, scoring Fabry to take the victory.

"Guys came through as always," Droddy said. "This is what I love about this team. If we're within striking distance, I'm very confident we can strike. We're winning one-run ball games. We're winning in the top and the bottom of the ninth. The guys just have no quit in them at all. We've got some great players, great guys, and it was just a great win for us."

And, he said, Taos played well.

"They (Taos) pitched pretty well. They played pretty well. But in the end we came through again and this is what our guys have done all year: come through when the chips are down. They come to bat. That's all I can say. I love these guys. They just don't quit. They never think they're out of it."

Leahy returned the compliment, singling out two Triggers.

"Matt Hunt is one of the best shortstops in the league, if not the best shortstop in the league, and he's just a spark plug that I offered probably 15 players on my roster in trade for," he said. "I love the kid. If I ever start a team again, he's going to be my first pick overall. And Andrew Azzopardi, the catcher for Trinidad, he just handles pitchers so well."

And even though his team just missed the victory — "They had the last at bat, and that's what it comes down to, sometimes," Leahy said — he's happy with what he saw.

"They had the last at bat, and that's what it comes down to, sometimes."

"To watch the game, to be a part of it, is something special today. Hopefully this is the picture that we'll paint for the rest of the series and we can take a couple of games while we're here and play some good baseball."

Saturday's rematch is set for 6:05 p.m. at Central Park in Trinidad.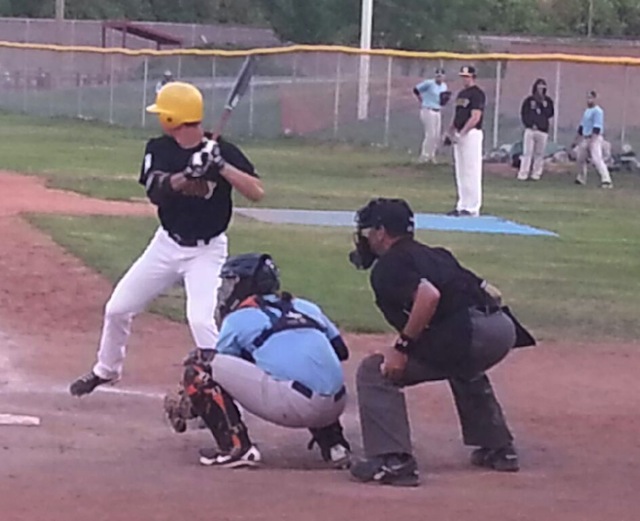 ---
Trigger Dylan Porter waits for the pitch. (Photo by Emily Olguin)

---
For more information visit Pecos League of Professional Baseball Clubs LLC.
http://www.PecosLeague.com
575-680-2212