Train Robbers top Blizzard
---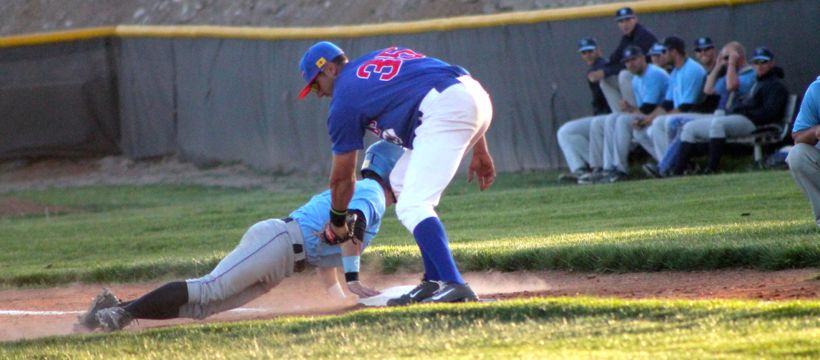 5/31/2013- The Blizzard's Gary Stauff slides back to first base as Train Robbers infielder A.J. Alexander attempts to tag him out. Alexander starred for Las Vegas' own New Mexico Highlands University and was an assistant baseball coach at West Las Vegas this past spring. (Photos by Dave Kavanaugh, Las Vegas Optic)

By Karen Boehler
Pecos League writer

LAS VEGAS — The Train Robbers got their second win in as many home games Thursday with an 8-5 victory over Taos.

Because of a lack of internet at Rodriguez Park, detailed information, including stats and play-by-play, is not available for the game. However, bith managers spoke about the matchup.

"It was a good baseball game," said Las Vegas manager Casey Dill. "It was another good dame between two good teams. Our team hit the ball a little better than they did. We hit the ball with runners in scoring position. We played solid defense. I don't think we had an error all game. Our starter, Greg Fowler, had a great outing. It was great to have one of our starters, other than Edison (Alvarez) or Atsushi (Hebisawa), come out and have a good outing. Greg's only going to continue to get better. He had some early-season kind of issues to this point, but he's only going to continue to get better. Tonight was a very positive outing for him. He pitched well against a very good hitting team. And we hit the ball in clutch situations. We stole some runs from them. We put the ball in the gap with runners in scoring position and we won a good baseball game."

Because of the condition of the field in Las Vegas — two players were injured Tuesday on the rough grass — Taos manager Matt Leahy opted to play his practice squad players, and saw some strong efforts.

"Javier Perez pitched very, very well," Leahy said, allowing only two earned runs. "So at the end of the day, our starter got into the sixth inning again, for two days in a row. You can't complain about that."

Michael Castelano picked up several stolen bases and Zach Dandrea had a pinch-hit 2-RBI single.

As for the field conditions, "It's not that bad, but it's not that good," Leahy said. "But, it is what it is. We're here. We're trying to do our best every day. Ar the end of the day, both starting pitchers pitched pretty well today."

Dill praised Train Robber shortstop Joey Haskell, calling him the team's MVP at this point in the season.

"He continues to do great things every night with the bat," the manager said. "With the glove. Tonight he came up on his own, had a bunt single, which is another element to his game. He can hit. He can field. He has a great arm. Joey Haskell's been doing great things for us."

The Blizzard now head north to Trinidad, where they'll play a four-game series, with three games in Colorado and one in Taos, while Vegas faces Santa Fe for three, two at home and one in the CIty Different.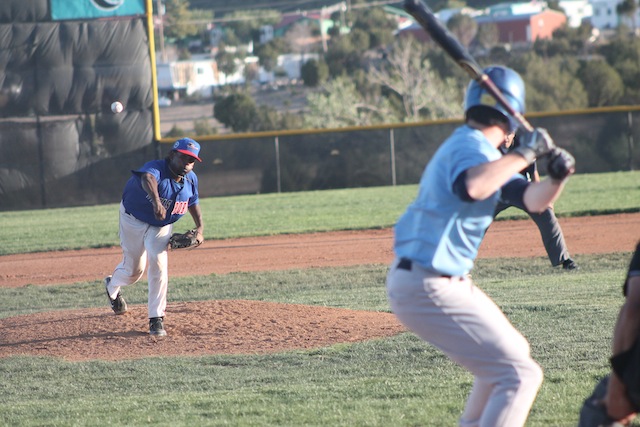 ---
Las Vegas pitcher Greg Fowler rocks and fires in a Thursday night start against Taos. Fowler played his college ball just up the road at New Mexico Highlands University. (Photos by Dave Kavanaugh, Las Vegas Optic)

---
For more information visit Pecos League of Professional Baseball Clubs LLC.
http://www.PecosLeague.com
575-680-2212