Invaders pitch perfect in victory over Raton
---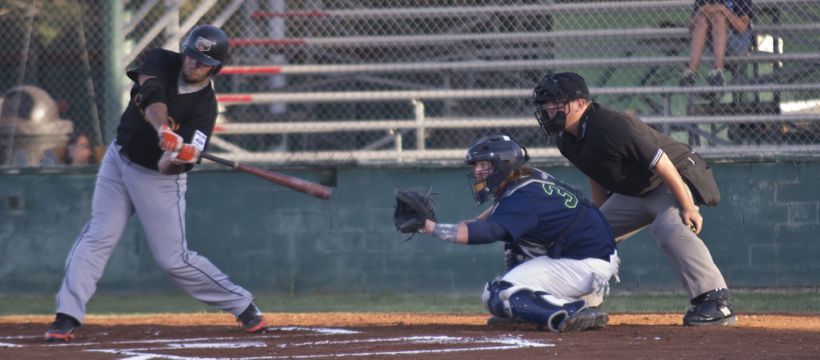 5/30/2013- Roswell catcher Charles Dubanoski waits for the ball as Oso Michael Lange lets the pitch go by. (Photo by Robert Bailey)

By Karen Boehler
Pecos League writer

ROSWELL — Of their 14 wins this season — to only two losses — the Invaders probably played their best all-around game Wednesday in an 8-2 victory over Raton.

"I think tonight just showed how we can play the game of baseball," said Roswell manager Chris Ebright. "We have a run on second base, no outs, we hit behind him. Runner on this, less than two outs, we got him in. We didn't have to out-slug anybody and we played the game of baseball."

That game started with pitcher Jonathan Sa, who five-hit the Osos through 6.2 innings, striking out six and walking only four. He did give up the only Raton runs — in the seventh, Matt Lynch walked, Brian Gregory and Louie Saenz singled, and Gregory scored on a put out — but there could have been more, as twice he and the defense got out of bases-loaded situations.

"He had the bases loaded twice and I think he got the double play both times," Ebright said. "He got ground balls like he should. He concentrates extra hard with the bases loaded — I wish he's concentrate that hard with nobody on — but all around, it was a great baseball game."

That first sticky situation came in the sixth, when Sa gave up a single to Vince Smarnellli then walked the next two batters, but a 4-6-3 (Vincent Mejia to Ryan Normoyle to Nate Theunissen) ended that threat, then, in the seventh, the second run scored on a 5-4-3 (Chad Kruse to Normoyle to Theunissen) DP, which luckily for the Invaders cleared the bases, because Steadman Smith came up and doubled.

Jesus Carlos then came in to strike out the final batter of the inning, and two of the three he faced in the eighth, with A.J. Martin closing out the ninth.

Offensively, Roswell scored off three Oso pitchers.

They started with a run in the first off Brian Hicks when Kruse doubled and Normoyle singled him home. The big Invader inning was the fourth.

With one out, Theunissen and Andrew Deeds walked, then, with a second out on the board, Matthew Faiman walked and Kruse hit a 2 RBI single. Normoyle followed that with another 2 RBI single to put the Invaders up 5-0.

Roswell got two more runs in the fourth off Tim Sylvester, again scoring with two outs.

After Kruse singled, Reggie Taylor walked and Vincent Mejia singled in Kruse. Taylor then came in on a wild pitch. The final Invader run came in the sixth when Normoyle advanced all the way to third on an error by the left fielder then came home on an error by the catcher.

A vey disappointed Raton manager Ray Hancock understandably did not want to talk after the game, but Ebright was happy to praise his players, especially Sa, who shut down the hot-hitting Osos.

"I don't know what pitches he was throwing, but he kept them off balance tonight. I know he's throwing at least three pitches for strikes, and he definitely kept the middle of their order, who's been punishing us the last two nights, I guess, he kept them off balance and he did really well."

As to the offense, "I actually gave a couple of guys a rest tonight, and the other guys came through. That's always a good thing to have," the manager said.

Theunissen was 3-for-3 with a run scored, Kruse 3-for-5 with three runs and 2 RBI and Normoyle continued his hot hitting in front of his father, going 3-for-4 with one run and 2 RBI.

"He's been doing well," Ebright said. "His dad's here. His dad should come here more often."

The teams will wrap up the four-game Roswell home stand Thursday, then the Invaders head south to Alpine while Raton goes to White Sands.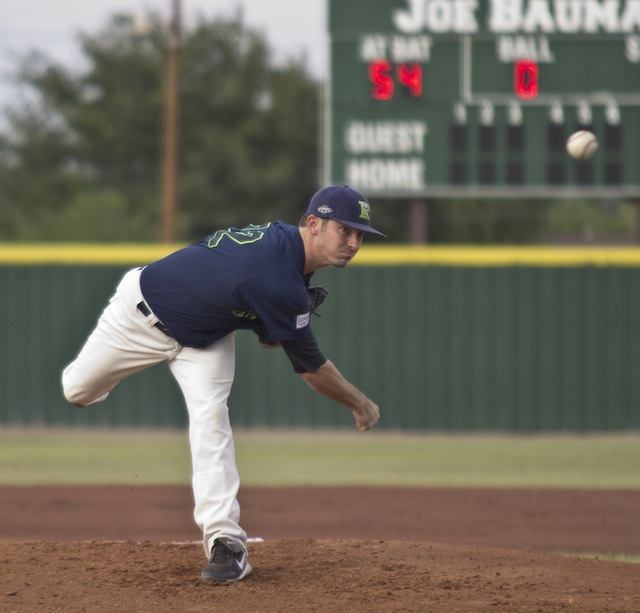 ---
Jonathan Sa pitched a masterful game, allowing only two runs on five hits. (Photo by Robert Bailey)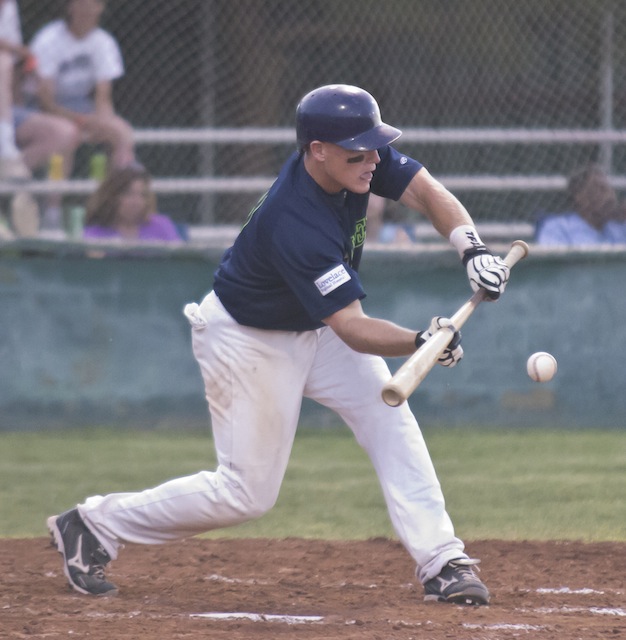 ---
Chad Kruse gets the bat on the ball. (Photo by Robert Bailey)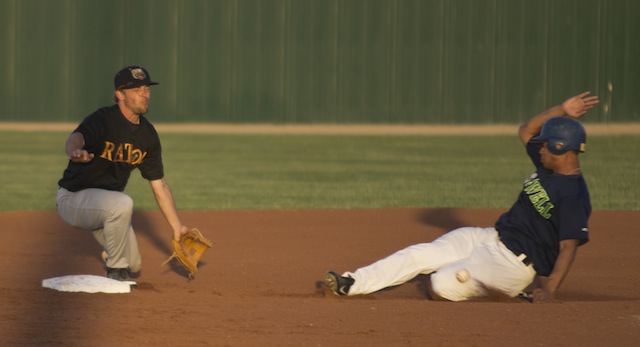 ---
Reggie Taylor slides into second ahead of the throw to Nicholas Honojo. (Photo by Robert Bailey)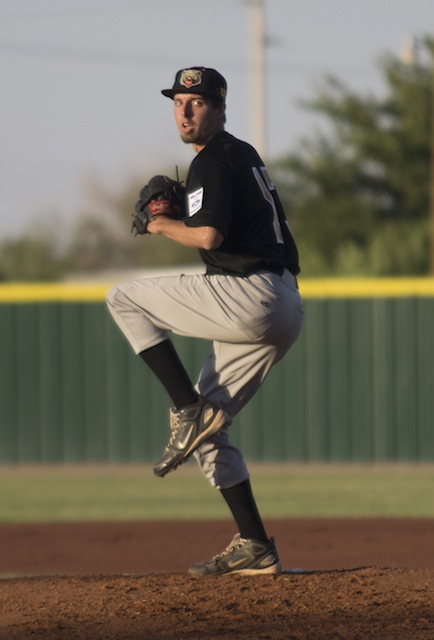 ---
Brian Hicks started for Raton. (Photo by Robert Bailey)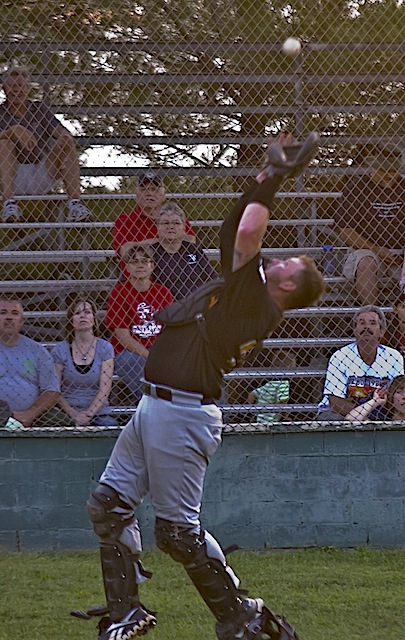 ---
Zach Kreegar got one of the Oso's five hits. (Photo by Robert Bailey)
---
For more information visit Pecos League of Professional Baseball Clubs LLC.
http://www.PecosLeague.com
575-680-2212