Triggers again edge Fuego with pitching
---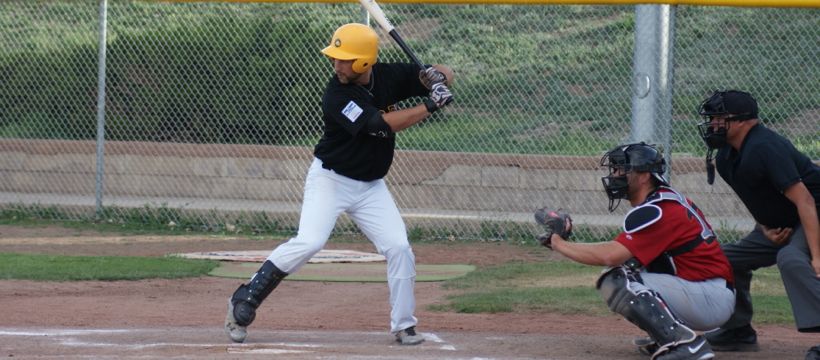 5/29/2013-
By Karen Boehler
Pecos League writer

TRINIDAD, Colo. — For the second day in a row, Trinidad eked out a close victory over Santa Fe, winning 7-5 after a last-inning comeback try by the Fuego.

"We played well," said Trigger manager J.D. Droddy. "We got six great innings out of Chris Tuttle. He threw exactly 100 pitches, so he was just right on schedule for six innings. Which is more than he usually throws."

Tuttle, who got the win, got a little roughed up in the first, when, with one out, Charlie Calamia reached on an error, advanced on a Devonte Odums single and fielder's choice, the scored on a passed ball. Kyle Zimmerman then singled in Larry Rodriguez to put Santa Fe up 2-0.

But the Trggers matched that in the bottom of the stanza when Jacob Fabry walked, Sam DiMattero singled and Frank Florio hit an RBI single. DiMatteo scored when Mike Goldy hit into a fielder's choice.

For the next two innings, Tuttle and Austin Carden, who started for the Fuego, kept the hitters off board. Trinidad took a lead in the bottom of the fourth when Andrew Azzopardi got his first home run of the season. The Triggers made it 4-2 in the fifth when Fabry singled, advanced on two out then came home on a Goldy single, but Santa Fe closed the gap in the sixth on an error and two outs.

One of only two Trinidad errors, "It was really a team win. We played good defense," Droddy said. "We played much better on both sides of the ball tonight."

Offensively, they plated another two runs in the sixth when Jason Venya walked, Richie Serritella and Matt Hunt singled, Hunt getting and RBI, and DiMatteo doubled in Serritella.

Brandon Jourdan came in to get the final out, then Austin Parker gave Azzopardi his second RBI of the day when he doubled in Wink Nolan, who had singled.

The reliever — Charlie McCready for Santa Fe and Levi Austin, shut the opposition down in the eighth but the Fuego tried to take advantage of the Trigger's newest thrower in the ninth.

Austin walked Zimmerman and Bryson Sims, hit Chris Carrera, then threw a wild pitch that scored Zimmerman. He got his first two outs on strike outs, but then gave up an RBI single to Calamia before getting Odums to fly out to right.

"He pitched three good innings, throwing 90-93 miles an hour all night," Droddy said of his reliever. 'We had a little bit of a control issue but not too bad for his first outing."

The manger said Austin came in at a good time, when team needed him, and will probaby pitch one more game out of bullpen before moving into the starting rotation.

With Austin in the lineup, Droddy sounds positive about his starting lineup.

"Chris Tuttle and Tony Smith have just been rock solid," he said. "It's Chris' third win since May 28."

Offensively, DiMatteo, Goldy and Azzopardi each had two hits for the Triggers. SAnta Fe only had four hits from four different batters.

Wednesday, the action moves to Fort Marcy Park, which Droddy laughingly described as "The pitcher's favorite place to throw."

First pitch is at 6 p.m.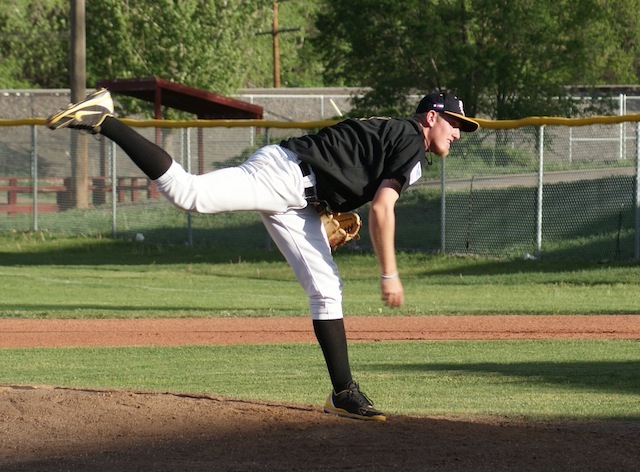 ---
Chris Tuttle threw a three hitter against Santa Fe, striking out seven and getting his third victory of the season. (Photo by Emily Olguin)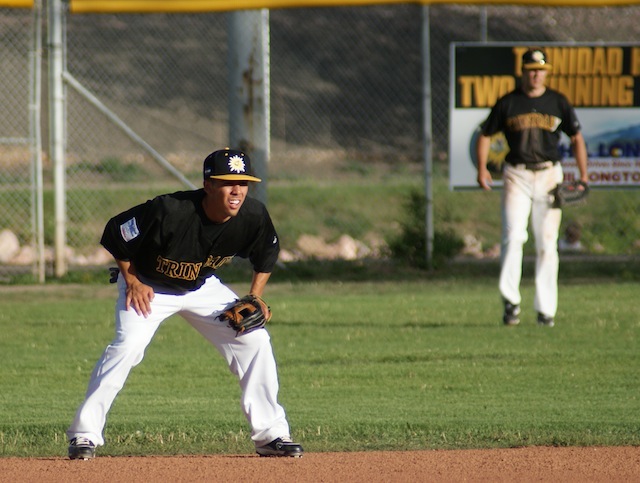 ---
Trinidad shortstop Matt Hunt waits for the play. (Photo by Emily Olguin)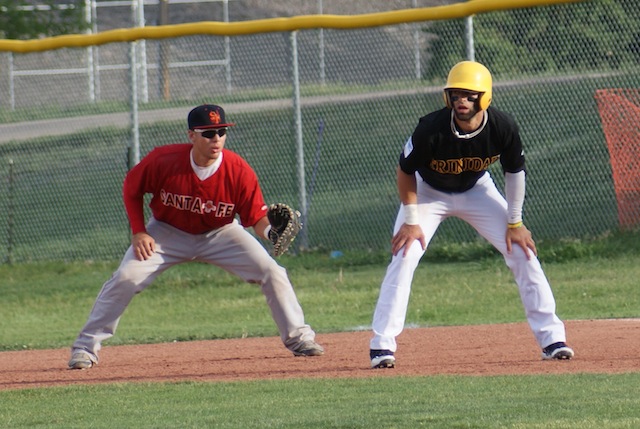 ---
Santa Fe first baseman Larry Rodriguez tries to hold the Trigger runner on base. (Photo by Emily Olguin)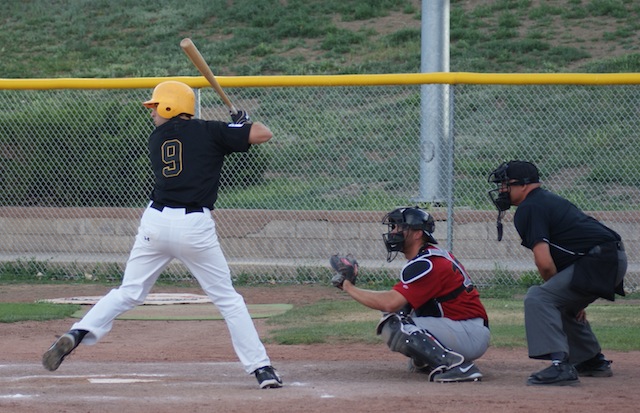 ---
Trigger Wink Nolan gets ready to take a swing. (Photo by Emily Olguin)
---
For more information visit Pecos League of Professional Baseball Clubs LLC.
http://www.PecosLeague.com
575-680-2212