Pitchers strong in 8-5 Roswell victory
---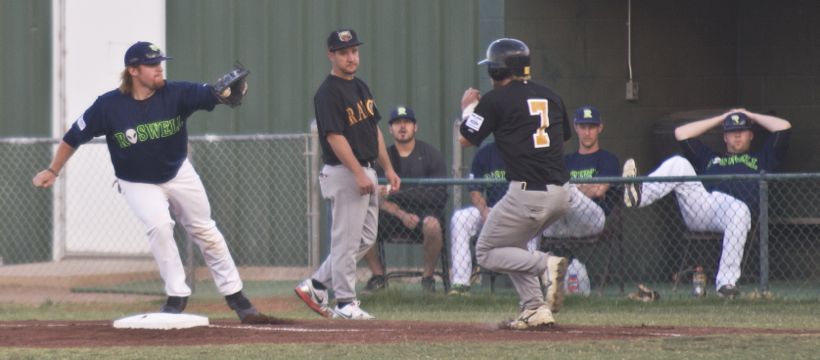 5/29/2013- Invader Charles Dubanoski waits for the throw as Oso Travis Fuquay barrels into first. (Photo by Robert Bailey)

By Karen Boehler
Pecos League writer

ROSWELL — After a four-hour marathon Monday, the Invaders and Osos played a much tighter game Tuesday, with Roswell coming out on top again but by a much smaller margin, 8-5.

"Their starting pitcher threw very well. So did ours," said Invader manager Chris Ebright.

Roswell pitcher Jacob Cook only found out he'd be pitching about 10 minutes before the game when scheduled starter David Mueller hurt his shoulder during warm up.

"Jacob Cook came in and did great," Ebright said. "He pitched, I think it was three ior four innings two days ago. Came in, threw four today. Eric Lambe did great. Eric Lambe, we stretched him out longer than he normally does, and Ryan Rogers, he comes in and does his thing as a closer. Overall, it was a good baseball game. It wasn't one of those that was 400 to 300 or whatever."

Cook and Raton starter Will Casey moved the game along quickly, shutting down the other side through 2-1/2 innings. The Invaders scored first in the third when Chad Kruse reached on a fielder's choice, advanced on a walk and came home on a Vincent Mejia single.

The Osos took the lead in the top of the fourth when Michael Lange reached on an error, scored on a Matt Lynch triple then Zach Kreegar homered to make it 3-1.

Roswell added another run in the bottom of the stanza when Erick Gaylord singled in Andrew Deeds, but the scored stayed 3-2 through the top of the sixth when the Invaders got to both Casey and reliever Sean Rockey.

Deeds was hit then, with one out, Gaylord and Kruse singled. Reggie Taylor doubled to make it 5-3, then, against Rockey, Bernal singled, Mejia walked and Charles Dubanoski doubled both in.

The Invaders got one final run in the seventh when Gaylord walked, stole second and third and scored on a Kruse single.

"Their starter, we made him work," Ebright said. "Got his pitch count up and we got him when he was tired then we got their bullpen as well. That's what we've been doing most of the season so far, but they don't go away. They hit and they hit and they hit. Those guys don'y give up over there. They had us on the edge of our seat the whole game. Heck, they were winning 3-1 for a while."

"Just one inning made the difference," said Raton manager Ray Hancock. "Our starting pitching was excellent tonight. Couldn't ask for anything more from Mr. Casey. Even our middle relief didn't do badly. We stayed with them the whole game. They knew we were here."

Raton made its comeback bid in the eighth when Lange reached on a fielder's choice, Lynch singled and Kreegar doubled them in. But a fly out and a strike out ended the eighth, and Rockey closed out the game 1-2-3 in the ninth.

Hancock challenged several calls, which he said could have made the difference.

In the sixth, Kreegar hit a hard shot to right that looked to be a double. But Gaylord made a great throw, cutting the runner down at second on an overslide. In the bottom of the stanza, Hancock argued whether Deeds, who was hit to open the inning, actually had been hit. Both calls went against the Raton manager.

"I do believe we got a couple of bad calls," Hancock said. "That's how it works when you're on the road. Can't expect good things, you can only expect bad things. We still have to make the throws. We still have to make the plays. We've got to do what it takes to win a ballgame. We're getting closer, but we're still not there. We've got two more here in Roswell. I'm making little tweaks in my batting order and I think we'll be fine."

One person who won't be fine is Mueller. He'll head home Wednesday, but the Invaders will be getting three replacements this weekend, including former Roswell favorite Nathan Johnson, who'll join the team in Alpine, pitching his first game Sunday.
---
Andrew Deeds gets the bat on the ball in the early part of Tuesday's game. (Photo by Robert Bailey)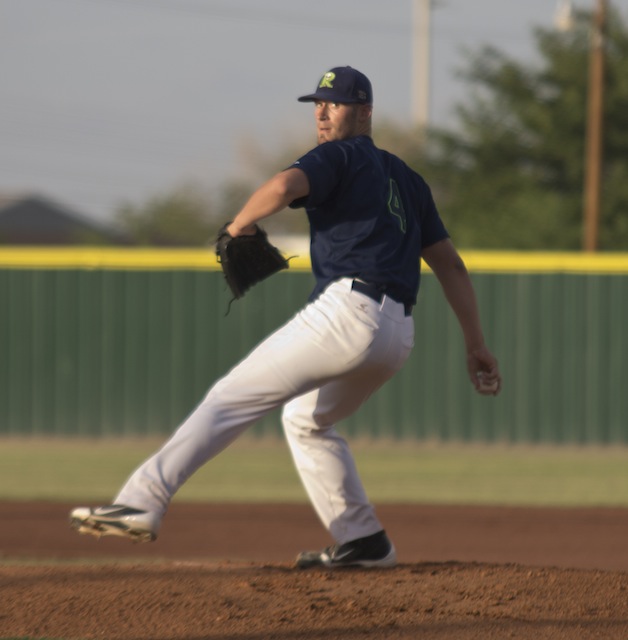 ---
Josh Cook started for Roswell with only about 10 minutes notice after an injury to the planned starter.(Photo by Robert Bailey)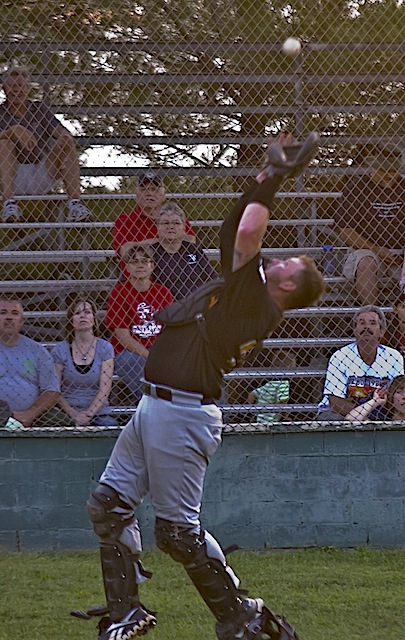 ---
Zach Kreegar is congratulated as he heads for home after a three-run home run. (Photo by Robert Bailey)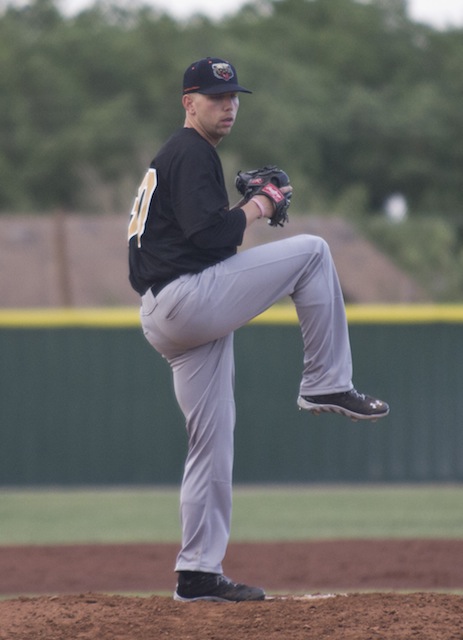 ---
Will Casey had a strong performance for Raton. (Photo by Robert Bailey)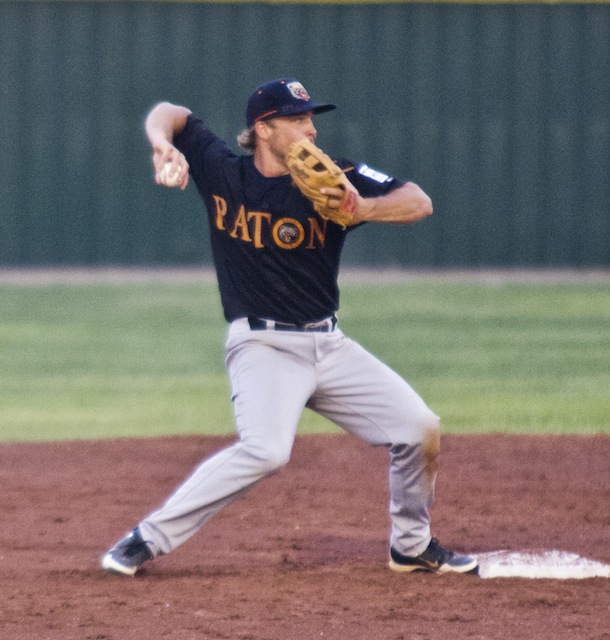 ---
Ryan Barban makes the throw from second. (Photo by Robert Bailey)
---
For more information visit Pecos League of Professional Baseball Clubs LLC.
http://www.PecosLeague.com
575-680-2212