Hot bats light up Joe Bauman Stadium Monday
---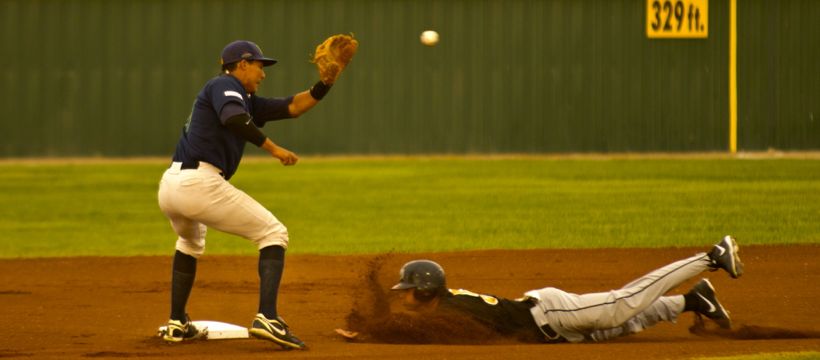 5/28/2013- Matt Lynch slides into second but Roger Bernal is ready to make the tag. (Photo by Robert Bailey)

By Karen Boehler
Pecos League writer

ROSWELL — After several pitcher's duels in the Pecos League Monday, it was the hitters who dominated in Roswell. The Invaders and Osos both went through their pitching staffs, with Roswell coming out on top 20-13 in a four-hour game.

"Lots of hits," laughed Roswell coach Chris Ebright. "What was there? A total of 33 runs scored. I don't know how many hits. Raton's a good hitting team as they've shown tonight and I mean, we're on a roll. We're just going to keep going with it, I guess."

Ebright wasn't even around for most of the game as in the top of the second, he went out to discuss a call at second — and was promptly tossed. Kevin Dore spent the remainder of the game as acting manager.

For the first five innings the game was close, with first the Osos then the Invaders taking a lead, then each squad going back and forth.

Raton went on top 2-0 in the first on no hits but two big Invader errors. But Roswell came back in the bottom of the stanza when Ryan Normoyle reached on a fielder's choice then advanced on singled by Roger Bernal and Vincent Mejia.

The pace of the game slowed in the second as Raton went up 6-2 on two two-out singles, a walk, and a 3 RBI home run by Michael Lange. But three runs wasn't enough for Roswell, as Normoyle came to the plate in the bottom of the stanza with the bases juiced, and hit a shot over the right-field fence.

"(It) felt good," the left fielder said of his first-ever grand slam. "We were down four runs at the time so I was happy we got to tie it up."

So what was he thinking as the ball headed his way?

"I think it was a full count (it was) and he threw a fast ball and I just took a swing at it and it went out."

Starter Dustin Javins got the second out then walked Mejia, and that was it for him. Jared Rolan then gave up a single to Charles Dubanoski and an RBI double to NAte Theuinssen, making it 7-6 as the dust cleared.

That was the most drama of the night, but, except for the third, when no one hit or scored — a Roswell error drove starter Scott Elitzky from the mound — the hits kept coming.

Both teams added a pair in the fourth, making it 9-8 then Roswell stretched the lead to two in the fifth when Erick Gaylord singled, stole second and came home on a Bernal single. That was the tipping point, said Raton manager Ray Hancock.

"We just didn't finish the job we started," he said. "We were with them until about the fifth inning, and I let my starter in there too long. Got a grand slam. Totally my mistake. We still tried to stay with them. I think it was like the seventh inning. Brought another pitcher in. Got a couple of base hits. They had another home run, which pretty much broke our back at the time. We just couldn't come back to get them. We played ball, but they just out hit us, bottom line."

That other home run came in the sixth when Theunissen walked, pinch hitter Matthew Faiman singled and Gaylord — who was 5-for-6 on the night with four runs and 3 RBI — hit the shot out of the park.

The Invaders added two more in the seventh — on two hits and an error — and five in the eighth, all with two outs. Doubles by Andrew Deeds and Gaylord and a triple by Chad Kruse were the big blows.

But the Osos didn't go quietly. They got two in the top of the eighth — Westly Jones singled then came home on Lange's second shot out of the park — and three more in the ninth, scoring on three hits — including a double by Adam Ziegler — an error and a wild pitch.

Those errors were something that concerned Ebright, along with the less-than-stellar pitching.

"Pitching was very iffy for both sides," he said. "We definitely have to work on giving the free bases. But we also have to work on our errors as well. I don't know how many runs in this game were unearned, but that's just something that we have to (fix.) We're bringing our guys in for early work. We're working with our infielders, and working with our outfielders on routes to the ball and I think we can get a lot better."

Hancock liked the comeback try, but again blames himself for the loss.

"We try to keep going, but as far as I'm concerned, this loss was my mistake. I left my pitchers in just too long. I'm an optimist and I felt like they could take care of business and I was wrong. As far as I'm concerned, this was my game to lose and I lost it."

With 33 combined runs (24 earned) and 33 hits, many hitters improved their averages.

Besides Gaylord, Kruse was 4-for-4 with two runs and RBI; Mejia with two runs and RBI; Bernal 3-for-7 with two runs ands 1 RBI; and Deeds 2-for-5 with two runs and 3 RBI. For Raton, Lange was 4-for-4 with four runs and 5 RBI; Jones 3-for-6 with four runs and an RBI; and Barban 2-for-5 with one run and RBI.

The victory stretches Roswell's lead over everyone else in the Pecos League, and Normoyle sounds more than pleased with what his team is accomplishing.

"I think 12-2, especially in pro ball, is amazing," he said. "We've just got to keep playing hard, like we do every day. Pitch, throw strikes, make the routine plays, get on base. That's our motto."

With some new faces and a strong squad of hitters, the Osos will try to move up in the standing when the teams face off again Tuesday at Joe Bauman Park.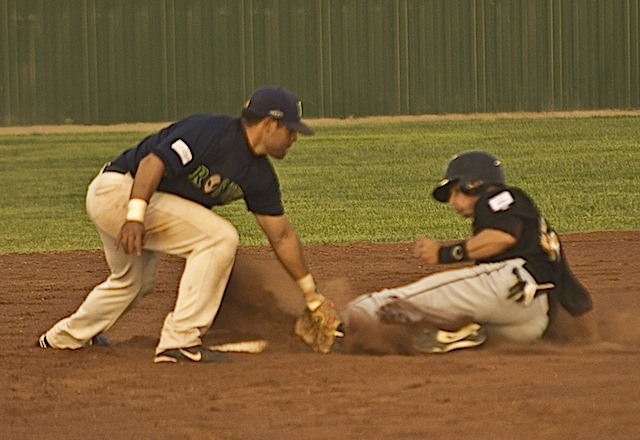 ---
The umpires called Brandon Cruz safe as he slid into second on this play. Invader manager Chris Ebright went out to argue Vincent Mejia made the tag, and was tossed. (Photo by Robert Bailey)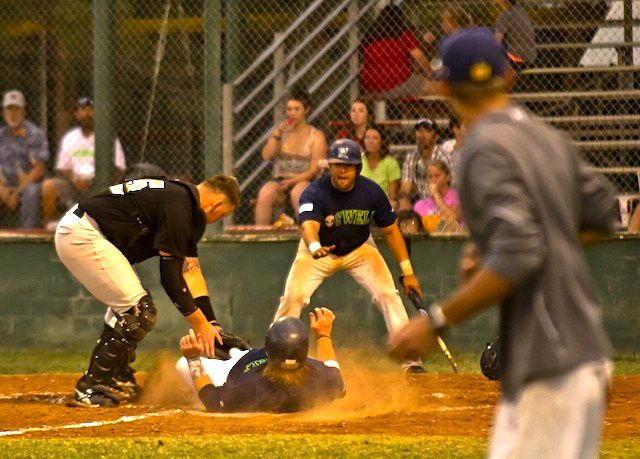 ---
Another controversial call came when Charles Dubanoski was ruled out after the tag by Zach Kreegar. Vincent Mejia seems to think he's safe, and so did the crowd. (Photo by Robert Bailey)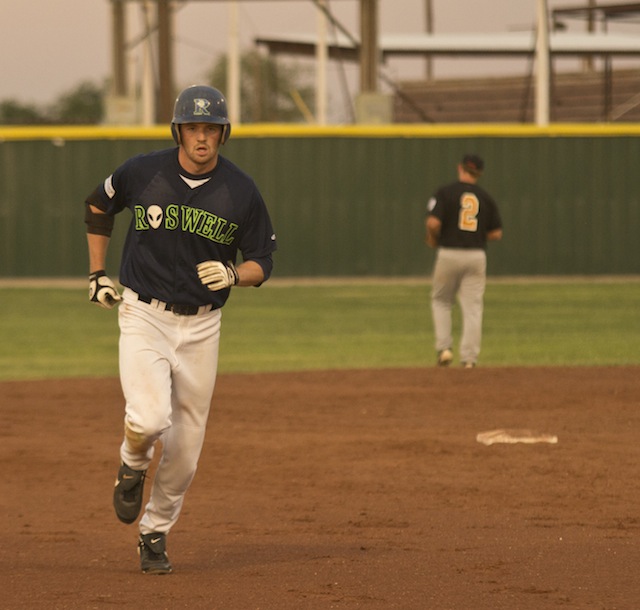 ---
Ryan Normoyle rounds the bases after he hit his first-ever grand slam home run, tying the game. (Photo by Robert Bailey)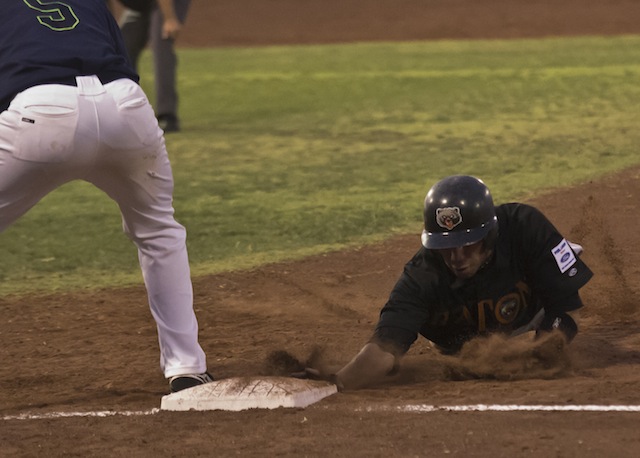 ---
Vince Smarnelli slides back to the bag. (Photo by Robert Bailey)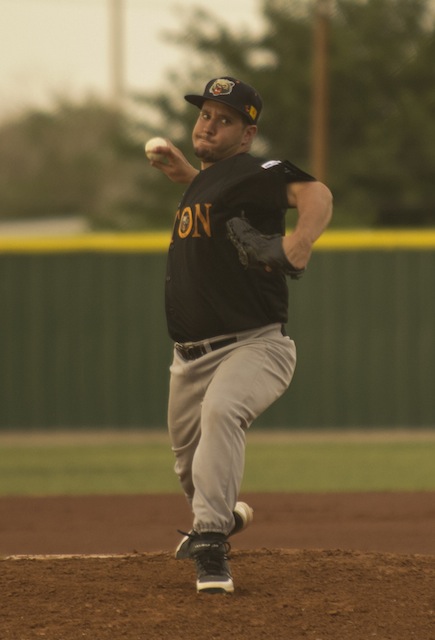 ---
Dustin Javins started for Raton. (Photo by Robert Bailey)
---
For more information visit Pecos League of Professional Baseball Clubs LLC.
http://www.PecosLeague.com
575-680-2212