Triggers split with Pupfish after late-game rally
---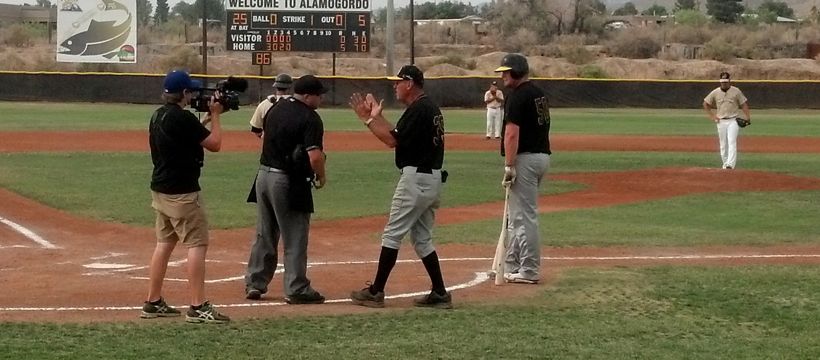 5/27/2013- Pupfish manager J.D. Droddy arguesover a foul ball while a photographer with a documentary film crew catches the action. (Photo by Josh Szwaczkowski)

By Karen Boehler
Pecos League writer

ALAMOGORDO — It was another thriller for the fans at the Aquarium Sunday, as the Pupfish and Triggers again battled right down to the wire, with the Triggers taking an 11-10 ninth-inning victory over the home team.

And, just like Saturday, Sunday saw a pitcher hit a home run. This time, it was Trigger Benji Waite, who came in to pitch with one out in the seventh and gave up one run in the eighth.

But trailing 10-9 in the top of ninth, Waite hit a one-out blast to tie then game, then, with two outs, Jacob Fabry homered for the win.

"It was another night for pitchers, but we did have the two home runs on the night, one by our closer and one by our captain," said Trinidad manager J.D. Droddy. "It was a fun game."

Maybe not so much early, as White Sands jumped out to a 3-0 lead in the first, scoring when J.J. Costantino walked, Jerry Gonzales and Ernie Munoz both singled and Cody Collins doubled. The home team made it 5-0 in the third when Munoz doubled and scored on a George Ban single.

That lead held until the fifth, when Trinidad finally got on board.

Bryce Miller walked then, with two outs, Fabry, Sam DiMatteo and Frank Florio all singled, with Mike Goldy hitting a 3 RBI double to cut the Pupfish lead to 5-4.

White Sands came back in the bottom of the stanza when Munoz walked, Collins was hit and Mendoza doubled them in. Mendoza made it 8-4 when he scored on a Ban sacrifice.

Grant Ledbetter left the mound after six — "He wasn't throwing his best game but he gutted it out. Got six innings for us," Droddy said — but he wrapped up his time on the mound with a scoreless inning.

In the seventh, Trinidad put two runs on the board with a Fabry single, a hit batter, two walks and a put out. One more out and Miller singled to make it 8-7. But the 'Fish gave themselves a cushion, scoring when reliever Jason McCurry walked and and allowed a Chris DeBiasi single. Waite then came on and struck out Joey Friedman but a wild pitch plated Ban.

The Triggers went up in the top of the eighth on singles by Fabry, DiMatteo and Goldy, and an RBI double by Wink Nolan, but the Pupfish again came back, going up 10-9 when Costantino singled, Munoz was intentionally walked and Collins hit an RBI single.

That set up the ninth-inning fireworks that ended with the Trigger come-from-behind win.

"We like to score early and often and this time we scored often late," Droddy laughed, noting that the events of the last few nights make the decision to go to National League rules look like a wise one.

"The pitchers are hitting. They let the pitchers hit this year and they're taking advantage of it," he said.

Ledbetter was 2-for-3 for Trinidad with a double and a run scored, while Waite had the home run, giving him one's across the board.

Both teams hit well, with Fabry 4-for-4 with four runs and an RBI; DiMatteo 3-for-5 with three runs; Goldy 3-for-5 with 5b RBI; and Nolan 3-for-4 with 2 RBI. On the other side, manager/catcher Munoz was 2-for-2with three runs and 2 RBI; Gonzales was 3-for-4 with two runs; Collins 2-for-4 with one run and 3 RBI; and Costantino 2-for-4 with two runs.

Winning in front of a small crowd of Trigger fans as well as Pupfish, Droddy said, "It was a big victory, so we split the series with them."

And, going by the baseball adage, "win at home, split on the road," the manager was pleased.

"Absolutely," he said. "We were hoping to win three, but that didn't happen, and today we had to win to get the split and we did what we had to do."

Trinidad now heads home where they'll face Santa Fe for the first time this year in a four-game, home and home series.

The Pupfish will again host Alpine, with the big difference the presence of Munoz, who wasn't yet on board during the first series.
---
Mike Goldy was 3-for-4 for Trinidad Sunday, with 5 RBI. (Photo by Josh Szwaczkowski)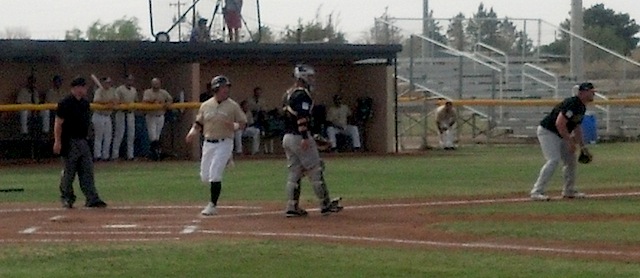 ---
George Ban knocked in Ernie Munoz with a double.(Photo by Josh Szwaczkowski)

---
Joey Friedman takes off for second while Frank Florio waits for the ball that will turn into a double play. (Photo by Josh Szwaczkowski)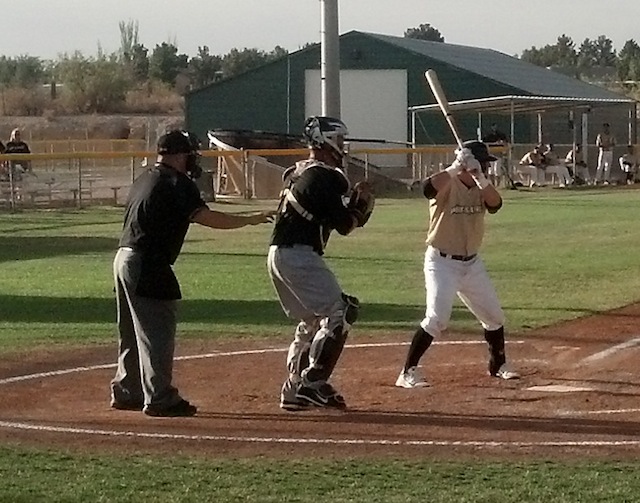 ---
Pupfish manager/catcher Ernie Munoz is intentionally walked. (Photo by Josh Szwaczkowski)
---
Second baseman Mike Goldy makes the pop-up catch. (Photo by Josh Szwaczkowski)
---
For more information visit Pecos League of Professional Baseball Clubs LLC. http://www.PecosLeague.com 575-680-2212