Osos get back on plus side with victory over Train Robbers
---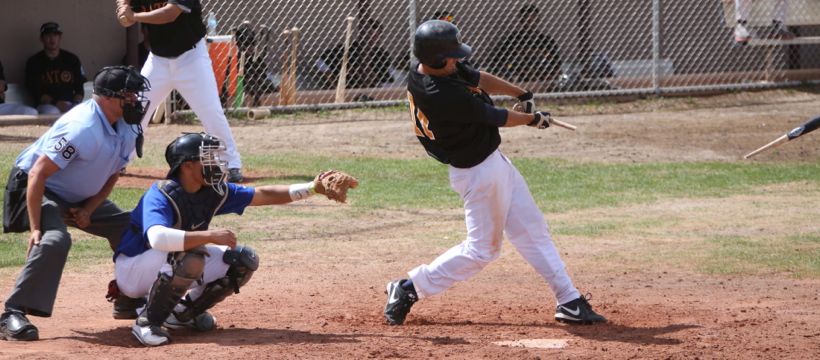 5/27/2013- It's another broken bat as Ryan Barban drops the ball into the hole in left center field. (Photo by Marty Mayfield)

By Karen Boehler
Pecos League writer

RATON — The Train Robber's five-game win streak came to an end Sunday on Gabrielle Field, as the Osos out-lasted Las Vegas in a four-hour hit-fest, winning 20-18.

"It just seems like now things are actually starting to click," said Raton manager Ray Hancock. "The boys are really coming together as a team, and the addition of four new players has really helped shore up some loose spots. We've been keeping our errors down, which is big for us. We've always hit the ball pretty well, but for some reason it seems like everybody catches everything we hit."

Not Sunday. Sunday, almost everything the Osos hit found a hole, as they tallied their 20 runs on 22 hits, six errors and only two walks by Robber pitchers. The four Raton pitchers — including Shane Flynn, just in from Taos, who started — also gave up numerous hits but also managed to survive 12 walks.

Las Vegas started out looking like they were going to continue the domination of the past three days. They went up 1-0 in the first and 5-0 after two. But Raton came back big in the third, sending 11 runners to the plate to score six runs.

The inning started when Ryan Barban doubled, Willie Frederick was hit and an error loaded the bases with Matt Lynch on first.

Zach Kreegar hit a 2 RBI single and Vince Smarnelli, another fomer Blizzard, got the second out on a sacrifice but made it 3-0. Brett Smith then singled, SteveTaft doubled and Flynn walked, with Smith coming in on a wild pitch. Barban singled for the last run of the inning, putting the Osos up 6-5.

After that, the game went back and forth, with both teams scoring in almost every inning. The Train robbers put four on the board in the fourth on two singles, a walk and a Ricky Brown home run, but Raton matched that, scoring on four singles and an error.

The big Las Vegas inning was the fifth.

John Hotta was hit by reliever Louie Saenz. Matt Grosso singled, Chris Wilson and Adam Kam doubled, Joey Haskell and Ricky Brown doubled then Ted LeMasters hit a three-run home run to put Vegas on top 16-10.

Smarnelli homered in the sixth for Raton, then the Osos re-took the lead in the seventh with a seven-run inning of their own, scoring on six hits — Steve Taft and Barban doubled — a walk, hit batter and an error.

Las Vegas tied the game in the eighth when Wells reached on an error, Kam walked and Haskell doubled them in. But Raton wasn't done, matching that output in the bottom of the stanza with a home run by Kreegar and error that scored Brandon Cruz. Richard Suniga then got the win despite two walks and a balk when he struck out Grosso for the final out.

"(Pecos League commissioner) Andrew (Dunn) sent up couple of new players, which really helped us a lot," Hancock said. Flynn pitched the first three or four innings and held them. He gave up nine but our bats came through today. Of course, they were hitting, too. We had a couple of big home runs which really helped us. Andrew Ziegler came on in the seventh and put up a couple of zeros for them and drove in a couple. So things were good."

Things are also good in the stands at Gabrielle Field. Hancock estimated Sunday's crowed at 400 to 500, most of whom stuck around until the very end of the marathon.

"They all stuck around, and that's one good thing about our fans," the manager said. "Even when we're doing bad, they stick around. They really stay to the very last. I can't say enough good things about our fans."

If those fans want to see the Osos Memorial Day, they'll have to head south, since Raton takes on Roswell at Joe Bauman FIeld.

ASked about his plans for the hot Invaders, Hancock laughed.

"Well, first I'm going to go to the (UFO) museum, to tell you the truth."

He said he's been so busy he's just been taking things day by day, but may possibly use one of the newcomers on the mound Monday.

"Hopefully on my long trip down there tomorrow, I'll have a chance to think about things," he said.

The Train Robbers head to Taos, where the high-altitude fans will get their second chance to see the Blizzard at the Tundra.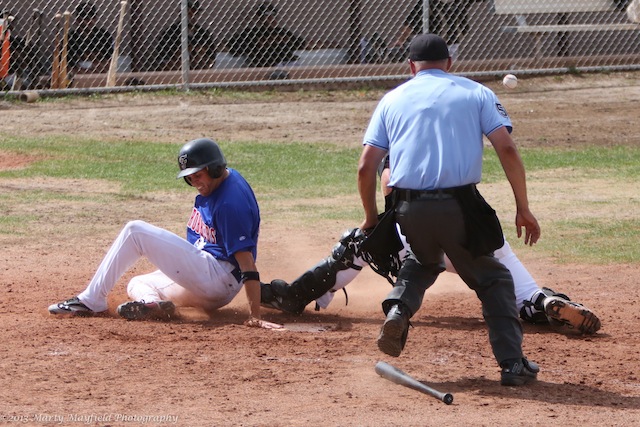 ---
Matt Grosso Slides past catcher Zach Kreeger. The ball comes loose as Kreeger goes for the tag, resulting in the safe call and another of the 18 runs the Robbers scored in the game. (Photo by Marty Mayfield)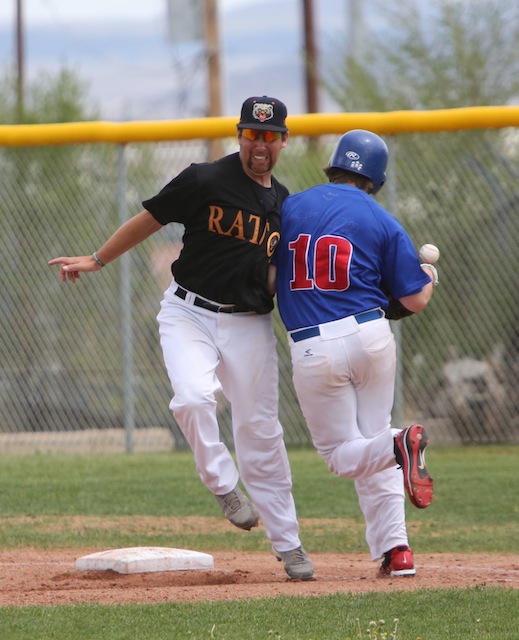 ---
Brett Smith goes for the tag at first and loses the ball as Ted LeMasters (10) collides with his arm. (Photo by Marty Mayfield)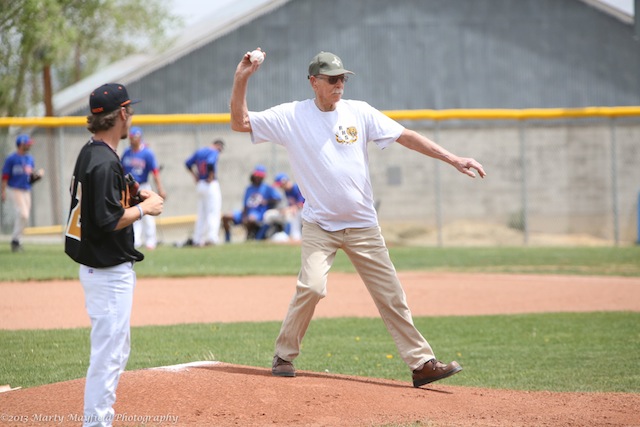 ---
Retired Marine Fred Floyd, 11th Marines, throws out the first ball for the Sunday afternoon game against the Las Vegas Train Robbers. (Photo by Marty Mayfield)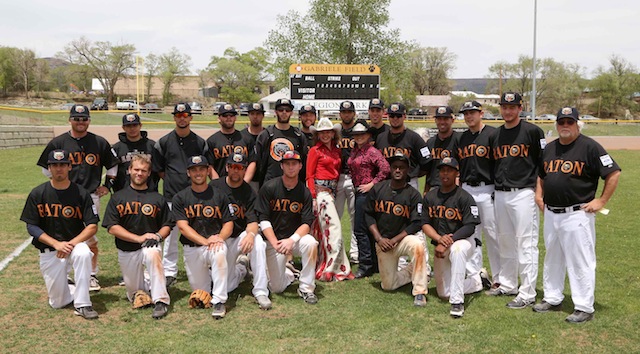 ---
The Osos with Ashley Rose Mills, Miss Rodeo New Mexico 2013, and Jana Mills, Miss Colfax County Fair and Rodeo Queen 2013. (Photo by Marty Mayfield)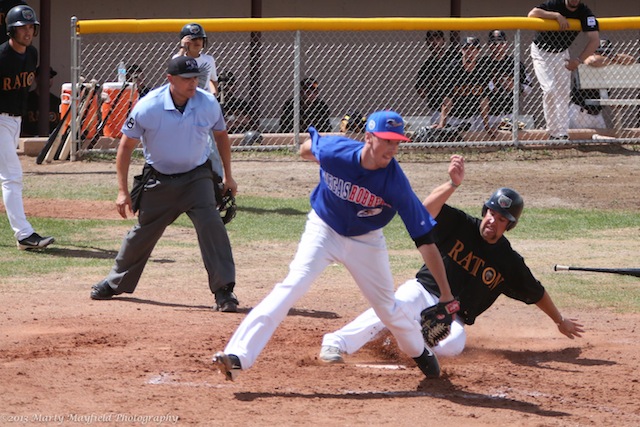 ---
First Baseman Brett Smith slides home ahead of the ball for one of the Osos' many runs on the afternoon. (Photo by Marty Mayfield)
---
For more information visit Pecos League of Professional Baseball Clubs LLC.
http://www.PecosLeague.com
575-680-2212