Roswell gets series sweep over improving Train Robbers
---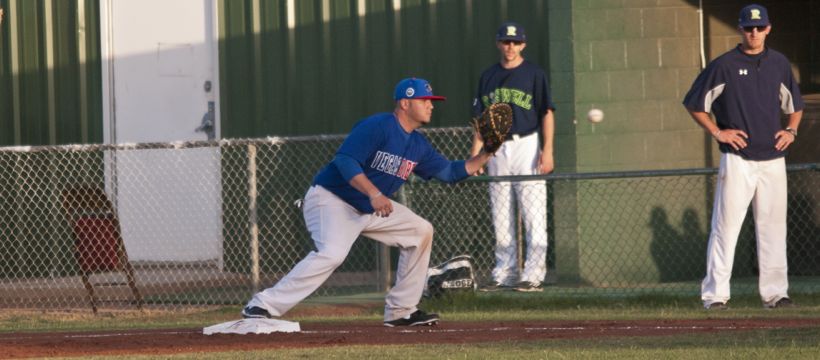 5/19/2013- Robber first baseman Adam Kam is ready as the ball comes straight to his glove. (Photo by Robert Bailey)

By Karen Boehler
Pecos League writer

ROSWELL — The final game of the five-game series between Roswell and Las Vegas ended pretty the same way the other four did — with the Invaders getting a last-inning victory — but Game 5 was different in that that 8-7 loss belonged more to the pitcher than the hitters.

And, both managers agreed, it was the best game for both teams.

"I think both teams played a lot better," said Invader manager Chris Ebright. "Today was more of a 'baseball game.' There wasn't that many errors. There wasn't as many hits as been going on. The pitchers did well. For the most part, we made the routine plays and it was more of a strategic game than just an all-out, everyone hitting."

"I think this was the best baseball game we played so far, and things just haven't gone our way this first series," said Train Robber manager Casey Dill. "We made one error. Our defense played very well overall. The one error ended up costing us two runs, which ended up being the difference in the ball game. But we have nowhere to go but up from here. It was good to see we played a solid baseball game all around. Roswell is a team that's going to make you beat them. The one costly error cost us big but we kept fighting to the end, and we're going to win a lot more baseball games than we lose."

It's an interesting line score that tells much of the story.

Each team scored two runs in three different innings. Roswell scored another two runs in a fourth, while Vegas only scored one. That one run was the difference between losing and a tie. But initiall, it looked like the Robbers might finally have things going their way.

After Will Walsh reached on an error, Matt Gross homered to put them up 2-0. Robber starter Derrick Martinez then struck out the Invaders in the bottom of the inning before Las Vegas made it 4-0 after 1-1/2.

A.J. Alexander doubled and scored on a Gary Stauff single. With two outs, Walsh walked and Gross got his third RBI of the game on a single.

Martinez started the second the way he ended the first, with two strikeouts, but catcher STauff dropped the third strike and Charles Dubanoski made it safely to first. Mike McCarthy and Andrew Deeds both singled, scoring Dubanoski, and McCarthy scored on a sacrifice by Jonathan Sa.

Roswell tied it in the fourth when Dubanoski and McCarthy hit back-to-back doubles, and McCarthy came home on a fly ball and wild pitch.

The fifth inning was the difference, as the Robbers again went up, but could onbly bring one run across. Walsh doubled and Gross singled him in.

Martinez walked Vincent Mejia in the bottom of the fifth and, after another of his nine strike outs, gave up a home run to McCarthy, making it 6-5.

The Invaders stretched their lead in the sixth off reliever Michael Kershner and that one big Vegas error.

Chad Kruse was hit and Matthew Faiman reached on a bobble by the third baseman. Kruse then scored on a fielder's choice that put Roger Bernal at first, and after he was wild pitched to second, he came home on Dubanoski's second double of the day.

But, as been the case through the entire series, the game wasn't over until the fat lady had sung. Jesus Carlos came in for Roswell in relief in the seventh, giving up singles to Walsh and Randy Wells, then, with two outs, walking Adam Kan and allowing a 2 RBI single to pinch hitter Joey Naskell.

The game then came down to the relievers, and they did their jobs.

Ben Runyon got Roswell out in the seventh and eighth, and while Ryan Rogers put runners on base in both the eighth and ninth, the Train Robbers couldn't plate those runners, with the game ending on a double play from Chad Kruse to Dubanoski.

"That was a great turn by Chad Kruse," Ebright said. "Great job by Ryan Rogers to close them out the last two innings. They're a heck of a hitting baseball team, so everybody's going to be on the edge of their seats when it comes down to the eighth and ninth innings, but you've got to tip your hats to those guys for battling and tip your hats to our guys for closing out the baseball game."

The middle of the Invader lineup did most of the damage Saturday, with McCarthy 3-for-3 with three runs and RBI; Deeds 2-for-3 with 1 RBI; and Dubanoski 2-for-5 with an RBI and two runs scored.

Sa got the win with Rogers getting the save.

Walsh and Gross led the Robbers. Walsh was 2-for-4 with three runs; Gross 3-for-5 with one run and 4 RBI; and Staff was 2-for-4 with one run and RBI.

"I saw a lot of positive things today, and going down to the last three outs in the ninth inning, we gave them a run," Dill said. "We played good baseball. If we play baseball like this consistently throughout the season, we're going to be fine. The goal is to make the playoffs and give ourselves a chance and if we can play like this I think we'll be right there at the end."

Las Vegas heads north Sunday, looking to gets their first win in Trinidad. The Invaders stay home, as White Sands (1-3) come to Joe Bauman Stadium. So what will it take to continue the winning streak?

"Just keep playing baseball," Ebright said. "Baseball is a game you just keep playing your thing. There's going to be some strategy with some of their hitters, but we've seen their guys in spring training, and they can hit a little bit, too."

First pitch is set for 5 p.m.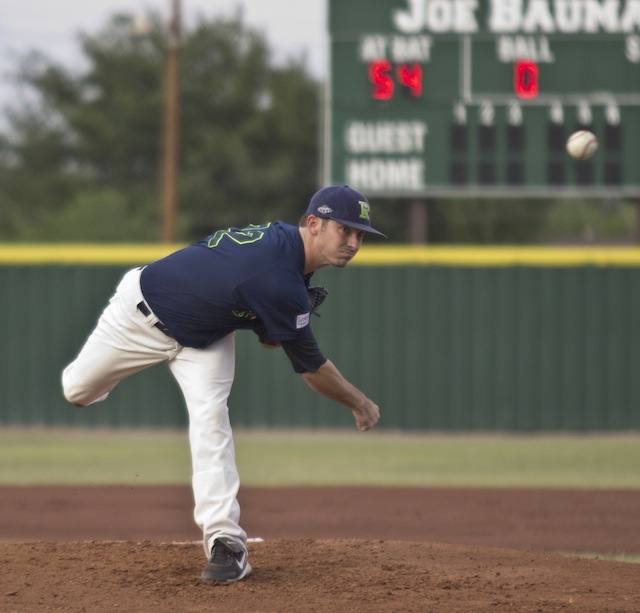 ---
Jonathan Sa got the win in a well-pitched game on both sides. (Photo by Robert Bailey)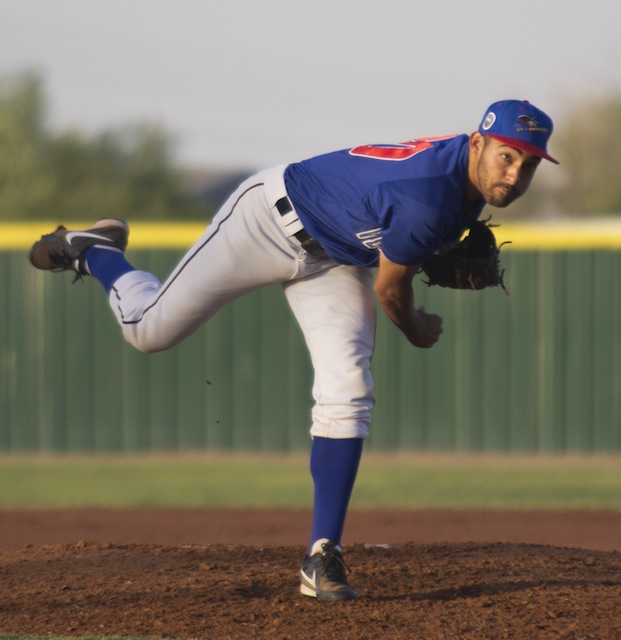 ---
Jonathan Sa got the win in a well-pitched game on both sides. (Photo by Robert Bailey)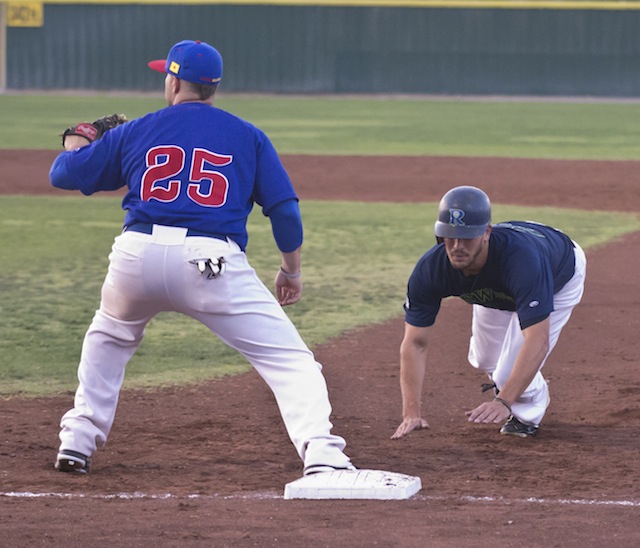 ---
Jonathan Sa got the win in a well-pitched game on both sides. (Photo by Robert Bailey)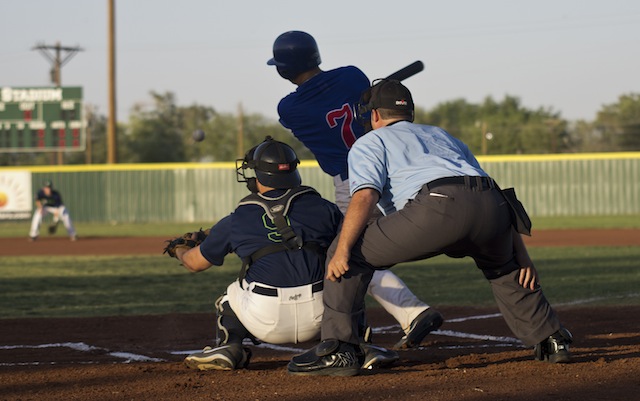 ---
Jonathan Sa got the win in a well-pitched game on both sides. (Photo by Robert Bailey)

---
For more information visit Pecos League of Professional Baseball Clubs LLC.
http://www.PecosLeague.com
575-680-2212