Gaylord homers help Roswell to big victory
---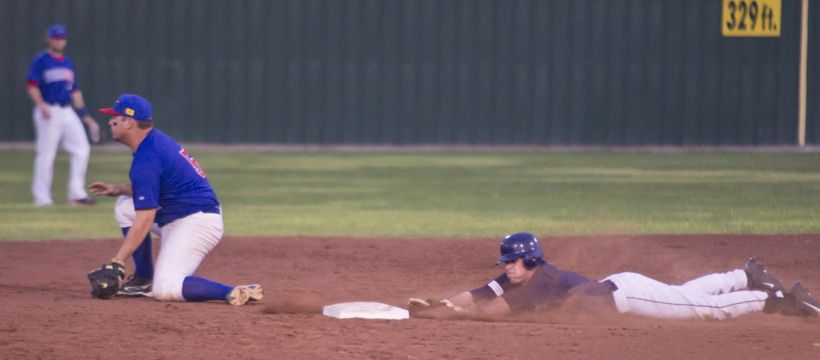 5/18/2013-
By Karen Boehler
Pecos League writer

ROSWELL — Friday, Invader fans had a chance to breathe easy for most of the game vs. Las Vegas, as, in contrast with the first three games between the two teams, Roswell went up early and continued to stretch the lead, winning 16-4.

The big difference was the second inning, which saw the Invaders send a baker's dozen to the plate, highlighted by the first of two home runs by Erick Gaylord.

"I knew Erick Gaylord could do that," said Roswell manager Chris Ebright. "I knew he could do that, that's why we brought him here, and he's got speed and power, which are two great things for a baseball player, obviously."

The Invaders left the bases loaded in the first without scoring, but they had no problem with that in the second. Andrew Deeds led off with a triple, then, one out later, Gaylord and Chad Kruse singled; Ryan Normoyle and Roger Bernal each reached on errors; Vincent Mejia walked; Mike McCarthy singled; Nate Theunissen doubled; and, now back where they started, Deeds doubled and that was it for Train Robber starter Anthony Nalepa.

But Chuck Fontana, just called up to Las Vegas, didn't do much better, giving up the Gaylord home run.

Will Walsh got the first Robber home run with a solo homer in the third, then singles by Randy Wells, Chris Wilson and Adam Kam in the fourth made it 10-2, but Roswell closed out the inning with a crowd-pleasing double play.

Roswell added another four runs in the bottom of the stanza, two coming off Gaylord's second home run of the night, and two on a pair of walks and a single.

It wasn't the first time the right fielder had smacked two shots in a game — the first time, he said, was in a summer league in 2011 — and he wasn't even sure either was going out.

"They just kind of barely cleared the fence, so I ran hard, hit it hard and they happened to go out today," he said.

The fifth and sixth were scoreless, then, with Eric Lambe in in relief of starter David Mueller, Las Vegas got two runs on an error, walk and Chris Wilson double. But that was all Las Vegas could score, and the Invaders added an insurance pair in the eighth on a Lambe single and Normoyle home run.

"A little surprising," Ebright said of the left-fielder's blast. "We knew he had a little pop, but we didn't know he had left-center pop being a left-handed hitter."

For Las Vegas manager Casey Dill, the loss was more of the same. "We're consistently the same team every night," he said. "I can't expect us to put up 12 runs every game. It would be nice to think that we would. I think most games we are going to put up a lot of runs and tonight we didn't, but any game, no matter how many runs you score, if you have a 10-run inning and you give up 10 hits in three innings and you're walking guys, you're not going to win many baseball games. It was the same game, kinda different circumstances, different innings that it happened in, but it's no different than Game 2 or Game 3, but we just have one inning where we completely implode."

While every Invader who went to the plate except Mueller had at least one hit — with Deeds 4-for-5 with three runs and 2 RBI — the "Mueller /Lambe combination held Las Vegas to just seven hits.

"They did great, and that what we look for from our pitchers," Ebright said.

Gaylord said he's not surprised at the early-season Roswell success.

"Actually, we've got a pretty good group of guys," he said. "I think we're pretty talented. We're starting to gel together, and honestly we haven't even hit our stride yet. We've got a good bunch of guys who come out and work hards every day and it's paying off, so I'm expecting great things out of our team."

Dill is trying to keep a good outlook despite the 0-4 start..

"I'm staying positive, as this point, I look at this more or less as our spring training," he said. "Because I didn't have a baseball field to accurately assess these guys. We did our best with what we were provided. We had a bullpen and we had a batting cage, and I can't accurately assess how hitters hit live pitching and our pitchers face live hitting if we don't have those opportunities."

Dill said he'll keep looking for a combination that works, and in the mean time, the two teams will wrap up the series Saturday a 7 p.m. in Roswell.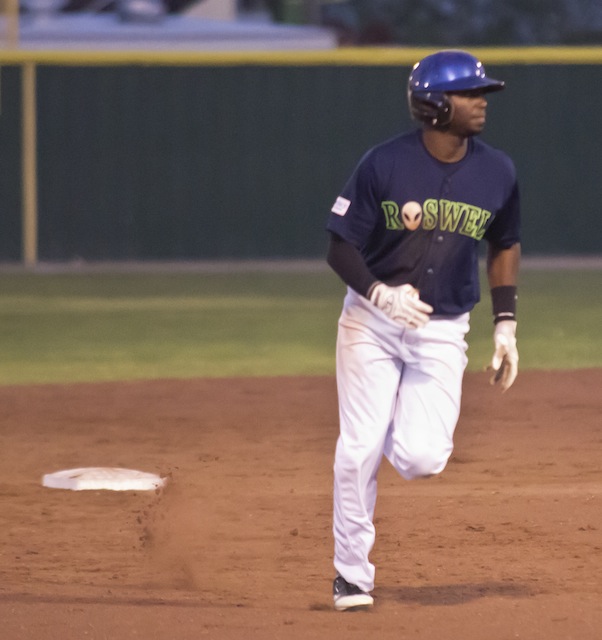 ---
Erick Gaylord trots around the bases after the first of his two home runs on the night. (Photo by Robert Bailey)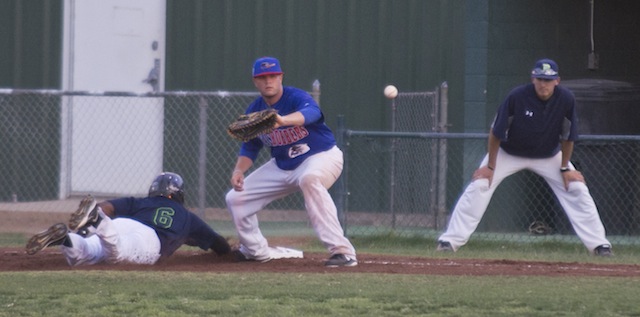 ---
Erick Gaylord trots around the bases after the first of his two home runs on the night. (Photo by Robert Bailey)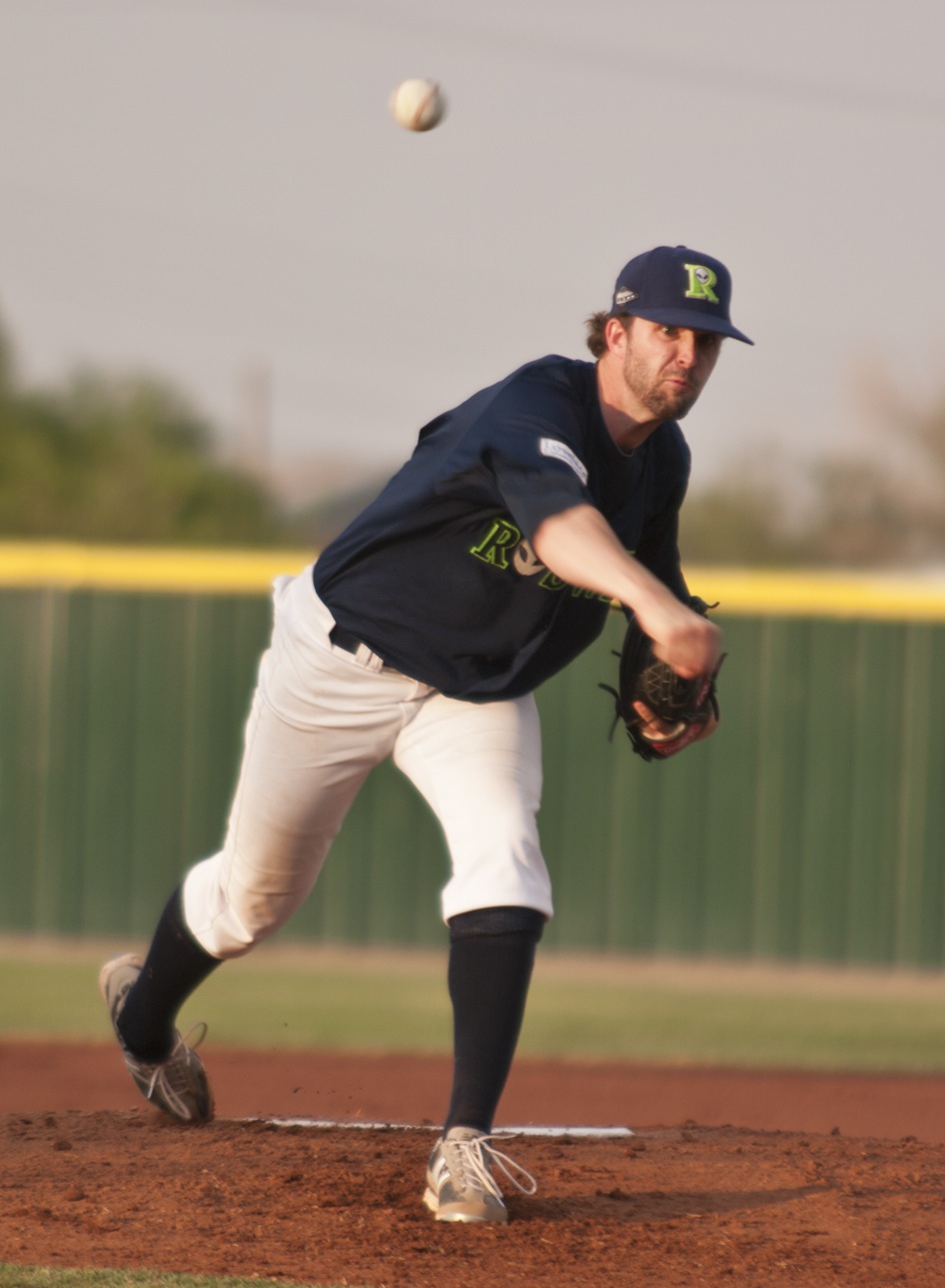 ---
Erick Gaylord trots around the bases after the first of his two home runs on the night. (Photo by Robert Bailey)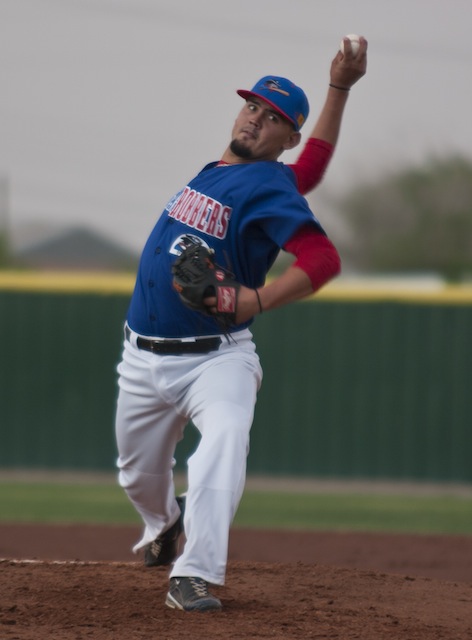 ---
Erick Gaylord trots around the bases after the first of his two home runs on the night. (Photo by Robert Bailey)

---
For more information visit Pecos League of Professional Baseball Clubs LLC.
http://www.PecosLeague.com
575-680-2212