Oh so close. Raton just misses in marathon vs. Trinidad
---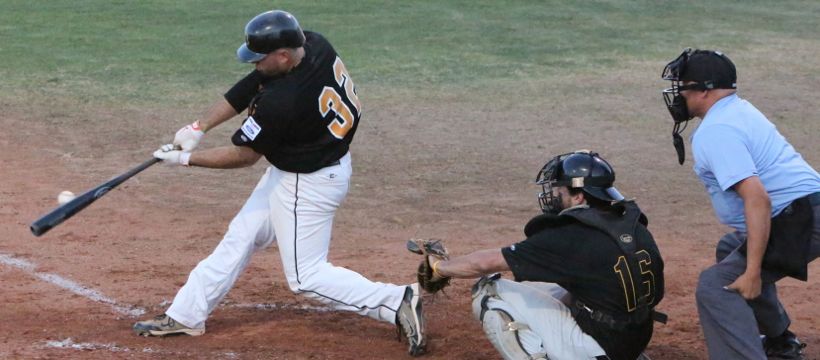 5/18/2013-
By Karen Boehler
Pecos League writer

RATON — Raton came just a hit or two away from winning it's first game of the season Friday, falling in a marathon four-hour game to Trinidad 11-10 that was decided by Sam DiMatteo's second home run of the game.

"We had some errors that were very costly, but we came back," said Oso manager Ray Hancock. "We gritted our teeth and we came back and came back and came back and came back and never stopped until the very end. I'm extremely proud of my boys. We've had some problems in the past, but I think all of our problems are pretty much solved. I'm on the road to building a team. This was a total team effort, from the bench all the way through the top of the lineup."

Raton led early, as Trigger Matt Hunt scored one in the first on a single, two passed ball and Mike Goldy single, but the Osos came back in the bottom of the stanza, scoring three when Stedman Smith walked, Logan Morello and Michael Lange each singled to load the bases, then the trio came home on a balk and A.J. Doyle single.

Trinidad closed the gap to 3-2 in the second on one of DiMatteo's homers, then, after the admittedly shaky Trigger pitching got out of the third unscathed, they had a big fourth, sending 11 batters to the plate and scoring five runs on four hits and three errors.

But Raton came back with one in the bottom of the stanza when Caldwell doubled, advanced on and came home on an out and scored on a passed ball.

The Triggers went up 9-4 in the fifth on a single and three more errors, but Raton still didn't quit.

Zach Kreegar reached on a walk on Smith on a fielder's choice in the sixth, then both scored on a Morello single. After Trinidad got one more run on a Bryce Miller walk and Richie Serritella double, Raton tied the game in the bottom of the seventh.

Doyle and Louie Saenz singled,, then scored on a Nicholas Hinojo double. Hinojo scored on a pair of passed balls, and the game was knotted at 10-10.

"We didn't pitch well early," said Trinidad manager J.D. Droddy. "The last two innings our pitcher was light's out. But the first seven innings our pitching struggled."

Starter Dylan Porter and reliever Lee Hall gave up seven of the10 Raton runs. Sinker baller Benji Waite gave up the three in the seventh, because, Droddy said, "He got too much rest. Sinkerball pitchers do good when they're tired."

But even though he struggled, Droddy wasn't going to take him out.

"He's one of the very best pitchers we have, so I wasn't planning on taking him out, and then in the eighth and ninth he was just lights out."

After DiMatteo got what would be the winning run with yet another home run in the eighth — "He's just on fire," Droddy said — Waite closed it down the rest of the way.

"Once he got his sinker going and mixed up his pitches very well, it was all over," the manager said.

While Hancock would have liked to win — and said they would have without the errors — he was still proud of how his team battled.

"Again that goes back to youth and inexperience and the fact that we never really had a chance to put a team together," he said. "I see no problems with this team. They're gritty, and they'll do just about anything it takes to win some games."

Waite got the win and Brian DelRosso, who gave up the last DiMatteo home run, the loss. The Osos also may have had a more serious loss. Caldwell came in in the fourth for his first appearance of the year, getting two outs then doubling on offense. But then he couldn't continue, and while a trip to the hospital Saturday will determine the exact injury, Hancock fears the young pitcher blew out his shoulder, possibly ending his summer.

The teams will wrap up the four-game series Saturday at 7 p.m.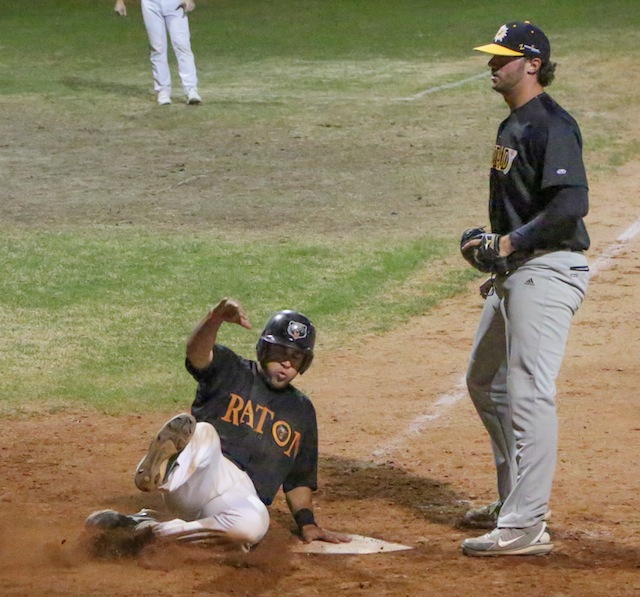 ---
The tying run slides across home plate on a wild pitch that got away from Trigger catcher Richie Serritella (Photo by Marty Mayfield)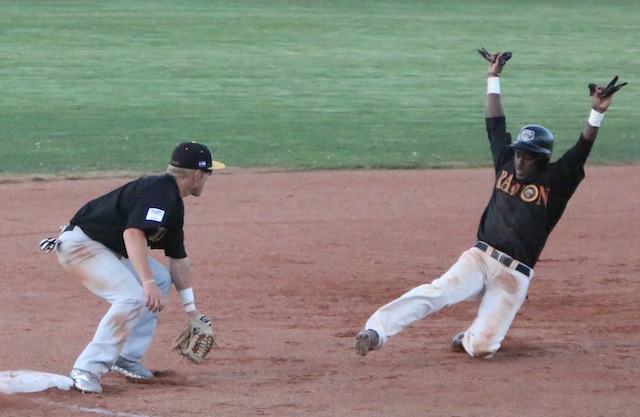 ---
Sam Steadman makes the slide into third well behind the ball and Jeff Lucero easily makes the tag. (Photo by Marty Mayfield)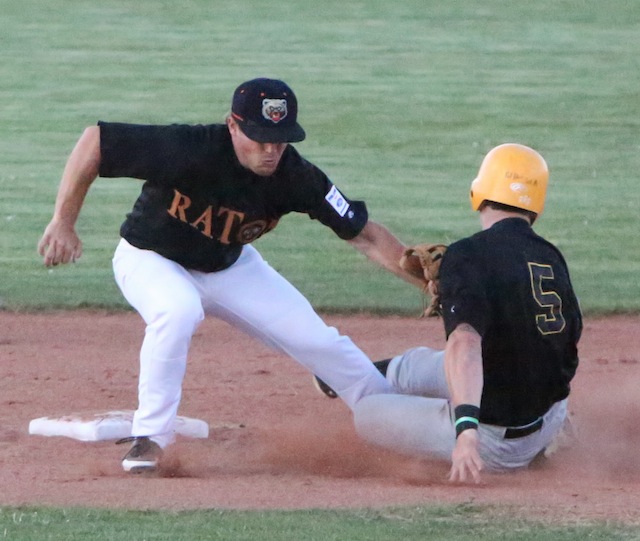 ---
Another out at second as Cody Langham makes the tag on Jacoby Fabry. (Photo by Marty Mayfield)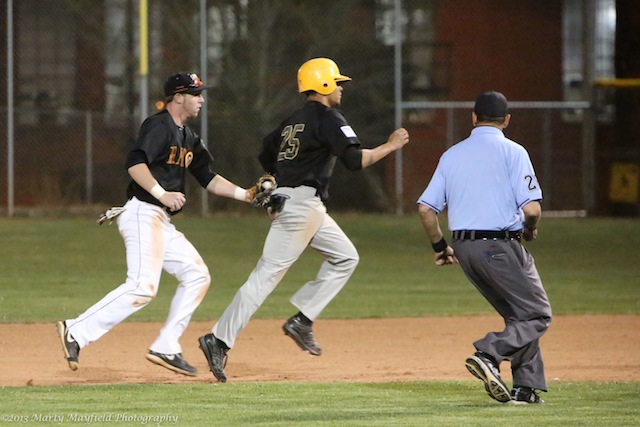 ---
Caught in the pickle, Bryce Miller is tagged out by second baseman Cody Langham. (Photo by Marty Mayfield)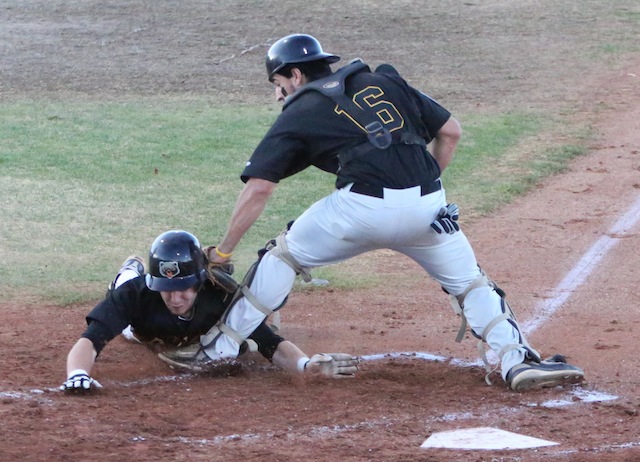 ---
Out at home as Trigger catcher Richie Serritella makes the tag at home plate. (Photo by Marty Mayfield)
---
For more information visit Pecos League of Professional Baseball Clubs LLC.
http://www.PecosLeague.com
575-680-2212