Another night, another Roswell come back
---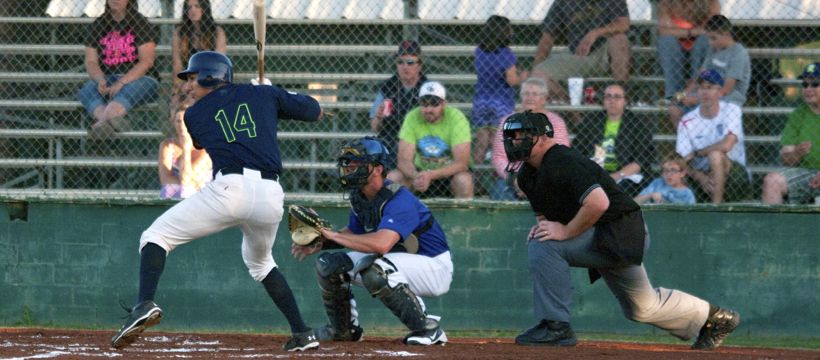 5/17/2013-
By Karen Boehler
Pecos League writer

ROSWELL — Another day, another come-from-behind victory by Roswell puts the Invaders on top of the league — either division — with a perfect 3-0 record after Thursday's 12-11 victory over winless Las Vegas.

"I tell you what," laughed Roswell coach Chris Ebright. "These kids, they don't know what they're doing to us. Even the fans out there. We're making it exciting, which, some times, I wish we would just get ahead and not make it exciting. But, you know, again, our guys fought back, and we scored eight in the bottom of the eighth and these guys just don't quit."

The first five innings made it look as though it might be a low-scoring pitching duel between starters Ryan Richardson and Atsushi Nebisawa.

Richardson allowed one Train Robber run in the first on singles by Matt Grosso, , Randy Wells and Adam Kam, and one in the fourth when Wilson singled and advanced on a throw, sacrifice and put out.

Roswell tied the game in the bottom of the fourth when Nate Theunissen, Andrew Deeds and Ryan Richardson all singled — Richardson scoring Theunissen — and Chad Cruse had an RBI sacrifice fly.

The fifth was scoreless on both sides, but the Robbers seemed to break it open in the sixth, scoring six runs off six hits — starting with a home run by Randy Wells — and two errors.

The Invaders added one in the bottom of the sixth and the score remained 8-3 after seven. But after Roswell reliever Ryan Rogers held Las Vegas scoreless in the top of the eighth, the Invaders had that big eight-run eighth, scoring off relievers Kevin Camacho, Joel Sanchez. MIchael Kershner and Ben Runyon.

An Erick Gaylord triple, Cruse single and Ryan Normoyle opened the inning, with two walks, an error, a hit batter, two wild pitches and two singles all combined to bring the Roswell runners home.

The only bad news was when Jordan Owen was hit, and hit hard. As he tried to bunt, Kershner threw high and tight, and the ball smacked the hitter in the face. He was taken to the hospital where it was discovered his jaw was broken in two places, and he's currently in Albuquerque, awaiting surgery, and is reported in good spirits.

That bit of bad news aside, the Invaders led 11-8 with only three outs to get.

But just as happened Wednesday, Roswell pitcher Jacob Cook couldn't hold Vegas, with the Train Robbers scoring three runs with two outs on a hit batter, error and single off Cook, then singles by Lauer and Michael Pena off Scott Elitzy.

The game was now tied 11-all.

And again, just as the day before, Las Vegas couldn't hang on, as Eddie Medina walked Roger Bernal and Vincent Meji, got Bernal out on a fielders choice but then gave up a single to the day's hero, Theunissen, who singled to score the winning run.

"I hope we just keep it going," Ebright said of the hitting. "I think it's just another one of those games where, in a way, we were lucky we were the last at bat. We're at home. But these kids make it exciting."

Las Vegas coach Casey Dill was understandably upset after giving away the third game in a row.

"Our bullpen has failed us miserably," he said. "Our bullpen has cost us two baseball games two nights in a row. Out bullpen isn't doing its job. It's that simple. Our bullpen has cost us two baseball games. Giving up a three-run lead and a five-run lead is not acceptable. I can control what I can control, and I can control who stays and who goes, and right now I'm not going to sit back and watch us blow games every night. So there's guys who are fighting for their job every day, and there will be changes after this series."

Both starters pitched well — Nebisawa more so, allowing only three runs, two earned, on eight hits while striking out six — but both coaches had concern about their relievers.

"Just like them (Vegas), our relievers have got to do something different," Ebright said.

"Our hitting is going to give us a chance to win the baseball game every night," Dill said. "And as long as we can keep the errors to a minimum and we can throw strikes with a lead and get guys out with a lead late in the ballgame, we're going to win a lot of baseball games. Right now, the last two baseball games have just been complete, absolute melt downs. And that's all it is. Guys are nervous. They're not ready to be here and like I said, we're going to make some roster moves after this series. It's that simple."

Roswell also gave the fans several highlights in the field, throwing out Robber runners in both the first and second, then Gaylord making a throw from right field to start a double play.

"We've just got to get more consistent defensively," Ebright said. "The first half of the game, we actually, I think, played very bad baseball. We didn't get runners in from scoring position with less than two outs. Some bad base running and I think we made some mistakes on key defensive plays. But overall, again, it was ugly but I'll take it. But we've got to get better.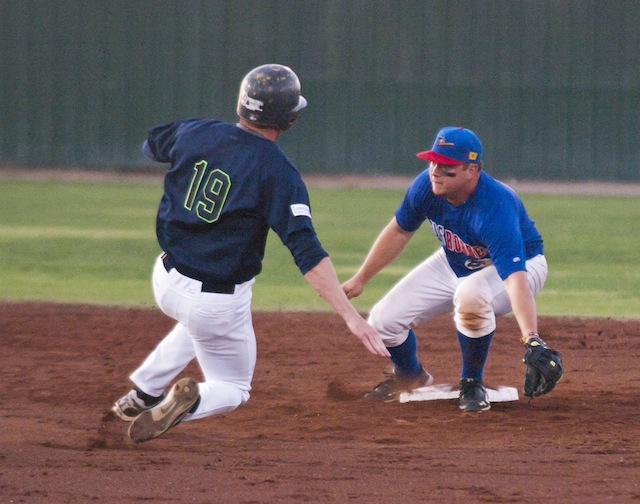 ---
Ryan Normoyle slides into second as Randy Wells waits for the ball. (Photo by Robert Bailey)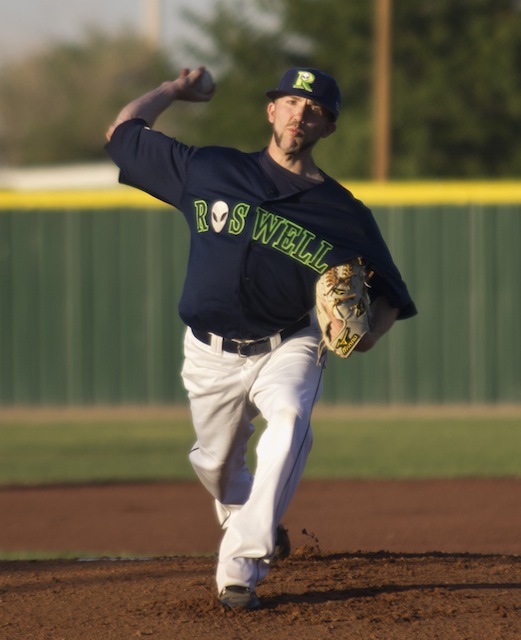 ---
Ryan Normoyle slides into second as Randy Wells waits for the ball. (Photo by Robert Bailey)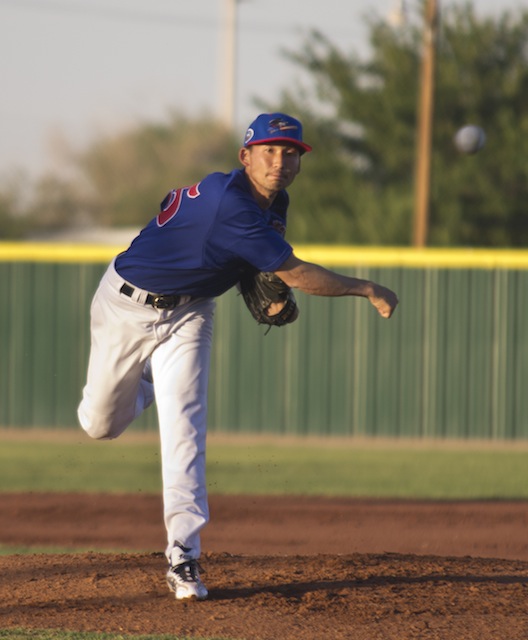 ---
Ryan Normoyle slides into second as Randy Wells waits for the ball. (Photo by Robert Bailey)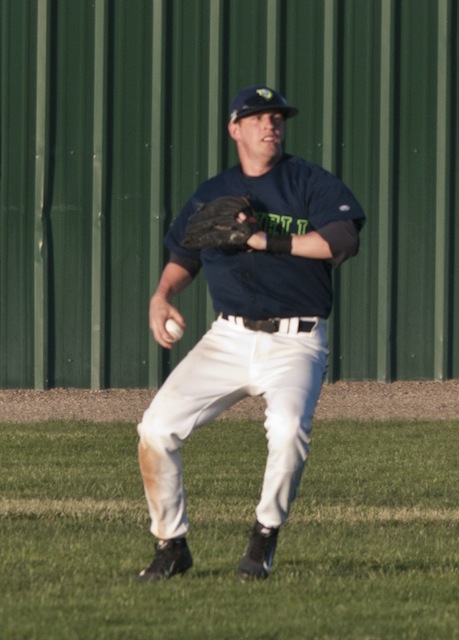 ---
Ryan Normoyle slides into second as Randy Wells waits for the ball. (Photo by Robert Bailey)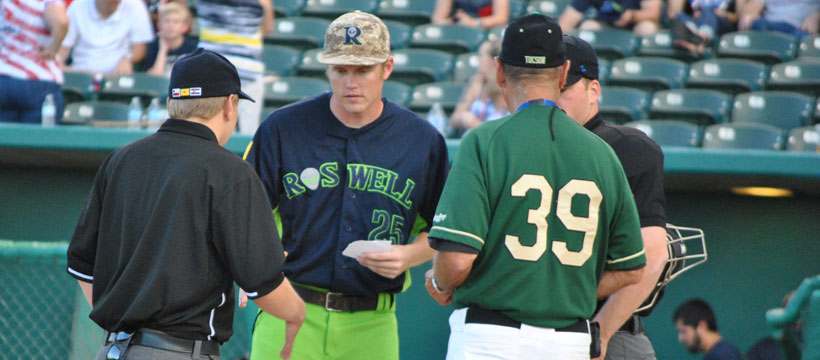 ---
Ryan Normoyle slides into second as Randy Wells waits for the ball. (Photo by Robert Bailey)

---
For more information visit Pecos League of Professional Baseball Clubs LLC.
http://www.PecosLeague.com
575-680-2212