Invader pitching shuts down Las Vegas hitting
---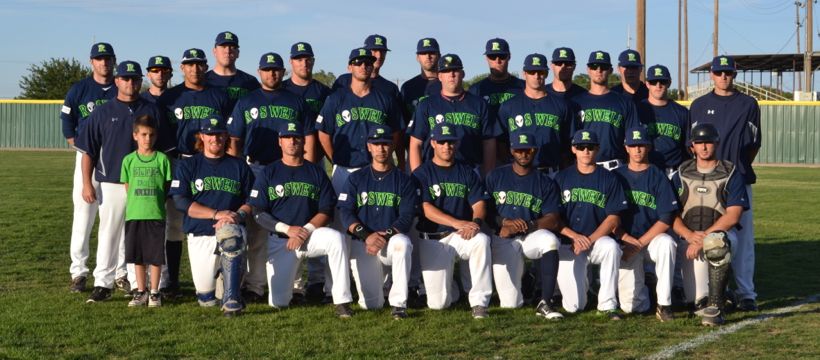 5/15/2013-
By Karen Boehler
Pecos League writer

ROSWELL — As much as people like to think they can predict the outcome of games, baseball is an unpredictable sport, and that showed Monday as Roswell topped Las Vegas 8-2 in the season opener for both squads at Joe Bauman Park.

Train Robber starter Edison Alvarez — widely touted as one of the top pitchers in the Pecos League — pitched well, but was betrayed by a number of Las Vegas errors. Invader Ed Kohout, meanwhile, only allowed two runs — one earned — in six complete innings, while relievers Matthew Faiman and Jacob Cook shut strong-hitting Las Vegas down through the final three innings.

Then there was the little thing called a grand slam, which Vincent Mejia sent out of the park in the sixth to give Roswell a big lead.

"Good things happen when you throw the ball over the plate," said Invader manager Chris Ebright. "Tip your hat to those guys. They're hitters, and there sometimes they just missed the ball but our pitchers did well and our hitters came through today."

"The scoreboard says four errors, but I know we had at least five, and probably at five or six of their hits, so more than half of their hits, were infield hits," said Train Robber manager Casey Dill. "We kicked the ball around in the infield. It's the same thing we did in the exhibition game. And we're not making excuses. We haven't been able to be on a field as much as we would like to be because of our field situation. We've been practicing in a cage and off of a bullpen mound, and again, not making excuses. These guys are good enough ball players that five errors and five infield singles shouldn't be acceptable. So, we beat ourselves."

After a 1-2-3 top of the first — Matt Gross singled but was caught stealing — Roswell made it 1-0 in the bottom of the stanza when Jeff Eubanks tripled and scored on a putout.

It was another 1-2-3 inning for Kohout in the second, while the Invaders wasted a one-out, bases loaded situation.

Roswell added a run in the fifth when Roger Bernal singled and Mejia doubled him home. Las Vegas tied it at 2-2 in the top of the sixth when Edison singled, Will Walsh was hit and, after advancing on a putout, both scored on a single by Randy Wells. But that was all the scoring for the Robbers, and Mejis blew it open in the bottom of the sixth.

Faiman reached on an error, Erick Gaylord singled and both advanced on a ground out. That was it for Alvarez, and after walking Ryan Normoyle to load the bases, reliever Keith Vasquez left for Eddie Medina, who gave up an RBI single to Bernal.That brought Mejisa to the plate, and, to the cheers for the opening-day crowd, he sent a shot to left center that cleared the bases and put Roswell up 7-2.

The Invaders added one final run in the seventh on a Nate Theunissen single, error by the Cowboy third baseman; a second error by the third baseman and a balk.

"Mejia's the guy we think who's obviously going to be our power hitter, and he came through and hopefully he can keep doing it," Ebright said, indirectly praising the rest of his hitters with kind words for Alvarez.

"That kid is good. Their starting pitcher, I think he's got three or four pitches he can throw for a strike at any count. That's baseball sometimes you win, sometimes you don't, and we won today but he's good. He's going to be a really good run."

Dill praised the Roswell pitchers equally.

"They've got some very good arms and again, not to make excuses because we're not making excuses, we haven't seen a whole lot of live pitching," he said. "We've only the two exhibition games, so our starters today only had one game of live pitching. Again, that's not an excuse. These guys are good pitchers but they're no different than the guys they've been facing their whole lives. We weren't aggressive enough tat the plate. We were trying to hit the ball out of the yard but we popped a lot of balls up and Roswell played solid defense. They played a great baseball game. They made us beat them today and we didn't do that."

Three Invaders had solid days at the plate. Mejisa was 2-for-2 with one run scored and 5 RBI. Theunissen was 3-for-4 with one run and Bernal 2-for-5 with 2 RBI and runs. Only Alvarez — who was 2-for-2 with one run scored — had more than one hit for the Robbers.

The teams will meet again Wednesday, with Andrew Shoemaker starting for Roswell and Greg Fowler for Las Vegas. First pitch is set for 7 p.m.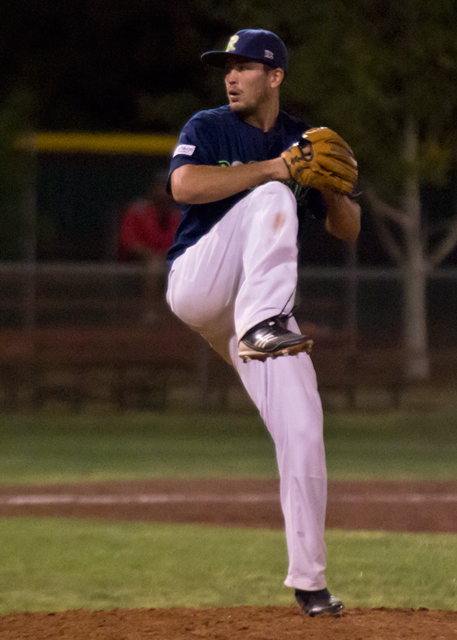 ---
Ed Kohut got the Invaders first victory of the season, allowing two runs on five hits while striking out five. (Photo by Robert Bailey)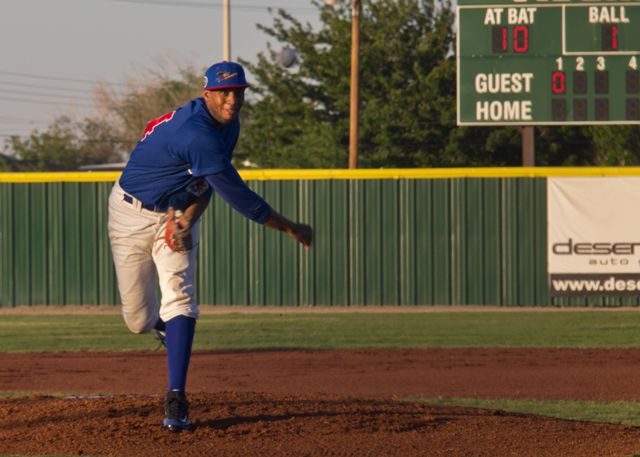 ---
Edison Alvarez pitched well, but was betrayed by five Las VEgas errors.(Photo by Robert Bailey)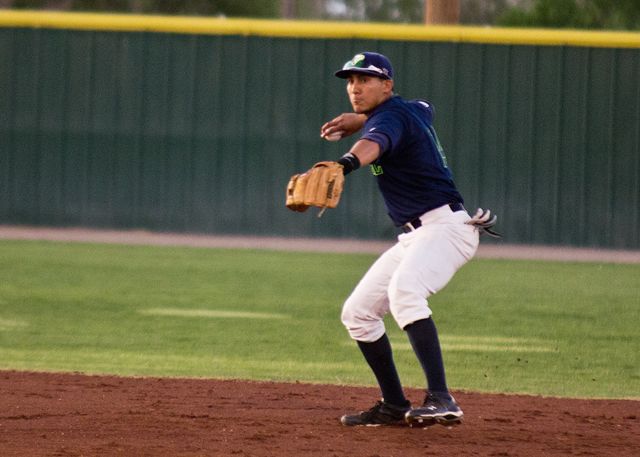 ---
Roger Bernal makes the throw from short. Bernal also scored two runs and had two RBI. (Photo by Robert Bailey)
---
For more information visit Pecos League of Professional Baseball Clubs LLC.
http://www.PecosLeague.com
575-680-2212