Houston Apollos 5 Galveston Sea Lions 3
---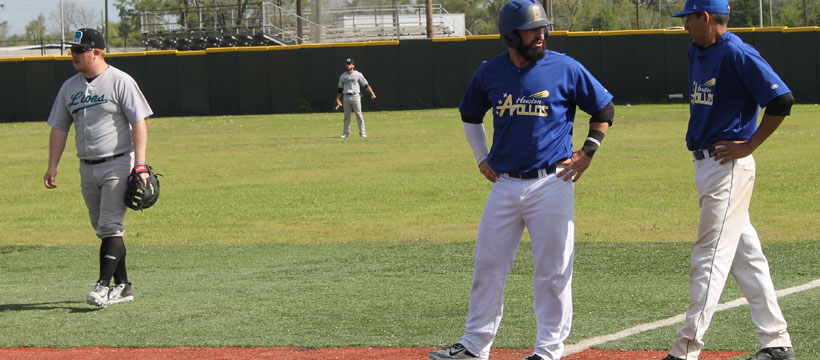 3/21/2017- The Houston Apollos defeated the Galveston Sea Lions 5-3 to take sole possession of first place in the Pecos Spring League. Troy Mannebach pitched 6 innings striking out 11 allowing 3 runs. Bryan Klopped pitched the 7th inning for the save.

For the Lions Elvin Jorge pitched 3 innings allowing 2 runs with 7 strikeouts. Kenny Ulbirght pitched 3.2 innings allowing 2 runs on 3 hits. Javier Taylor pitched 1/3 of an inning for the Lions.

The Apollos continued to get their offense from their same three sources. Scott Stetson was 2-3 with 2 runs scored and an rbi. Eric Schneider was 3-3 with 2 runs scored and 2 rbis. Nick Vehleward was 1-3 with a 1 rbi.

For the Lions Austin Marcellus was 2-3. Brian Wiest was 1-2. Caleb Patterson directly stole home for the Lions.

Scott Stetson started the game off with a 3-2 walk which was followed by an rbi triple by Eric Schneider. Schneider scored on a wild pitch to make score 2-0. Jorge then struck out the side.

In the 5th the Lions scored again when Eric Olivo drove in Brian Wiest. In the 6th the Lions took the lead 3-2 when Taylor Ellis scored on Austin Marcellus double and Caleb Patterson stole home.

In the 7th for the Apollos, Scott Stetson tripled home Daniel Cruz to tie the game for the Apollos. Eric Schneider doubled home Stetson to give the Apollos the lead. Nick Vehlewald doubled home Schneider to give the Apollos a 5-3 lead.

Bryan Kloppe pitched 1-2-3 7th to end the game.

If the Apollos win either of their last two games against the Stockade or the Lions lose either of their last two games then the Apollos will remain Pecos Spring League Champions.

---
For more information visit Pecos League of Professional Baseball Clubs LLC.
http://www.PecosLeague.com
575-680-2212