Houston Apollos 6 Garden of Gears 2
---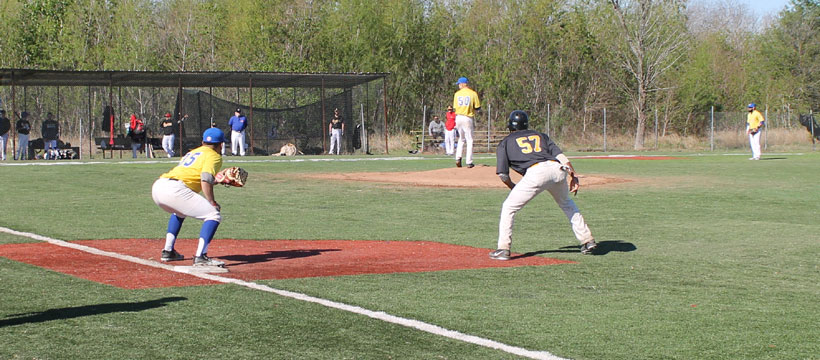 3/14/2017- The Houston Apollos defeated the Garden of Gears 6-2 on the first day of Sun in Houston Texas. Weather was 70 degrees without a cloud in the sky. The Apollos made no errors and turned two double plays, the Gears made 3 errors extending Apollo offensive innings. Nick Vehlewald lead the way for the Apollos with a bases loaded triple and a key 3rd inning RBI single, he finished the day 3-4 with 4 rbi's and started two double plays. Michael Wright went 2-4 and made two huge inning ending catches in the outfield.

Tomas Gutierrez made the start for the Apollos going 3-2/3 innings allowing only one run. Bryan Kloppe picked up the middle innings going 2-1/3 innings allowing no runs. Ciprano Garza pitched 1 inning walking 4 and allowing 1 run for the Apollos.

Chris Triebt pitched for the Gears he pitched 4 innings allowing 5 hits and 1 earned run. He allowed a total of 6 runs. Ulyssis Rodriguez pitched 2 innings allowing 2 hits, 0 runs and 2 strikeouts. Trevor Wick pitched 1 inning allowing 1 and 0 runs.

The Apollos lost Cameron Ketchen to an ankle injury and Joe Davis to a hand injury.

---
For more information visit Pecos League of Professional Baseball Clubs LLC.
http://www.PecosLeague.com
575-680-2212