A great effort by Brian Frazier hoisted the Trinidad Triggers (13-7) to a 16-11 win over the Santa Fe Fuego (4-16) on Monday at Fort Marcy Park.

Frazier hit two home runs for the Trinidad Triggers. Frazier went 3-6 in the game with four RBIs and three runs scored. Frazier homered in the eighth and ninth innings.

The two teams combined for 27 runs and 32 hits, including zero extra base hits. Relief pitchers got their fill of innings during the game, with the opposing managers using nine pitchers in total.

Toby Eigner brought the heat against the Santa Fe Fuego during his outing. Eigner held the Santa Fe Fuego hitless over 1 1/3 innings, allowed no earned runs, walked none and struck out two.

Matt Haskins racked up three RBIs on one hit for the Santa Fe Fuego. He homered in the fourth innings.

Daniel Karasinski recorded his first win of the year for the Trinidad Triggers. He allowed four runs over six innings. He struck out eight, walked two and surrendered seven hits.

Eric Gleese ended up on the wrong side of the pitching decision, charged with his third loss of the year. He allowed nine runs in five innings, walked three and struck out 10.

">

A great effort by Brian Frazier hoisted the Trinidad Triggers (13-7) to a 16-11 win over the Santa Fe Fuego (4-16) on Monday at Fort Marcy Park.

Frazier hit two home runs for the Trinidad Triggers. Frazier went 3-6 in the game with four RBIs and three runs scored. Frazier homered in the eighth and ninth innings.

The two teams combined for 27 runs and 32 hits, including zero extra base hits. Relief pitchers got their fill of innings during the game, with the opposing managers using nine pitchers in total.

Toby Eigner brought the heat against the Santa Fe Fuego during his outing. Eigner held the Santa Fe Fuego hitless over 1 1/3 innings, allowed no earned runs, walked none and struck out two.

Matt Haskins racked up three RBIs on one hit for the Santa Fe Fuego. He homered in the fourth innings.

Daniel Karasinski recorded his first win of the year for the Trinidad Triggers. He allowed four runs over six innings. He struck out eight, walked two and surrendered seven hits.

Eric Gleese ended up on the wrong side of the pitching decision, charged with his third loss of the year. He allowed nine runs in five innings, walked three and struck out 10.

">

Frazier leads the Trinidad Triggers to 16-11 win over the Santa Fe Fuego
---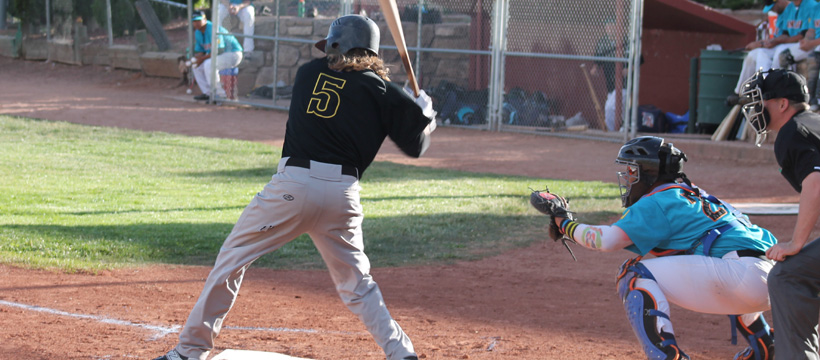 6/6/2016-
A great effort by Brian Frazier hoisted the Trinidad Triggers (13-7) to a 16-11 win over the Santa Fe Fuego (4-16) on Monday at Fort Marcy Park.
Frazier hit two home runs for the Trinidad Triggers. Frazier went 3-6 in the game with four RBIs and three runs scored. Frazier homered in the eighth and ninth innings.
The two teams combined for 27 runs and 32 hits, including zero extra base hits. Relief pitchers got their fill of innings during the game, with the opposing managers using nine pitchers in total.
Toby Eigner brought the heat against the Santa Fe Fuego during his outing. Eigner held the Santa Fe Fuego hitless over 1 1/3 innings, allowed no earned runs, walked none and struck out two.
Matt Haskins racked up three RBIs on one hit for the Santa Fe Fuego. He homered in the fourth innings.
Daniel Karasinski recorded his first win of the year for the Trinidad Triggers. He allowed four runs over six innings. He struck out eight, walked two and surrendered seven hits.
Eric Gleese ended up on the wrong side of the pitching decision, charged with his third loss of the year. He allowed nine runs in five innings, walked three and struck out 10.