Galveston Sea Lions 11 Ohio Wranglers 9
---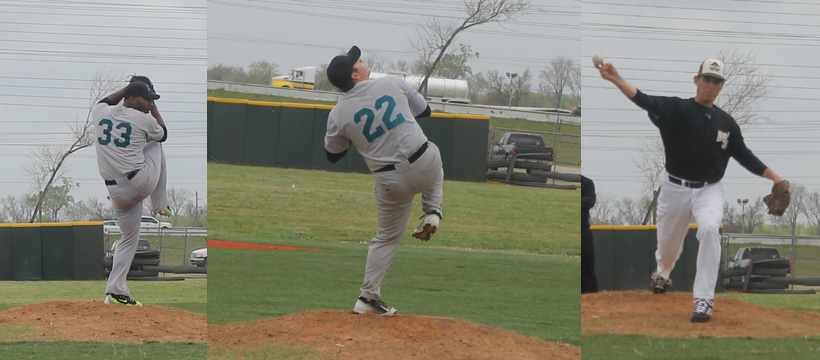 3/7/2016- Houston, Texas-The Galveston Sea Lions won a wild game from the Ohio Wranglers 11-9 Monday morning at Coastal Park in Houston, Texas. Will Gerhardt held on for the win for the Lions who improved to 2-0 in sole position of first place in the Pecos Spring League. The Lions scored eight runs in the first two innings off of knuckleballer Tom Wright and eventually held a 10-0 lead through four innings. Geraldo Salvaldi drove in three runs with a huge triple and catcher Nick Wagner had two hits for the Lions. TJ Pruneda started the game and threw a scoreless inning. Roy Merritt pitched a scoreless 2nd for the Lions. Anthony Ferrell came on for the Lions and pitched scoreless 3rd and 4th innings, before allowing 6 runs in the 5th and 3 in the 7th. Will Gerhardt came on for the save for the Lions.

Tom Wright started for the Wranglers and retired the first two batters in the first inning with his belt buckling knuckleballs. Then the wheels feel off the wagon. He walked 2 batters hit 2 batters and allowed 2 hits before allowing 8 runs. He did not get an out in the 2nd innings. Alex Freese entered the game and pitched 4 innings allowing only 2 runs on 4 hits. With the game in striking distance the Wranglers called on Chris Trebit to pitch the final 2 innings. He allowed 1 run and struck out three. Glaider Roman had two hits and 4 rbis. Blair Well had 3 rbis and two hits. The Wranglers are schedule to play Garden of Gears on Tuesday Morning. The Lions are headed for a matchup with the Gears and Apollos in their quest to finish the first week 4-0.

---
For more information visit Pecos League of Professional Baseball Clubs LLC.
http://www.PecosLeague.com
575-680-2212