Craig Jaquez leads the Garden of Gears to 2-1 Victory over Houston Apollos on opening day
---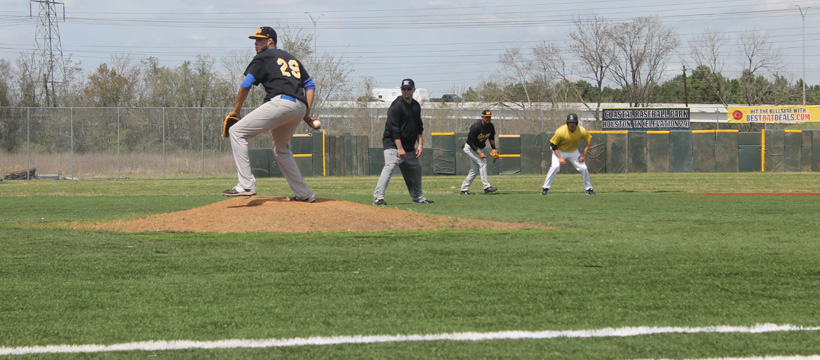 3/6/2016- The Pecos Spring League held its first game of the 2016 season with traditional rivals the Houston Apollos and Garden of Gears squaring off. The game was a complete pitchers dual with Ryan Harper of the Apollos striking out nine hitters in five innings. Cameron Powers and Craig Jaquez combined for a six inning shutout for the Gears. The difference in the game was the hitting of the Gears pitchers in the National League Rules Pecos League. Craig Jaquez homered to bring in the games first run. Cameron Powers doubled in Samuel Gonzalez in the 5th. Harper left after 5 innings of work down 2-0. Tyler Herr came in for the Apollos striking out three in 2 scoreless innings of work. The Apollos finally struck in the bottom of the 7th when John Nicholson tripled in Bobby Webb to put the score at 2-1. The Apollos had Nicholson at third base with no outs but could not get the run in.

The Apollos return to action on 3/7/2016 at noon against the Coastal Kingfish. The Gears return to action on 3/8/2016 against the Ohio Wranglers.

---
For more information visit Pecos League of Professional Baseball Clubs LLC.
http://www.PecosLeague.com
575-680-2212