Chevas Numata clubbed three home runs to carry the Santa Fe Fuego (4-0) to a 20-7 win over the Las Vegas Train Robbers (0-4) at Fort Marcy Park.

The Santa Fe Fuego continued to pile on the runs until the end of the game. The Santa Fe Fuego scored six runs in the last three innings to finish off the blowout win. The Santa Fe Fuego scored four runs in the eighth on the Santa Fe Fuego scored in the eighth on a groundout by Shane Casey, a two-run double by Matt Patrone, an RBI single by Eddie Newton, and an RBI single by Newton.

Tyler Shannon led the Las Vegas Train Robbers offensive threat, as he got on base four times in the game. He singled in the third and fifth innings and doubled in the ninth inning.

Even though Cody Spriggins allowed five runs over five innings he still recorded the victory, his first of the season. Spriggins struck out three, walked five and gave up seven hits.

Rodney Tafoya ended up on the wrong side of the pitching decision, charged with his first loss of the year. He allowed six runs in two innings, walked one and struck out none.

The Santa Fe Fuego pounded the Las Vegas Train Robbers pitching, as six hitters combined for 17 hits, 15 RBIs and 16 runs scored.

">

Chevas Numata clubbed three home runs to carry the Santa Fe Fuego (4-0) to a 20-7 win over the Las Vegas Train Robbers (0-4) at Fort Marcy Park.

The Santa Fe Fuego continued to pile on the runs until the end of the game. The Santa Fe Fuego scored six runs in the last three innings to finish off the blowout win. The Santa Fe Fuego scored four runs in the eighth on the Santa Fe Fuego scored in the eighth on a groundout by Shane Casey, a two-run double by Matt Patrone, an RBI single by Eddie Newton, and an RBI single by Newton.

Tyler Shannon led the Las Vegas Train Robbers offensive threat, as he got on base four times in the game. He singled in the third and fifth innings and doubled in the ninth inning.

Even though Cody Spriggins allowed five runs over five innings he still recorded the victory, his first of the season. Spriggins struck out three, walked five and gave up seven hits.

Rodney Tafoya ended up on the wrong side of the pitching decision, charged with his first loss of the year. He allowed six runs in two innings, walked one and struck out none.

The Santa Fe Fuego pounded the Las Vegas Train Robbers pitching, as six hitters combined for 17 hits, 15 RBIs and 16 runs scored.

">

Numata stars as the Santa Fe Fuego defeat the Las Vegas Train Robbers 20-7
---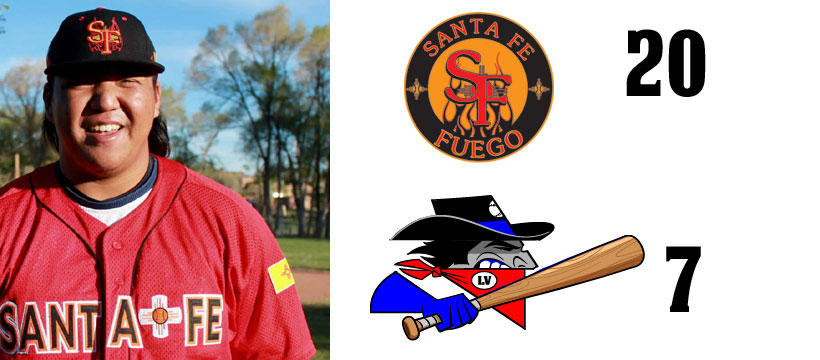 5/24/2015-
Chevas Numata clubbed three home runs to carry the Santa Fe Fuego (4-0) to a 20-7 win over the Las Vegas Train Robbers (0-4) at Fort Marcy Park.
The Santa Fe Fuego continued to pile on the runs until the end of the game. The Santa Fe Fuego scored six runs in the last three innings to finish off the blowout win. The Santa Fe Fuego scored four runs in the eighth on the Santa Fe Fuego scored in the eighth on a groundout by Shane Casey, a two-run double by Matt Patrone, an RBI single by Eddie Newton, and an RBI single by Newton.
Tyler Shannon led the Las Vegas Train Robbers offensive threat, as he got on base four times in the game. He singled in the third and fifth innings and doubled in the ninth inning.
Even though Cody Spriggins allowed five runs over five innings he still recorded the victory, his first of the season. Spriggins struck out three, walked five and gave up seven hits.
Rodney Tafoya ended up on the wrong side of the pitching decision, charged with his first loss of the year. He allowed six runs in two innings, walked one and struck out none.
The Santa Fe Fuego pounded the Las Vegas Train Robbers pitching, as six hitters combined for 17 hits, 15 RBIs and 16 runs scored.