Caleb Bryson clubbed two home runs to carry the Trinidad Triggers (5-0) to a 10-6 win over the Garden City Wind (0-5) at Central Park.

Even in defeat, Larry Rodriguez played well for the Garden City Wind.

Rodriguez racked up three RBIs on three hits for the Garden City Wind. He doubled in the first innings, homered in the third inning, and singled in the ninth inning.

Rodriguez had an impressive outing against the Trinidad Triggers lineup. Rodriguez gave up just two hits, allowed no earned runs, walked one and struck out one during his two innings of work.

The Trinidad Triggers came out swinging, scoring five runs in the first inning to jump ahead of the Garden City Wind early. The Trinidad Triggers scored in the first on an RBI single by Eric Williams, a three-run home run by Bryson, and.

Josh Ganus improved to 1-0 on the year by picking up the win for the Trinidad Triggers. He allowed four runs over seven innings. Ganus struck out six, walked one and gave up seven hits.

Jacob Gonzalez ended up on the wrong side of the pitching decision, charged with his second loss of the year. He allowed 10 runs in six innings, walked five and struck out six.

The Trinidad Triggers were sparked by Bryson and Williams, who teamed up for six hits and eight RBIs.

">

Caleb Bryson clubbed two home runs to carry the Trinidad Triggers (5-0) to a 10-6 win over the Garden City Wind (0-5) at Central Park.

Even in defeat, Larry Rodriguez played well for the Garden City Wind.

Rodriguez racked up three RBIs on three hits for the Garden City Wind. He doubled in the first innings, homered in the third inning, and singled in the ninth inning.

Rodriguez had an impressive outing against the Trinidad Triggers lineup. Rodriguez gave up just two hits, allowed no earned runs, walked one and struck out one during his two innings of work.

The Trinidad Triggers came out swinging, scoring five runs in the first inning to jump ahead of the Garden City Wind early. The Trinidad Triggers scored in the first on an RBI single by Eric Williams, a three-run home run by Bryson, and.

Josh Ganus improved to 1-0 on the year by picking up the win for the Trinidad Triggers. He allowed four runs over seven innings. Ganus struck out six, walked one and gave up seven hits.

Jacob Gonzalez ended up on the wrong side of the pitching decision, charged with his second loss of the year. He allowed 10 runs in six innings, walked five and struck out six.

The Trinidad Triggers were sparked by Bryson and Williams, who teamed up for six hits and eight RBIs.

">

Bryson leads the Trinidad Triggers to 10-6 win over the Garden City Wind
---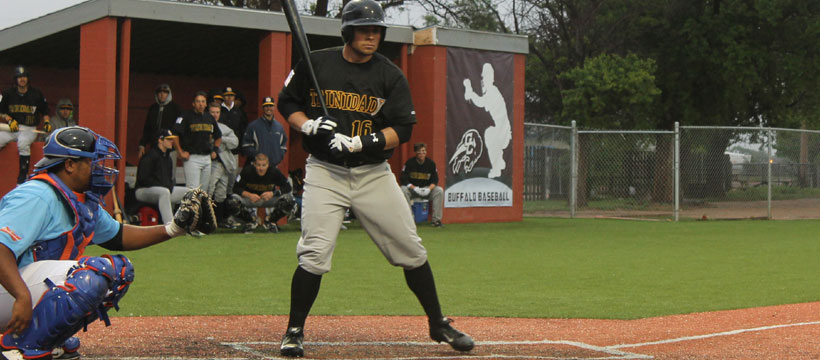 5/23/2015-
Caleb Bryson clubbed two home runs to carry the Trinidad Triggers (5-0) to a 10-6 win over the Garden City Wind (0-5) at Central Park.
Even in defeat, Larry Rodriguez played well for the Garden City Wind.
Rodriguez racked up three RBIs on three hits for the Garden City Wind. He doubled in the first innings, homered in the third inning, and singled in the ninth inning.
Rodriguez had an impressive outing against the Trinidad Triggers lineup. Rodriguez gave up just two hits, allowed no earned runs, walked one and struck out one during his two innings of work.
The Trinidad Triggers came out swinging, scoring five runs in the first inning to jump ahead of the Garden City Wind early. The Trinidad Triggers scored in the first on an RBI single by Eric Williams, a three-run home run by Bryson, and.
Josh Ganus improved to 1-0 on the year by picking up the win for the Trinidad Triggers. He allowed four runs over seven innings. Ganus struck out six, walked one and gave up seven hits.
Jacob Gonzalez ended up on the wrong side of the pitching decision, charged with his second loss of the year. He allowed 10 runs in six innings, walked five and struck out six.
The Trinidad Triggers were sparked by Bryson and Williams, who teamed up for six hits and eight RBIs.