Justin Cook came off the bench and never even had to swing his bat as Cook reached on a in the two to lead the White Sands Pupfish (15-21) to a 6-4 win over the Las Vegas Train Robbers (11-23) on Friday.

With the game scoreless in the second inning.

Preston Lyon racked up three RBIs on one hit for the White Sands Pupfish. He homered in the fourth inning.

Ridge Gounsoulin had a busy day at the plate, collecting two extra-base hits. He doubled in the third inning.

Ian Drapsho improved to 3-1 on the year by picking up the win for the White Sands Pupfish. He allowed one run over 4 2/3 innings. Drapsho struck out two, walked none and gave up four hits.

Rob Swift was charged with his first loss of the year. He allowed six runs in seven innings, walked five and struck out five.

" />

Key at bat helps the White Sands Pupfish defeat the Las Vegas Train Robbers 6-4
---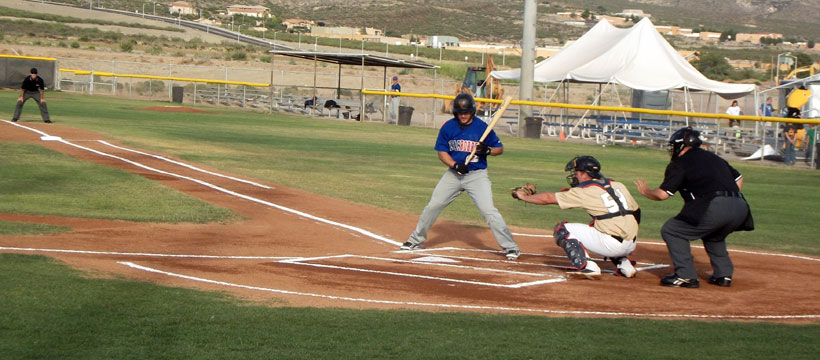 6/20/2014-
Justin Cook came off the bench and never even had to swing his bat as Cook reached on a in the two to lead the White Sands Pupfish (15-21) to a 6-4 win over the Las Vegas Train Robbers (11-23) on Friday.
With the game scoreless in the second inning.
Preston Lyon racked up three RBIs on one hit for the White Sands Pupfish. He homered in the fourth inning.
Ridge Gounsoulin had a busy day at the plate, collecting two extra-base hits. He doubled in the third inning.
Ian Drapsho improved to 3-1 on the year by picking up the win for the White Sands Pupfish. He allowed one run over 4 2/3 innings. Drapsho struck out two, walked none and gave up four hits.
Rob Swift was charged with his first loss of the year. He allowed six runs in seven innings, walked five and struck out five.