The Raton Osos (12-20) and the Santa Fe Fuego (21-13) both had scoring chances on Wednesday, but it was the Raton Osos that were able to capitalize on them as they pulled out a 10-7 win at Gabriele Park.

Evan Holton put himself in scoring position with two extra-base hits for the Raton Osos. He singled in the second inning and doubled in the fourth and seventh innings.

A bright spot for the Santa Fe Fuego in the defeat was Brandon Marris, who allowed only two runs while striking out seven.

Even though Kyle Davis allowed five runs over six innings he still recorded the victory, his first of the season. Davis struck out three, walked three and gave up 12 hits.

Austin Cox (0-1) took the loss for the Santa Fe Fuego. He lasted just one-third of an inning, walked two, struck out none, and allowed four runs.

The Raton Osos CJ Epperson, Evan Richard, Chris Williams and Holton combined for 10 hits and seven RBIs.

" />

Box Story (4497)Crawford/Padilla
-7
@
-10
The Raton Osos make the most of 14 hits in 10-7 victory over the Santa Fe Fuego
---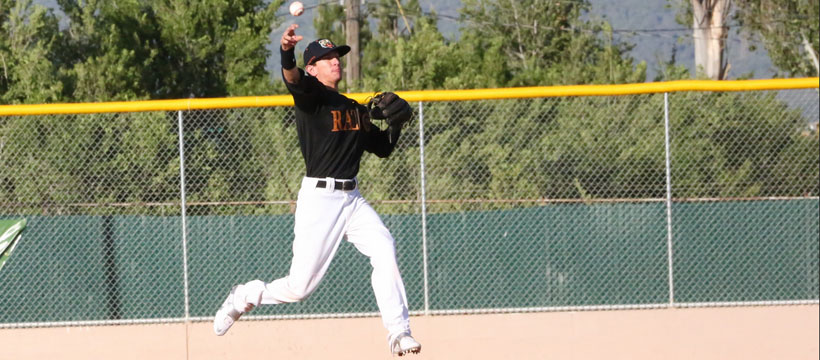 6/18/2014-
The Raton Osos (12-20) and the Santa Fe Fuego (21-13) both had scoring chances on Wednesday, but it was the Raton Osos that were able to capitalize on them as they pulled out a 10-7 win at Gabriele Park.
Evan Holton put himself in scoring position with two extra-base hits for the Raton Osos. He singled in the second inning and doubled in the fourth and seventh innings.
A bright spot for the Santa Fe Fuego in the defeat was Brandon Marris, who allowed only two runs while striking out seven.
Even though Kyle Davis allowed five runs over six innings he still recorded the victory, his first of the season. Davis struck out three, walked three and gave up 12 hits.
Austin Cox (0-1) took the loss for the Santa Fe Fuego. He lasted just one-third of an inning, walked two, struck out none, and allowed four runs.
The Raton Osos CJ Epperson, Evan Richard, Chris Williams and Holton combined for 10 hits and seven RBIs.