Fans were treated to a high-scoring affair Friday as the Taos Blizzard (6-15) outscored the White Sands Pupfish (8-18) 9-8.

The teams totaled 25 hits in the game.

The Taos Blizzards Dominic SanFelippo was perfect at the dish, going 5-5. He tripled in the fourth inning and singled in the first, second, fifth, and eighth innings.

Despite the loss, the White Sands Pupfishs Ian Drapsho dominated the Taos Blizzards batters, giving up one run and striking out 11.

Richie Anderson got his second win for the Taos Blizzard despite allowing eight runs over six innings. Anderson struck out seven, walked none and gave up 11 hits.

Miguel Pereira took the loss for the White Sands Pupfish. He allowed eight runs in three innings, walked three and struck out two.

" />




Offenses dominate as the Taos Blizzard outscore the White Sands Pupfish 9-8
---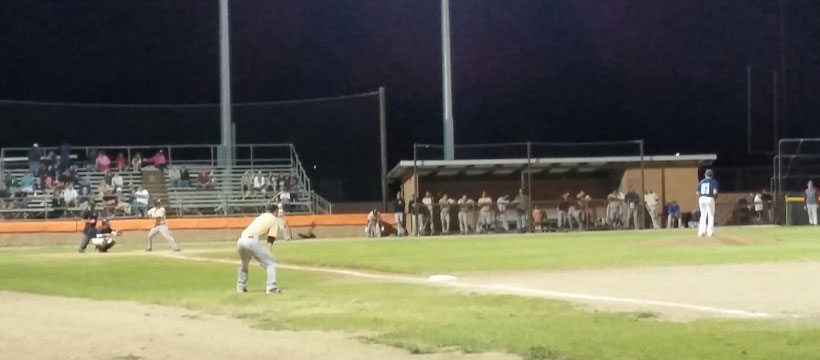 6/7/2014-
Fans were treated to a high-scoring affair Friday as the Taos Blizzard (6-15) outscored the White Sands Pupfish (8-18) 9-8.
The teams totaled 25 hits in the game.
The Taos Blizzards Dominic SanFelippo was perfect at the dish, going 5-5. He tripled in the fourth inning and singled in the first, second, fifth, and eighth innings.
Despite the loss, the White Sands Pupfishs Ian Drapsho dominated the Taos Blizzards batters, giving up one run and striking out 11.
Richie Anderson got his second win for the Taos Blizzard despite allowing eight runs over six innings. Anderson struck out seven, walked none and gave up 11 hits.
Miguel Pereira took the loss for the White Sands Pupfish. He allowed eight runs in three innings, walked three and struck out two.