Explore Copper King Park in Douglas Arizona, a true Southwestern Gem
---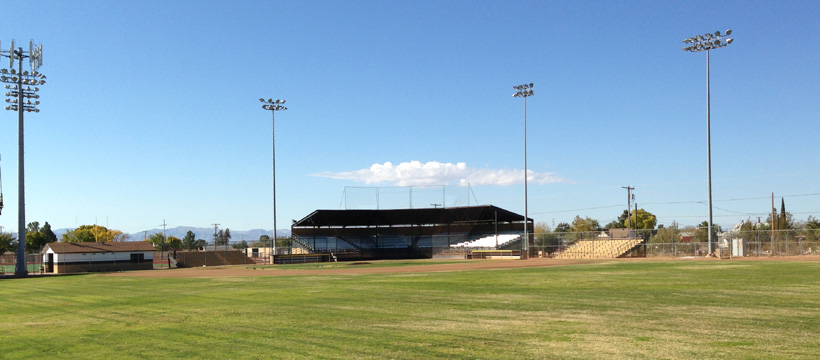 12/5/2013- When the Douglas Diablos host games in the Pecos League next year, visiting teams and fans from out of town will be impressed with their ballpark. Located adjoining the Douglas High School Football Stadium is Copper King Stadium. It is two miles north of the Mexican border. It first opened for play on May 2, 1948.

Copper King Stadium is a classic minor league ballpark being named after the minor league team that played here was called the Copper Kings. The Douglas High Bulldogs have occupied the ballpark which features sunken dugouts and home and away locker rooms.

It is an obvious cousin the Warren Ballpark in Bisbee, both in Engineering and design the ballparks are from the same generation and have similar builds.

Made of hard plastic, both baseline bleacher sets have 10 backless rows. The grandstand also has 10 rows of bleachers, but they have backs and their base is made of corrugated sheet metal. In front of the grandstand's bleachers is a concrete cross aisle and it separates the bleachers from three rows of railed seating that lack any permanent seats. Before the advent of the modern fixed stadium-style chair, folding chairs were often used as box seats and placed in rows lined with hand/guard rails. Such is still the set up at Copper King Stadium, although chairs aren't guaranteed to be there. So don't be surprised to see bare concrete surrounded by rails where the box seats should be.