Alpine 06 Cowboys Playoff Team 2013
---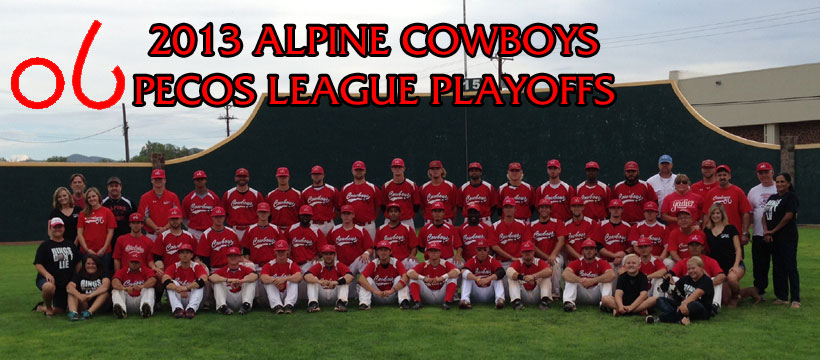 7/26/2013- The Alpine 06 Cowboys qualified for the 2013 Pecos League Playoffs for the the third year in a row. The Cowboys finished with 40-26 record and beat the Roswell Invaders more than any team in the Pecos League. Expectations are high in Alpine after winning the 2012 Pecos League Championship.

The Cowboys were lead offensively by Derrick Fox, Joel Carranza, Conor Thompson, Logan Lotti, Eric Herman, Casanova Donaldson, Brycen Bell, Mike Dobre and DJ Johnson.

The Cowboys pitching staff was reloaded and lead by Brian Smith, Scott Hartling, Shane Youngdale, Bryce Weidman, Kris Barone, Matt Marra, Brad Orosey, Josh Cruse and Derrick Mitchell.

The Cowboys continue to be a West Texas Baseball Tradition.
---
For more information visit Pecos League of Professional Baseball Clubs LLC. http://www.PecosLeague.com 575-680-2212