Alpine Cowboys Mission State and new Logo/Uniforms
---
12/10/2010- The Pecos League of Professional Baseball Clubs is excited about the Big Bend Cowboys 2011 season. The Cowboys will wear Red Pin Stripes with 06 Kokernot Logo in Red, below is the mission statement released by Bob Ward of the Cowboys.
---
The Big Bend of Texas is rich in baseball heritage. Early pictures show a baseball field surrounded by wagons over a hundred years ago in Alpine. Herbert Kokernot, Jr. built a fabulous field in 1947 for his Alpine Cowboys team as a replica of Wrigley Field. The field and many famous players who appeared there have been chronicled in books, national magazines, newspapers, and even "Baseball Times" in Japan. A semi-pro team, the Alpine Cowboys played here from 1947-1961.

An effort to re-introduce professional baseball at Kokernot Field in 2009 marked the first professional baseball played at Kokernot Field in 48 years. The 2009 season heart-stirring but financially unsustainable with its for profit model. It did, however, create regional interest in re-invigorating the unique baseball heritage belonging to the Big Bend.

The Big Bend Region is about 20,000 square miles in area with a total population of around 20,000; it contines a handful of small towns (Alpine at 6,500 inhabitants, is the largest). The economy is weak and disjointed by the distances between the towns. community sports are one of the few unifying dynamics of the region. Tourism is at the heart of the regional economy.

Local business, sports, school and community leaders have decided to build our baseball heritage, weaving it into the fabric of life throughout the region as a non-profit community and tourism development tool. Big Bend Community Baseball and Softball (BBCBS) is the result: a collaboration including the people of all ages, with multiple ethnicities and varying incomes, united by the sports of baseball and softball.

Regional corporate sponsors are needed to help fund our non-profit organization. The Alpine Cowboys staff will have only expense allowances, as will managers, coaches and trainers for the Alpine Cowboys team. Volunteers will do promotions, run concessions and clean up the facilites. A paid general manager is necessary as funds become available.

The Alpine Cowboy team players receive an opportunity to compete publicly, a venue to build stats that reflect their skills. Their goal is to get the attention of pro scouts and get an opportunity to be drafted to major league organizations. They will be provided housing by host families and a small stipend. A new regional minor league entitity, The Pecos League of Professional Baseball Clubs welcomes the Alpine Cowboys as an independent team.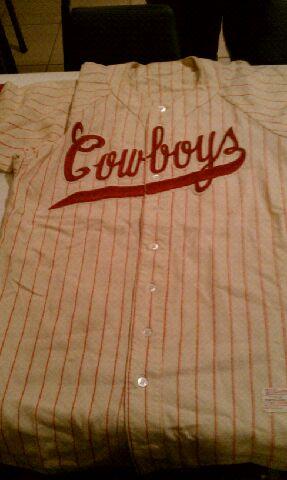 ---
---
For more information visit Pecos League of Professional Baseball Clubs LLC. http://www.PecosLeague.com 575-680-2212