NMSU Aggies Alumni Night July 22nd Santa Fe
---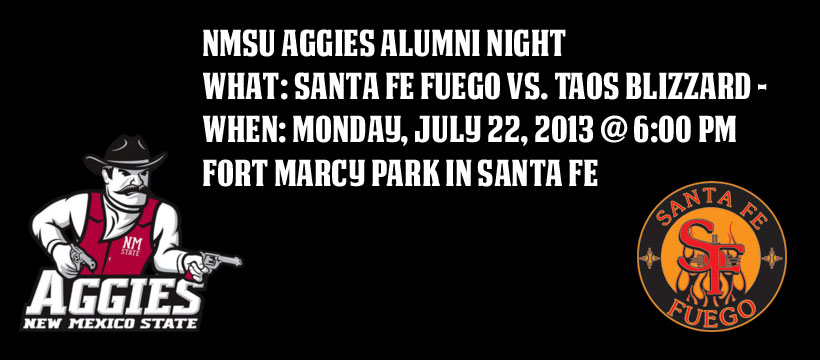 7/12/2013- NMSU Aggies Night with the Santa Fe Fuego is back by popular demand. The Santa Fe Fuego baseball team will be hosting the second annual NMSU Aggie night on Monday, July 22nd.

Here are the details: What: Santa Fe Fuego vs. Taos Blizzard - NMSU AGGIES NIGHT

When: Monday, July 22, 2013 @ 6:00 pm Where: Fort Marcy Park, Murales and Washington Ave., Santa Fe, NM

Tickets: $6.00 in advance; $6.50 at the gate Here is the Santa Fe Fuego website address: http://www.santafefuego.com/santafe.asp?page=1

We had a great turn-out last year and everyone seemed to have a wonderful time watching the game and reconnecting with Aggie friends and families. The Aggies will be a designated seating area.

So, mark your calendars and come to the ball park to enjoy a baseball game, visiting with old and new friends, a hot dog (or burger), a cold beer (or soda) on Monday, July 22nd at 6:00 pm.

Liz Jaramillo Lopez, President NMSU Alumni Association Santa Fe Chapter

For more information, please contact NMSU Alumni Relations at (575) 646-3616 or alumni@nmsu.edu.


---
For more information visit Pecos League of Professional Baseball Clubs LLC. http://www.PecosLeague.com 575-680-2212