Strong pitching from both sides in close Trinidad win over Raton
---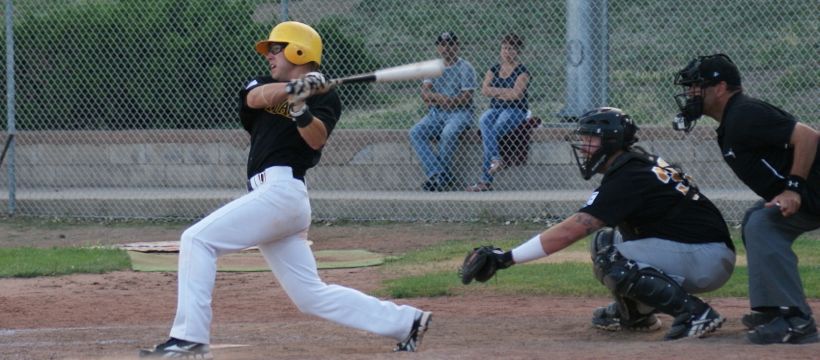 6/11/2013- Mike Goldy gets a hit deep into left field. (Photo by Emily Olguin)

By Karen Boehler
Pecos League writer

TRINIDAD, Colo. — Raton still didn't get its seventh win of the season, but after a crushing loss Sunday, they kept things close Monday in a 6-2 loss in Trinidad.

"I want to tip my hat to Raton," said Trigger manager J.D. Droddy. "Basically, they got clobbered badly yesterday, and they could have rolled over and died, but they didn't. They came back fighting and gave us plenty of game today. So I want to make sure I have that verbal tip of the hat, because they played very well."

"We just didn't get the hitting, but I'm very happy about tonight, actually," said Raton manager Ray Hancock. "Willie (Frederick) went seven. He gave us everything he had. Kept us in the ball game. It's one of those deals where we just got beat. But it was a very good ball game."

Trinidad got their first run off Frederick in the second, scoring on a Frank Florio home run. They didn't add another until the fourth, when Will Leonard reached on a fielder's choice and Jason Venya homered.

The Osos closed the gap to 3-2 in the sixth when Louie Saenz singled and Zach Kreegar homered, making all the run in the game to that point off dingers.

In the seventh, the Triggers stretched the lead to 5-2, scoring on singles by Matt Hunt and Sam DiMatteo, then, off reliever Brian Del Rosso, Florio singled, brining in two runs to continue his hot hitting string.

"They have not got him out in the last two games.Not once," Droddy said, noting the right fielder was 8-for-8 with two walks and 9 RBI in two days. That's as hot a two games as I've seen anybody have. It's just sort of unbelievable how hot he's been with his bat. Plus, he's made some fantastic plays in right field, too. He's a jewel, no doubt about it."

Trinidad added an insurance run in the eighth when Jason Venya reached on an error, stole second and third and came home on a sac fly.

Benji Waite then closed out the ninth, and while Raton didn't go easily — getting two runners on base — the solid closer did his job.

"It wasn't really a save situation, but I brought him in anyway," Droddy said. "And he shut them down, like he always does. And I told him he didn't get a save, but he got a preservation. That's a new category I'm putting for him."

And while a win would have been nice, Hancock was just happy to see some strong pitching.

"Basically I'm happy," he said. "Would I have liked to won? Of course I'd like to win. But I told the guys tonight shows we can play with the best if we've got pitching."

And despite two errors — which meant only three of the Trigger runs were earned — the Raton defense has improved immensely.

"Exactly. That's what I was saying all along," Hancock said. "Two and a half weeks ago, we were having 10, 12 errors, now we're down to one or less. That's gotta be one of the top in the league, really. And like I say, normally our hitting is doing well. We hit the ball tonight. It wasn't like we didn't hit. We just hit it right at some people, and some balls that would normally go out of the park for some reason sort of stayed in. But like I said, our defense is working. Hitting is really working. It's just that our arms were so bad it was just killing us. It was killing our bullpen.

And Hancock just got a new pitcher Monday and is expecting another half-dozen by next week, meaning he finally has reason to think positive.

"I hope maybe by next week, we can start the turnaround where we're not getting blown clean out of the park."

Anthony Smith — who leads the league in ERA with 1.5 — got the win for Trinidad in front of his parents, and with both Smith and No. 2 Chris Tuttle at 4-0 on the season, "We're happy with our starting pitching," Droddy said.

The teams will wrap up the four-game series Tesday, then Trinidad begins a key series with Las Vegas, which is just four games behind the Triggers in the northern division.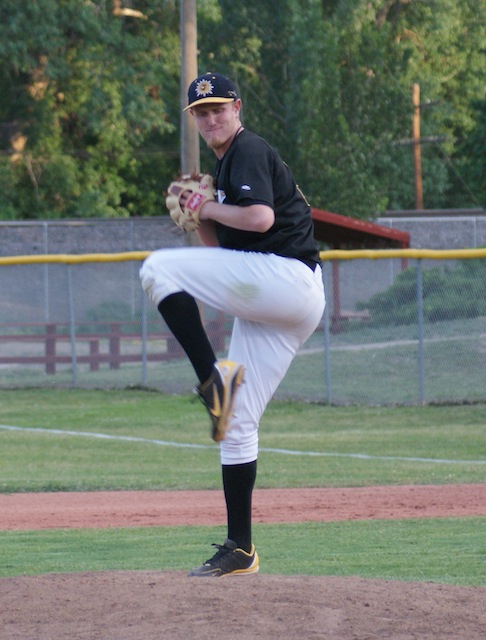 ---
Anthony Smith got his fourth win with no losses Monday, going eight full for Trinidad. (Photo by Emily Olguin)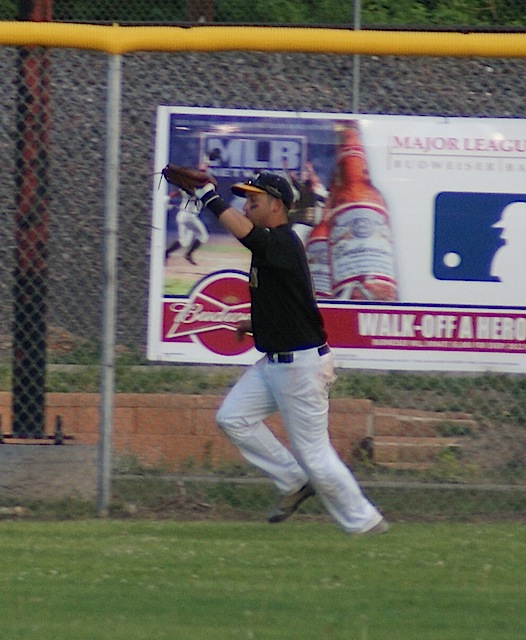 ---
Frank Florio makes the catch in right field. He also hit a home run and was 2-for-2 at the plate. (Photo by Emily Olguin)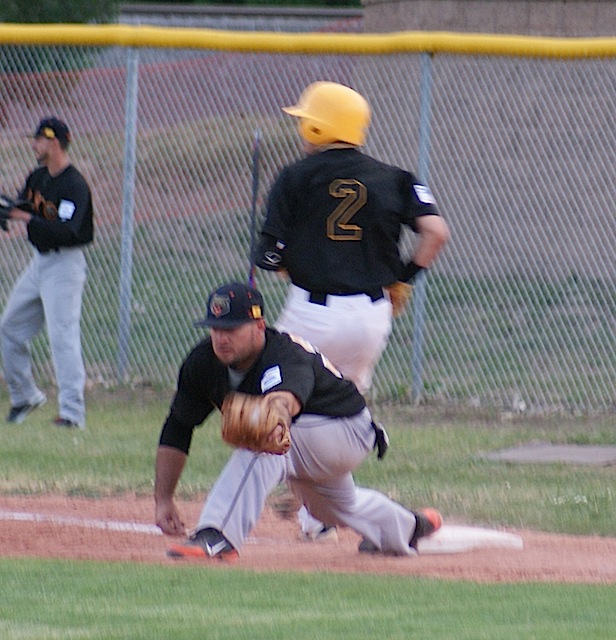 ---
Matt Hunt is safe at first as Michael Lange just misses the out. (Photo by Emily Olguin)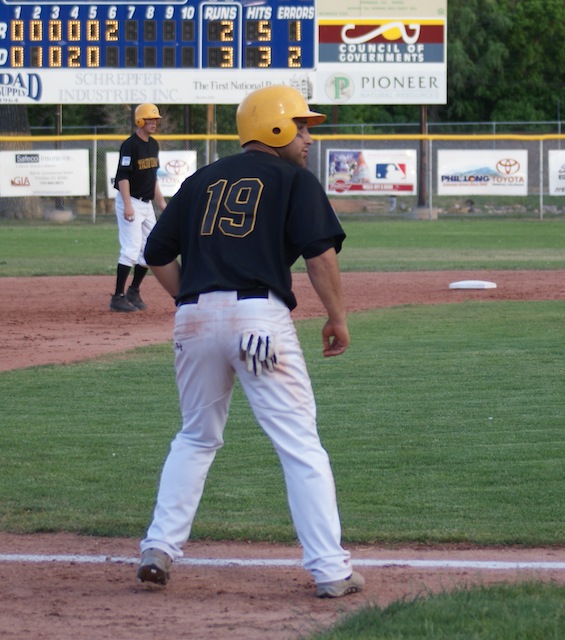 ---
Will Leonard waits on second and Frank Florio on third. (Photo by Emily Olguin)
---
For more information visit Pecos League of Professional Baseball Clubs LLC.
http://www.PecosLeague.com
575-680-2212