Train Robber home runs take them past Alpine
---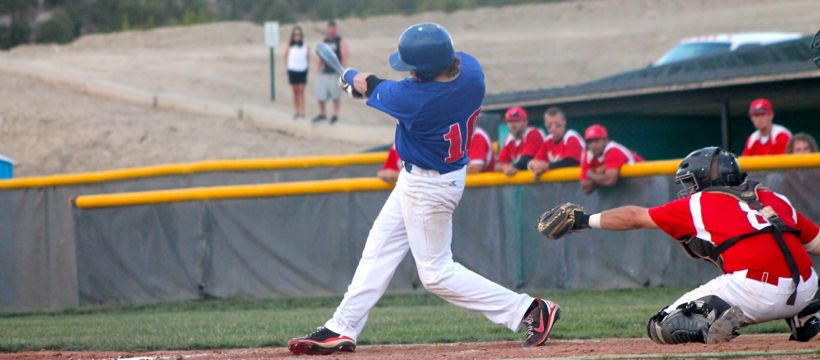 6/9/2013- Las Vegas' Ted LeMasters strokes a home run — one of four for the home team — in Saturday night's 11-5 win. (Photo by Dave Kavanaugh, Las Vegas Optic)

Karen Boehler
Pecos League writer

LAS VEGAS, N.M. — The Train Robbers hit four home runs in an 11-5 win over visiting Alpine Saturday, getting solid pitching from Atsushi Hebisawa, who went eight innings and recorded the win for Las Vegas.

Alpine went up 4-0 in the second, scoring on a Joel Carranza double; singles by Mike Dobre and Brycen Bell, an error, Eric Herman double and Derrick Fox single.

Vegas came back in the bottom of the stanza when Ted LeMasters was hit and Andrew Lopez homered, but the big Robber blow was in the third, when they scored six runs of Cowboy Brad Orosey

Joey Haskell and John Hotta singled, then, with one out, Randy Wells hit a 3-run home run. But Vegas wasn't done. Adam Kam and Ryan Lauer each singled, then LeMasters hit the inning's second 3-run home run.

The Train Robbers added another run in the fourth off reliever Kris Barone when Haskell singled, reached send on an error and came home on a pair of outs.

Alpine got its final run in the fifth on a two-out single by Logan Lotti followed by an RBI double by Carranza, and Las Vegas plated a final run in the sixth on a Matt Grosso home run.

After that, the game belonged to the relievers, Robber Ben Runyon, who closed out the ninth for Hebisawa, and Cowboys Derrick MItchell and Matt Marra, who kept the final three inning scoreless.

Haskell was 4-for-5 with two runs for Las Vegas, while Fox and Carranza were each 2-for-4 for Alpine, Fox with 2 RBI and Carranza with a run and RBI.

Television show "Longmire" cast members Robert Taylor, Lou Diamond Phillips and Cassidy Freeman were on hand for the game as part of the Train Robbers' "Longmire Night" at Rodriguez Park. Taylor, who plays the hit A&E series' titular Sheriff Walt Longmire, donned a Train Robbers jersey and threw out the ceremonial first pitch, and Phillips — also known for roles in "La Bamba," "Young Guns," and many other films -- wore an Alpine Cowboys jersey and later a Robbers T-shirt.

He took a pitch from Taylor and drove it in for a base hit as part of the pre-game festivities. Freeman, who plays Walt's daughter, Cady, sang the national anthem, and the three actors signed autographs and posed for photographs with fans in attendance.

A crowd of several hundred, easily the largest to date for the fledgling Pecos League team, packed Rodriguez Park for the game.

While the television starts may not be in attandance SUnday, the two teams will, with first pitch set for 2 p.m.

Dave Kavanaugh, Las Vegas Optic, contributed to this story. Neither coach called with comments.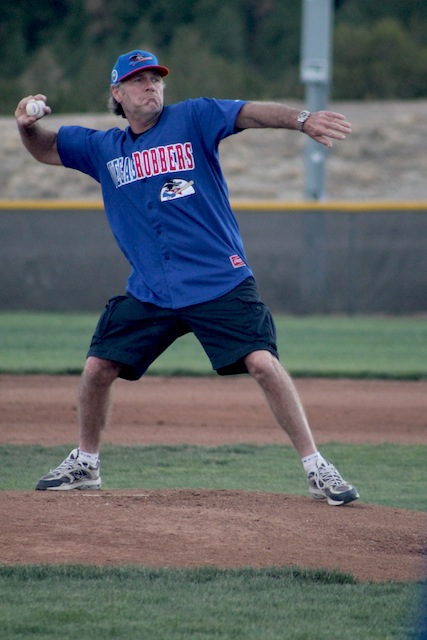 ---
Lou Diamond Phillips, co-star of 'Longmire', chats with Train Robbers catcher Ryan Lauer before driving in a ceremonial single off a Robert Taylor pitch during 'Longmire Night.' (Photo by Dave Kavanaugh, Las Vegas Optic)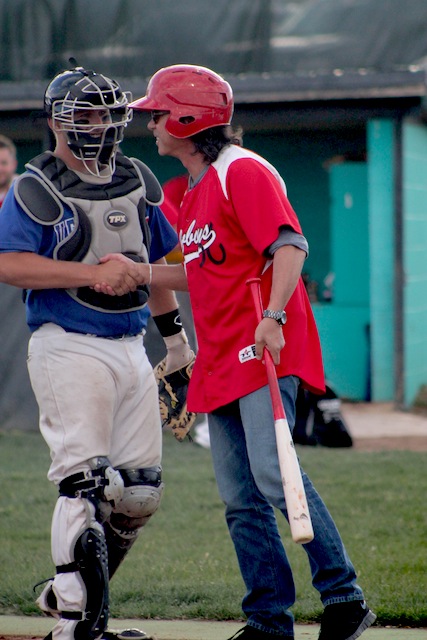 ---
Las Vegas' Ted LeMasters strokes a home run — one of four for the home team — in Saturday night's 11-5 win. (Photo by Dave Kavanaugh, Las Vegas Optic)

---
For more information visit Pecos League of Professional Baseball Clubs LLC. http://www.PecosLeague.com 575-680-2212