Martinez walk-off home run gives Taos the victory
---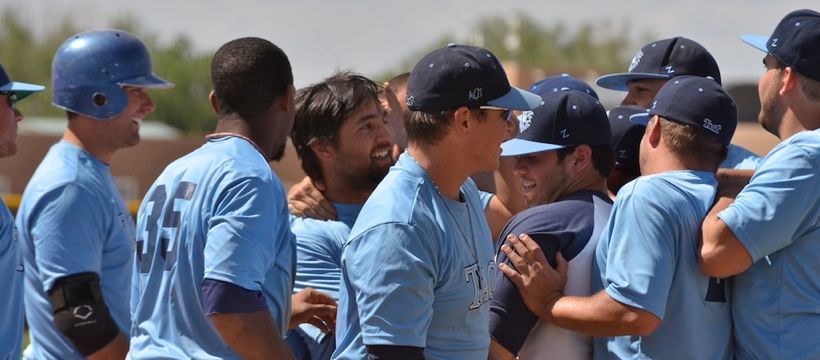 6/4/2013- Jimmy Martinez is mobbed by his Blizzard teammates after hitting a pinch-hit, walk-off home run. (Photo by John T. Denne)
By Karen Boehler
Pecos League writer

TAOS — For the Taos Blizzard, there's nothing like the home-field advantage, even though they won't actually play at home much this season.

Monday, the Blizzard faced off against Trinidad on the home-field Tundra, winning 6-5 on a walk-off home run to go 5-1 when they've had the last out. The big difference Monday, said Taos manager Matt Leahy, was "We pitched. We finally pitched.

"Our starting pitcher (Kenny McDowell) went seven innings. Did very well. Our relief pitchers came in after him and let up a run or two, but Kody Gordan, our new signee, he came in and he really shut the door in the eighth and ninth inning. Had four strikeouts in two innings."

Trinidad had to play catch up all night, but that's nothing new for the Triggers, and manager J.D. Droddy thought they'd come back again.

"It was a close game," he said. "We trailed most of the game and caught up and I thought we were going to have another of our comebacks, but they hit a home run off our reliever."

The Blizzard went up 2-0 in the second when Cody Coffman singled, Brennan May was hit and John Apostolo reached on a fielder's choice. McDowall then reached on an error that scored May, and Apostolo came home on a passed ball.

Trigger starter Chris Shaklee walked the first two batters he faced in the third, and an error and sacrifice later, they both scored, making it 4-0 Taos.

Trinidad put a pair on the board in the fourth when Bryce Miller singled, advanced on an error and came home on a Mike Goldy single. Goldy advanced on a single by Andrew Azzopardi, a wild pitch and scored on a passed ball.

Goldy doubled to open the sixth and scored on a Wink Nolan single, then the Colorado squad took a brief lead in the seventh, plating two runs.

Jacob Fabry tripled and came home when Miller singled, then two out, two walks and two pitching changes later, Nolan singled to make it 5-5.

But this game, the Blizzard battled back, tying the game in the seventh on a Culver double and Coffman single, then winning it in the ninth when pinch hitter James Martinez hit a walk-off home run.

"They played well," Droddy said. "They hit a walk-off home run in the ninth. It was just kind of a flat game for us. We didn't play well."

Leahy thought otherwise, at least in regards to the pitching.

"The pitchers did well. The pitchers did well, to be honest to the other side, to Trinidad," he said. "They threw a sinker baller, sinker baller/cutter kind of guy who kept our guys off balance pretty well. Our guys were complaining that he was going in and out and really not letting us get comfortable in the box. Our game plan all along was get to their bullpen."

And they did, with Gordan getting the win in his first appearance with the team.

Taos now travels to Las Vegas to face the Train Robbers, but they'll be the home team for the opening two games, which Leahy likes a lot.

"We bat last in the next two games and we plan on taking them both," he said.

The Triggers (12-6) travel to Roswell (16-5), where the first place teams in each division will face off. After a long drive to Taos, a noon game then another long drive to Roswell, Droddy isn't sure how his squad will fare.

"I think we're very tired. We'll see how we do tomorrow," he said.

The Triggers will give Levi Austin his first start after coming out of the bullpen earlier in the season.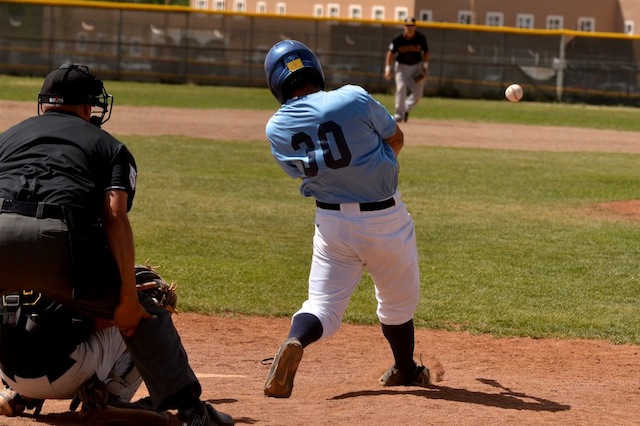 ---
With one out in the bottom of the ninth inning, Jimmy Martinez smashes the ball for a game ending home run. (Photo by John T. Denne)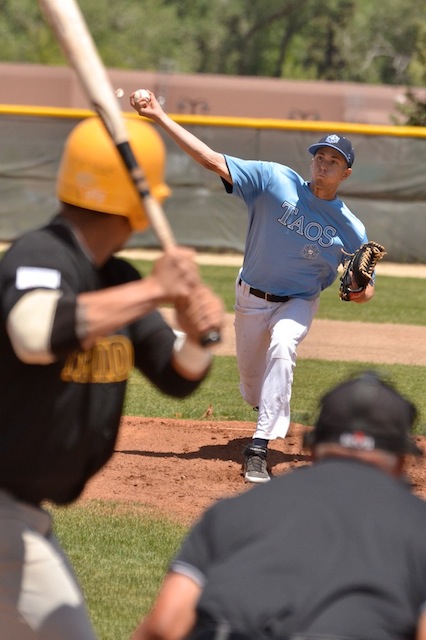 ---
Blizzard starting pitcher Kenny McDowall. (Photo by John T. Denne)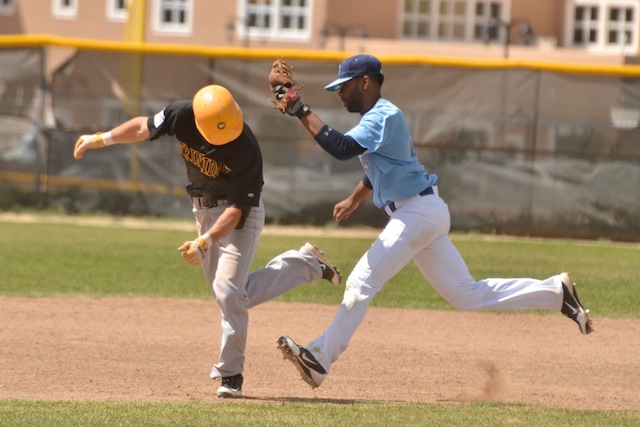 ---
Matt Hunt is about to be tagged out by Blair Springfield in a rundown between second and third base. (Photo by John T. Denne)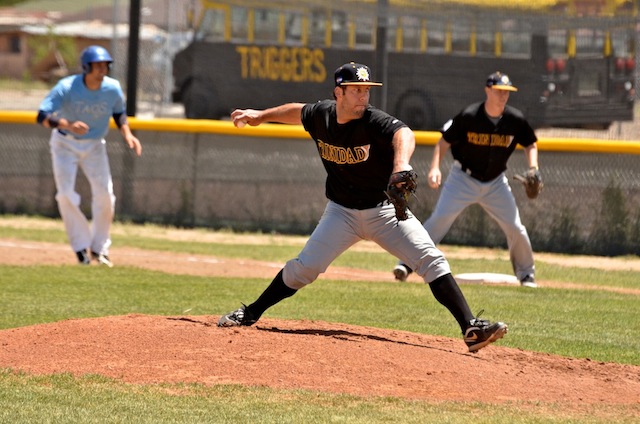 ---
Trigger starting pitcher Chris Shaklee. (Photo by John T. Denne)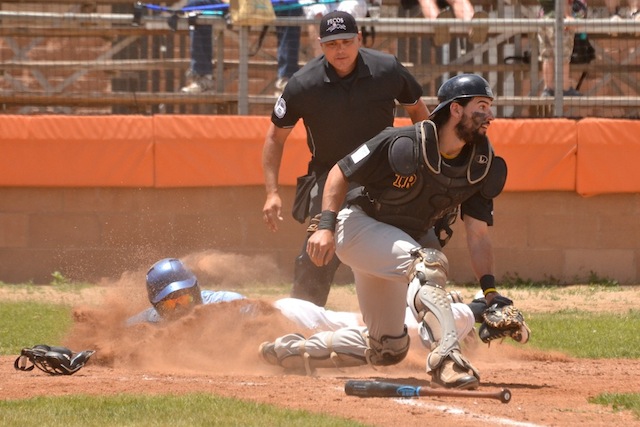 ---
Brennan May slides safely into home while Trigger catcher Richie Serritella corrals an errant throw. Home Plate Umpire Dave Kereasiz gets a clear view of the action. (Photo by John T. Denne)
---
For more information visit Pecos League of Professional Baseball Clubs LLC. http://www.PecosLeague.com 575-680-2212