Invaders squeak by with 6-5 victory over Cowboys
---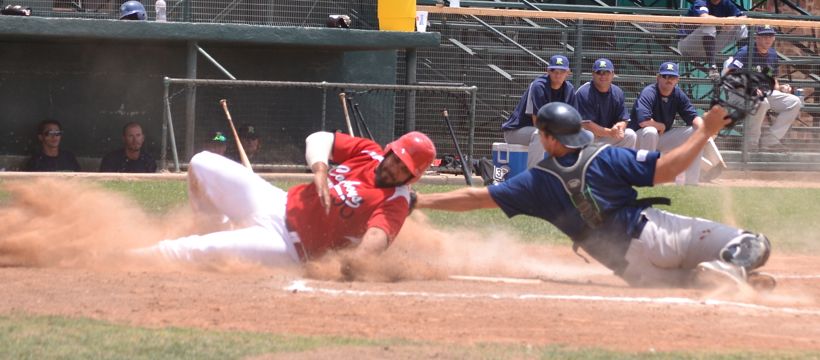 6/3/2013- Joel Carranza slides into home plate as Mike McCarthy goes for the tag. The plate official ruled Carranza out. (Photo by Karen Boehler)

By Karen Boehler
Pecos League writer

ALPINE, Texas — Roswell earned a split in always-tough Kokernot Park Sunday after edging the Cowboys 6-5 in another nail-biter that wrapped up the four-game series.

"We played good baseball," said Invader manager Chris Ebright. "We knew we had to come in here, (against) Alpine at home and they've been hungry. They've been on the road and we played good baseball."

"It was a good series," agreed Alpine manager Ryan Stevens. "The only game I was really completely unhappy with was (Saturday's opener)) and even then, I thought my bullpen came in and threw well. Couple of things early on in (Sunday's) game we made mistakes on. Bryce (Weidman) has just thrown really well for us all year long, and he made a couple of mistakes and left the ball up and they capitalized on it."

Roswell got on the board early when Chad Kruse hit a one-ball double to open the game then came home on a two-outr double by Vincent Mejia.

Roswell pitcher Nate Johnson — a familiar face from 2012 when he led the team on the mound — started out a little shaky, but two first-inning walks were nullified by a double play.

After Weidman settled down in the second — getting Roswell 1-2-3 — Johnson gave up back-to-back singles by Joel Carranza and D.J. Johnson and a perfect sacrifice bunt by Brycen Bell that left runners on second and third with no outs.

Catcher Billy Crowe then hit a ball into the infield that was picked up and thrown to home. The umpire ruled Carranza out at the plate, drawing the ire of the fans, the Alpine dugout and Stevens, who strenuously argued that his runner was safe.

But all the arguing was to no avail, and Johnson got out of the inning unscathed.

After Weidman got out of a bases-loaded situation in the third, the Cowboys made up for the non-scoring second by going up 3-1.

Derrick Fox opened the offense with a double. Tyler Rost singled Fox in and a 3 RBI shot over the fence by Logan Lotti gave the home team the lead.

Both teams were scoreless in the fourth — Johnson gave the crowd a good laugh when he hit a solid shot to center that should have been a double but fell down midway between first and second and just got back safely — but the Invaders re-took the lead in the fifth.

Kruse singled, advanced on a ground out and scored on a Roger Bernal single. With two out, Mike McCarthy hit a two-run home run that made it 4-3. Roswell made it 6-3 in the sixth off reliever Matt Marra when Reggie Taylor singled, advanced on a wild pitch and came home on a Ryan Normoyle double and the lone error of the game. Normoyle then came in on a put out.

But the cowboys didn't go down easily.

They had runners on first and second in the bottom of the sixth and left them stranded, but teed off on relieverRyan Richardson, who, with one out, walked Rost and gave up a single to Casanova Donaldson.

Ebright then brought in another new/old Invader face, Dakota Laufenberg, who promptly hit Lotti, gave up an RBI sac fly to Carranza then hit Johnson before getting the final out.

Lotti then closed the gap to 6-5 in the ninth with a one-out solo home run and after reliever Ryan Rogers got the second out, Johnson was hit, putting the tying run on first and go-ahead run at the plate. But Bell hit a long fly ball to center, and Game 4 went to Roswell.

"We're going to fight to the very end," Stevens said. "Kokernot is a very difficult place to come and win two games from us, and he's got a good team over there and we didn't capitalize when we needed to and I don't think we did a good enough job offensively here. There's no excuse. We've got to walk away with a win."

Ebright was not only happy with the win, but with what he saw from both former-now current Invader pitchers.

"(Johnson) came in there and our offense came around and we got the lead and he settled down," the manager said. "He did great. I think he went six innings for us. We took him out because of his pitch count, but it was also the fourth time through their lineup. We have nothing but hopefully great things to look forward to with him here."

As to Laufenberg, "He was a little bit wild, but then again, he's fine. He's one of those guys who'll usually throw every other day, and I think he sat for three days. So we brought him in when we did. He's going to be just fine."

Because of the Saturday doubleheader, both teams get a day off Monday, something Stevens is very much looking forward to.

"Tomorrow will be our first day off in a month," he said. "Literally, and we're going to take advantage of it and relax a little bit and spend some time refocusing and getting ready and we'll practice on Tuesday then we'll go from there."

The Cowboys head back yet again to Alamogordo — their third meeting this season with the Pupfish — while the Invaders host Trinidad Tuesday.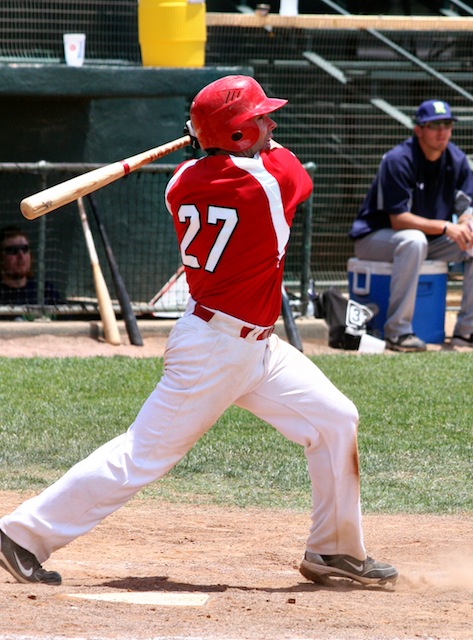 ---
Joel Carranza made up for getting called out at the plate with a home run later in the game. (Photo by Stephanie Ballard)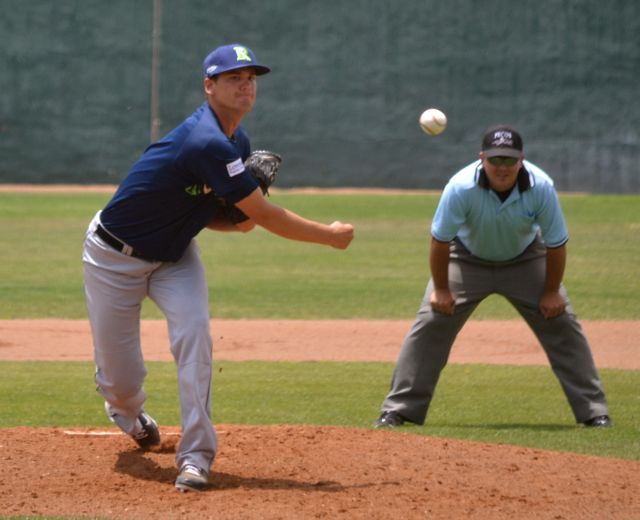 ---
Nate Johnson went six innings and got the win in his 2013 debut with ROswell. (Photo by Karen Boehler)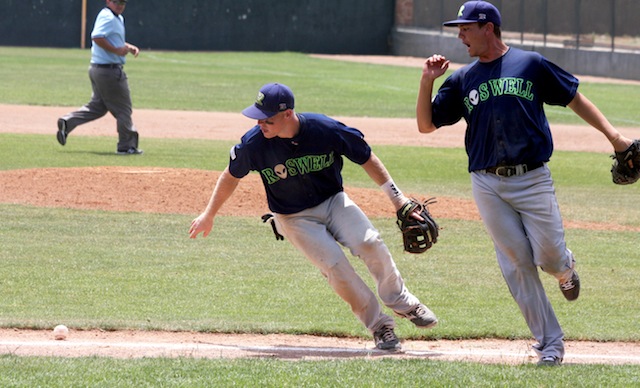 ---
D.J. Johnson rolled this ball up along the third-base line, and while Invaders Chad Kruse and Nate Johnson will the ball to roll foul, it didn't. D.J. got the hit. (Photo by Stephanie Ballard)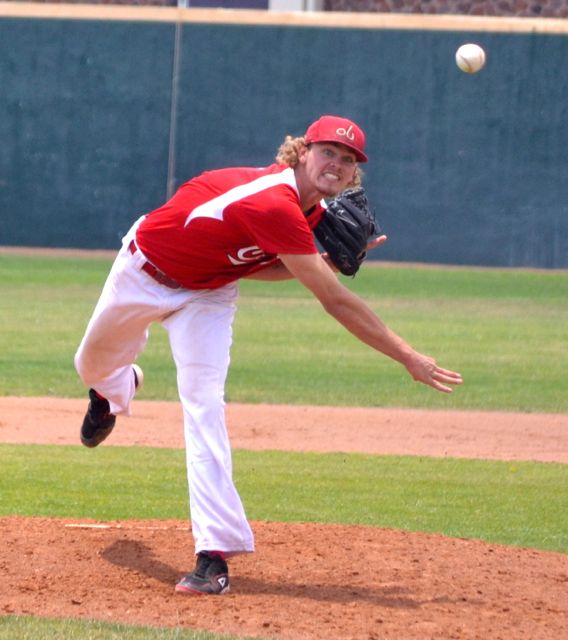 ---
Bryce Weidman had a solid performance for Alpine, but couldn't get a win. (Photo by Karen Boehler)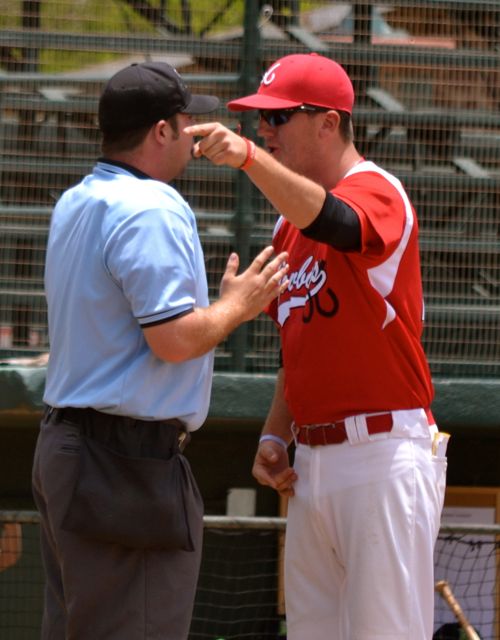 ---
Alpine manager Ryan Stevens got up and close with plate umpire Charlie Byrd after a play at the plate. (Photo by Karen Boehler)
---
For more information visit Pecos League of Professional Baseball Clubs LLC. http://www.PecosLeague.com 575-680-2212