Smith 3-hits Roswell to stop Alpine skid
---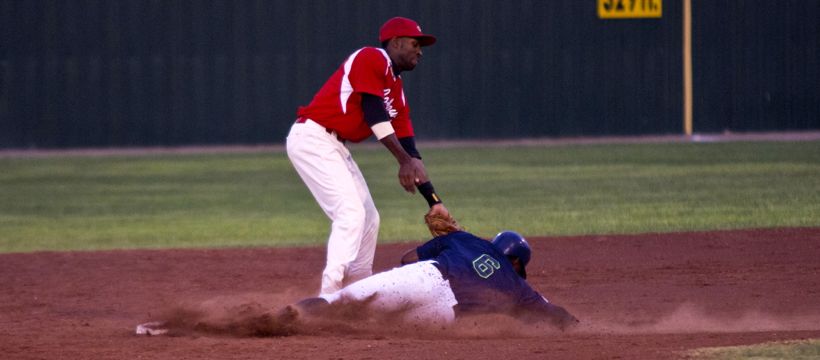 5/27/2013- Eric Gaylord slides in safe on a steal just ahead of the tag by Derrick Fox. (Photo by Robert Bailey)

By Karen Boehler
Pecos League writer

ROSWELL — Alpine manager Ryan Stevens finally had something to smile about in Roswell Sunday, as the Cowboys out-pitched and out-hit the Invaders, getting a 6-0 victory in the finale of the four-game series.

The story of the game was pitcher Brian Smith, who held Roswell to three hits through eight innings, striking out 12 while only walking two.

"Brian Smith was unbelievable on the mound," Stevens said. "He's has a couple of rough outings but he's been working his butt off and he wanted this bad. And he knew that we needed this and I'm very proud of him."

"Their starting pitcher did very, very well," agreed Roswell manager Chris Ebright. "We couldn't figure him out."

While Smith — and reliever Scott Hartling, who wrapped up in the ninth — were shutting Roswell down, the Cowboys pitchers were putting runs on the board.

They went up 1-0 in the first when former Invader Casanova Donaldson reached on a fielder's choice and scired on a Logan Lotti single.

Charles Dubanoski got one of the three Roswell hits off Smith in the second, but he was stranded there three outs later.

Alpine put up three in the third — an inning the Invaders seem to have trouble with — when Andrew Shoemaker couldn't get the third out.

With two outs on the board, Donaldson singled, Lotti walked and both stole a base then scored on a Carranza single. D.J. Johnson walked the another former Invader, Brycen Bell, singled in Carranza.

Erick Gaylord got the second Roswell hit of the night with a single in the bottom of the third, but despite stealing second and third, he too was stranded.

The Cowboys got two more runs in the fifth with singles by Carranza and Bell, two Invader errors and a sacrifice fly.

Smith continued to mow Roswell down, while reliever Jacob Cook shut Alpine down in the sixth, seventh and eighth. Chad Kruse got the last hit off Smith in the bottom of the eighth with a two-out single.

The Cowboys got their final runs in the ninth on singles by Lotti and Joel Carranza, then, two outs later, Lotti scored on a Conor Thompson single and D.J. Johnson — who reached on a fielder's choice — came home on a Chris Torrance double.

Hartling then came in to hold Roswell off in the bottom of the ninth, and despite giving up a single to Roger Bernal and a walk, he closed out the shutout for Smith.

"He kept them off balance," Stevens said of Smith. "He threw really well. He pitched with a lot of confidence inside the strike zone. He trusted what pitches I was calling and it was beautiful to watch. It was a masterpiece, if you ask me."

And while the Invaders made four errors, they didn't play into the outcome.

"Even our mistakes didn't matter, with someone pitching like that," Ebright said.

And while you would expect the manager of the winning team to be quite happy, Stevens still wasn't.

"They made some errors, but they weren't like super costly. We still put up 14 hits. It's not a terrible day on our part," he said. "Like I said, we've still got things we need to improve on. I'm not happy. I will say I'm more happy today than I have been on the offensive side. They did their job. They were putting the ball in the outfield and driving runs in when they needed to. So I'm proud of them. It was a gutsy performance. Roswell is the hottest team in the league right now, and like I said up to this point, we're 8-5, I think it is, and we're still not even close to where we need to be. We'll continue to build on that and we're going to roll into White Sands."

Alpine will head into the Aquarium for the second time this season — they were 4-1 against the Pupfish the first time around — and Stevens said they won't be making any changes.

"We're going to go in there, stick with our game plan and continue to do what we do best and try and pitch the ball. Play good defense, put pressure on their defense and manufacture runs any way we can."

Roswell will play host to Raton beginning at 7 p.m. Monday.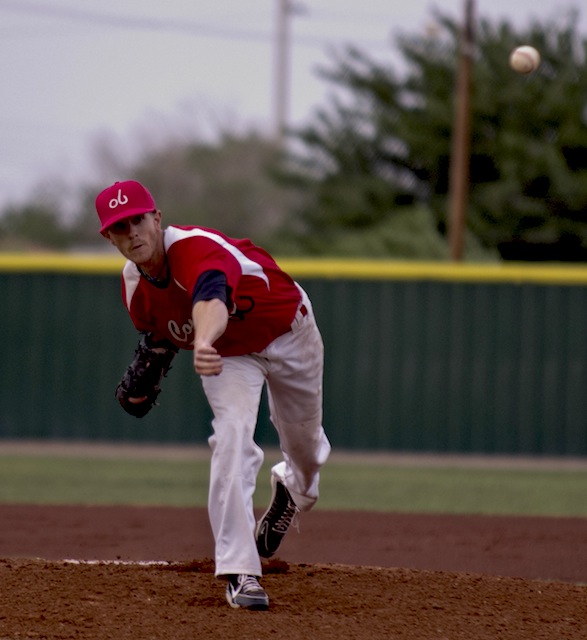 ---
Brian Smith threw a masterful game Sunday, three-hitting the Invaders to get Alpine's first win in the series. (Photo by Robert Bailey)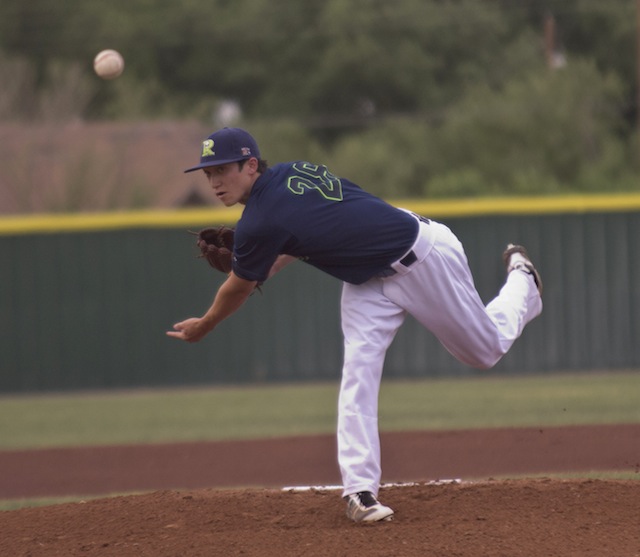 ---
Andrew Shoemaker didn't pitch badly, he just had no offensive help from his teammates. (Photo by Robert Bailey)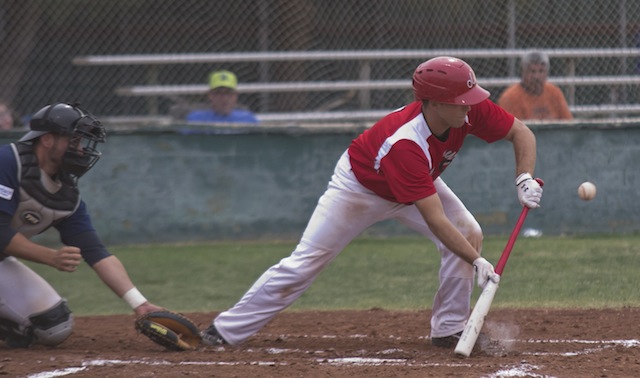 ---
Cowboy Brycen Bell gets the ball down on a bunt. (Photo by Robert Bailey)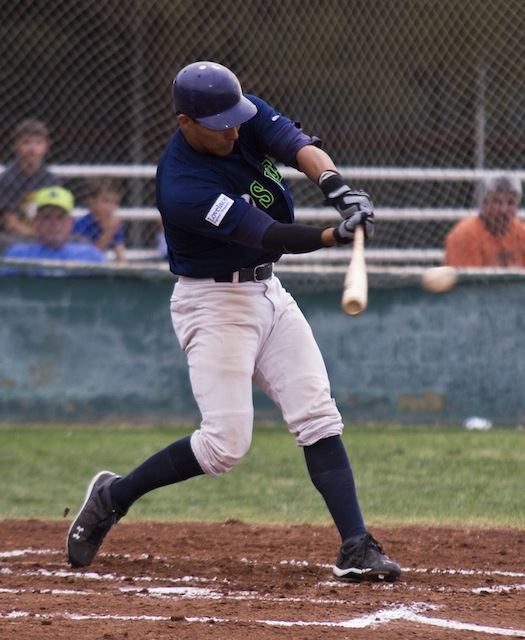 ---
Roger Bernal got one of the four Roswell hits Sunday. (Photo by Robert Bailey)
---
For more information visit Pecos League of Professional Baseball Clubs LLC. http://www.PecosLeague.com 575-680-2212