Pitcher Kuks hit two home runs — including a grand slam — for Pupfish
---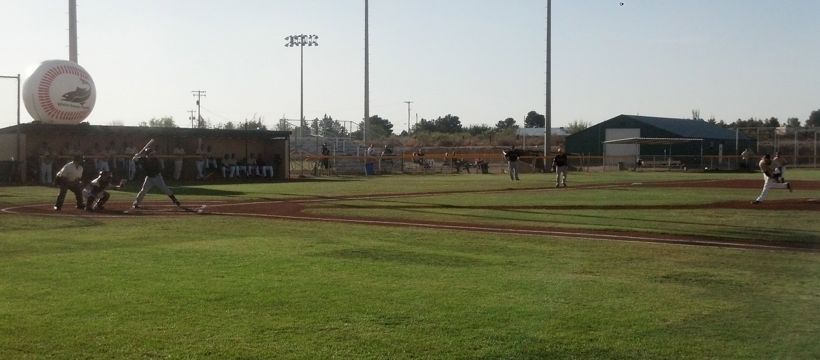 5/26/2013- Justin Kuks not only pitched White Sands to a victory, he hit two home runs as well.(Photo by Josh Szwaczkowski)

By Karen Boehler
Pecos League writer

ALAMOGORDO — The final score between Trinidad and White Sands at the Aquarium Saturday almost doesn't matter as one player stole the spotlight from everyone else — and not only for what he's normally known for doing.

Pupfish pitcher Justin Kuks threw a solid six innings, giving up five runs, four earned, on six hits while striking out six, but in the Pecos League pitchers also have to bat, and Kuks also did that extremely well Saturday.

He was 2-for-3 at the plate, getting his first-ever professional hits: a grand-slam home run batting from the left in the third, the, a two-run shot from the right in the fourth.

"He absolutely was the story of the game, both sides of the bat," said Triggers J.D. Droddy. manager

Not only did Kuks get those 6 RBI and two runs scored, he did it with a broken, taped up bat that caused some controversy.

In this league, we don't get a lot of bats or anything like that provided to us, so our pitchers, who aren't used to hitting, they just use whatever bats the other guys break that are still usable," said White Sands manager Ernie Munoz. "So he hit a home run with a broken bat and they tried to argue there was illegal bat tape on the bat. The umpires allowed it because I guess it was not as high as the legal limit. Two home runs with two broken bats. Amazing."

"I think they had an illegal bat," Droddy said. "I think they had tape too far up on the barrel. The umpire didn't agree with me, so we went on with the game."

And in the end, the Pupfish won 14-5, so even if those runs had been taken away, it wouldn't have mattered. (Droddy did manage to get the bat taken out of the game, which was all he said he wanted anyway.)

"It was all in fun. There was no tension in the game. It was a fun game."

After a scoreless first, both team put one run on the board in the second, Trinidad off a walk to Richie Serritella, an error, and a Bryce Miller single. Mike Mendoza , George Ban and Chris DeBiasi all singled for the Pupfish, then Mendoza came home on an out.

Trinidad again went up in the top of the third when Mike Goldy reached on an error; Wink Nolan and Bryce Miller singled and Goldy scored on a putout. It was in the bottom of the stanza when White Sands broke things open, scoring seven runs on eight hits.

With one out, Munoz doubled, Cody Collins, Mendoza, Ban and DeBiasi all singled, Mendoza walked to score a run then up came Kuks, who hit a shot out of the park to make it 8-1 White Sands.

The 'Fish then pretty much put it away in the fourth with three more runs on four hits, including singles by Mendoza and Ban, and Kuks second homer of the night.

"We had a bit of defensive meltdown, pitching and errors, in two innings," Droddy said. "We gave up 10 runs in those two innings. Other than that, we played fine. They played very well. I'm sure the fans enjoyed it. It was a fun game to play and there was no tension. Typical Pecos League game."

The Triggers had their biggest inning in the fifth when Andrew Azzopardi was hit; Wink Nolan doubled then Frank Florio hit a three-run belt over the fence.

The final runs came in the eighth when J.J. Costantino doubled and scored on two walks and a putout.

Only one Pupfish starter didn't get at least one hit — with Constantino leading the way with a 5-for-6 night — and Munoz said everything is starting to come together.

"I go back to the talk that we had a few games ago," he said. "I think that's all that we needed, just a kick in the butt to get the ball rolling and we all see it rolling and we don't plan on slowing it down."

Munoz only used three pitchers — Josh Vandermank and Chad Hadzinsky combined for three scoreless innings — and with several new pitchers recently arrived on the team, he thinks things will keep going well.

"We're starting to fill out our bullpen, which was our only concerns, and sharpening up our defense, game by game, and the bats are still where they've been since Day 1. We always knew that hitting wasn't going to be an issue. We fixed our other problems that we were having and we're rolling."

The teams will wrap up the four-game series Sunday at 4 p.m. in the Aquarium.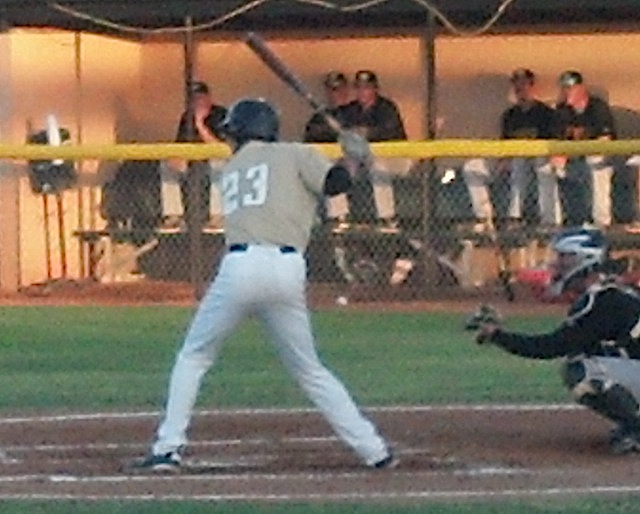 ---
Justin Kuks swings for the fences from the right, getting his second home run of the evening.(Photo by Josh Szwaczkowski)

---
Trigger manager J.D. Droddy discusses what he called an illegal bat with the umpire. (Photo by Josh Szwaczkowski)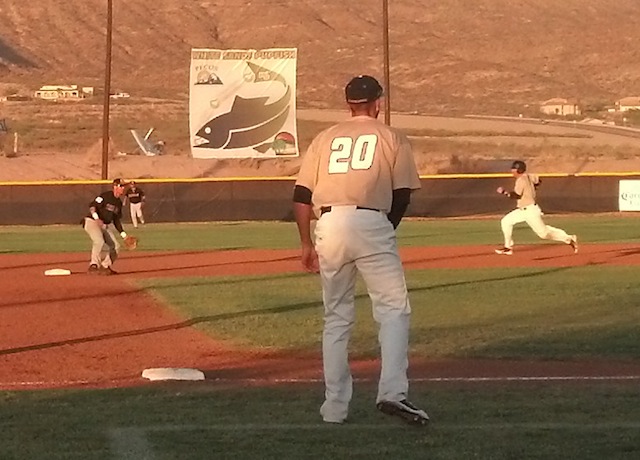 ---
Mike Mendoza barrels his way to second for a steal. (Photo by Josh Szwaczkowski)
---
For more information visit Pecos League of Professional Baseball Clubs LLC. http://www.PecosLeague.com 575-680-2212