Alpine comes back late in season opener vs. White Sands
---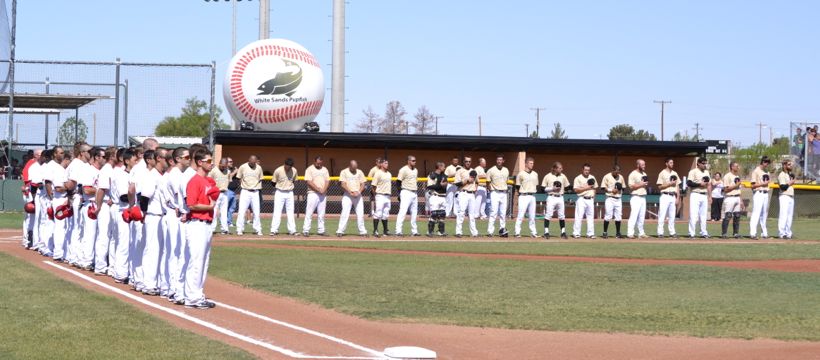 5/15/2013-
By Karen Boehler
Pecos League writer

ALAMOGORDO — After a long night with little sleep, Alpine had a slow start in their season opener vs. White Sands, but after the Pupfish took advantage of the Cowboy's lack of rest for six innings, Alpine took the lead in the seventh and broke it open in the eighth, winning 8-5.

"I tell you what, I'm proud of them. They showed a lot of resiliency," said Cowboy manager Ryan Stevens, explaining that after a successful meet and greet Monday night — following three hours of community service Monday morning — the team didn't pull into Alamogordo until 3:30 a.m. and was back up at 7 a.m. for the 10 a.m. game.

"We're going to come out. We're going to pitch well. We're going to play good defense. We're going to have good team speed and we're going to manufacture runs any way we can. They made some errors early on that we didn't capitalize on, and we've got to do a better job than that. But as a whole, I'm proud of them. Three-and-a-half, four hours of sleep, I'm proud of them."

Both starting pitchers did a good job.

Pupfish starter Justin Kuks only allowed two Alpine runs, neither earned.

In the first, Eric Herman reached on a White Sands error, went to second on a fielder's choice and third on a Joel Carranza single then came home on a D.J. Johnson single.

Johnson was hit by a pitch to open the fourth, went to second on an error, then came home on a Mike Castrignano single.

But that was all the Cowboys could manage through six, while the 'Fish went up 2-1 in the bottom of the first off Castrignano.

JJ Costantino was hit to open the bottom of the stanza, Chris DiBiasi doubled then Costantino came in on consecutive putouts.

After Alpine tied the game at 2-2 in the fourth, Mendoza singled in the bottom of the fourth, stole second and third and came home on a fly ball by Cody Collins.

That 3-2 score held through the sixth, keeping the full house of elementary schools students and their teachers — Tuesday was Alamogordo Public Schools Day — very happy.

But facing Pupfish reliever Matt Barger in the seventh, the Cowboys took the lead when Eric Herman ad Casanova Donaldson walked and, after stealing their way to second and third, scored on another White Sands error.

Josh Cruse, who got the win for Alpine, and Gilbert Barrera shut the Pupfish down in the sixth, seventh and eighth.

Barger walked Brian Milliman to open the top of the eighth, then with two out, Fox doubled, scoring Milliman; Herman doubled to score Fox and Chad Hadzinsky came to the mound and gave up a 2-2 home run to Donaldson before closing out the inning with a strikeout.

The 'Fish didn't go quietly, adding two runs in the bottom of the ninth off Kris Barone on a Case Rigby single and Collins home run — Collins was 2-for-3 with one run scored and 3 RBI — but it wasn't quite enough.

"On the offensive side, I was pretty happy with them, but on the defensive side, we need to get better," said White Sands manager Kevin Nunn. "We need to get more consistent. Just little things of making a routine play, can turn it into something positive. Because if it doesn't turn into something positive, then it makes the pitcher throw more pitches and an inning goes a little longer. So, I just told these guys, 'Don't quit.' We've got to do the little things and as soon as we're consistent doing the little things, the big things will fall into place for us."

Both managers were happy with their starting pitching and the home runs.

"We were lucky enough to snag (Donaldson) away from Roswell," Stevens said. "He's been a great young man to have around in Alpine. Fans love him. He's been working his butt off and he really wants to have a really big year and he's really committed to the cause. He wants to bring the championship back to Alpine."

"It's always nice to get that (first home run) out of the way," Nunn said. "Cody's been working pretty hard. He came in not hitting very well, so he's spent a lot of time trying to get his timing back, so I was pretty happy with that."

"I was very happy with (Kuks)," Nunn said. "The first time I went out there (to the mound), he went, 'Coach, this is my inning.' I go, 'All right,' and the next time he turns around and gets a double play. So that was good."

"Their starter threw a really good game," Stevens agreed. "He really competed. He had a good fast ball. Good off speed. He really competed really well. I was very impressed with him. The key has always been for us is to get in the bullpen. That's the way it was in the playoffs for us. That's the way it was in the season last year. Get into their bullpen and see what happens."

Alpine will start Brad Orosey Wednesday while the Pupfish will counter with Matt Gibbs in a 6 p.m. start at the Aquarium.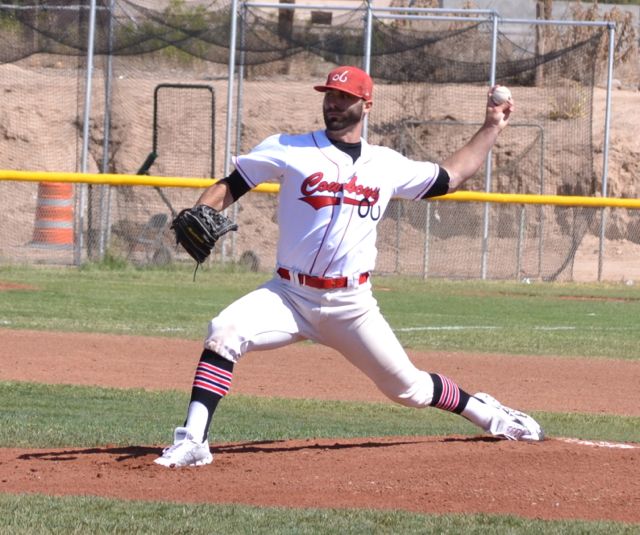 ---
Mike Castrignano started for Alpine, but got no decision in five innings. (Photo by Karen Boehler)


---
Jason Collins gets the out on a sliding Derrick Fox. Collins had a big day for the Pupfish, hitting the first home run of the season. (Photo by Karen Boehler)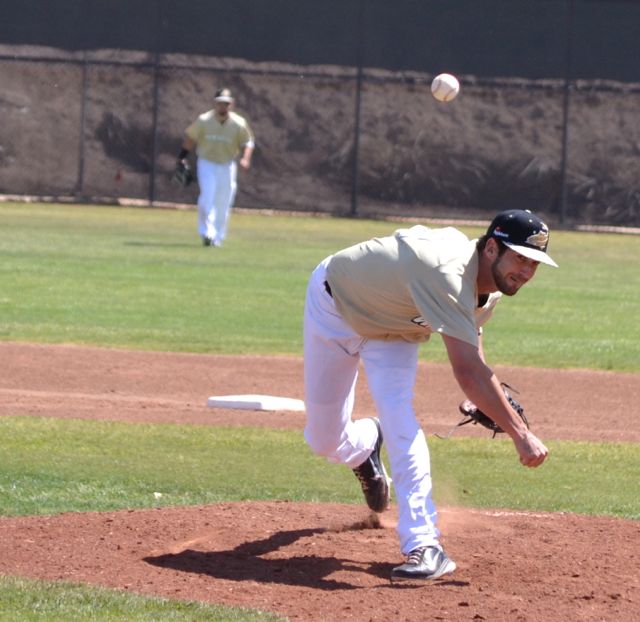 ---
Justin Kuks threw hard for six inning for White Sands, but got no decision. (Photo by Karen Boehler)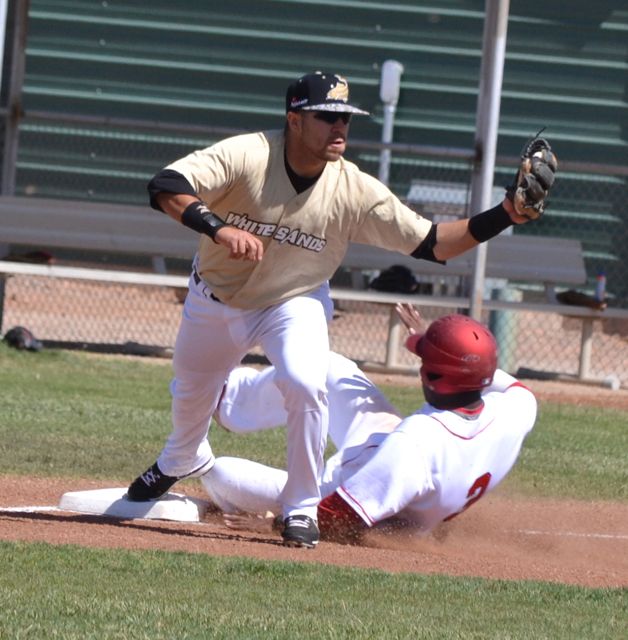 ---
Mark Leacox gets the out at third. (Photo by Karen Boehler)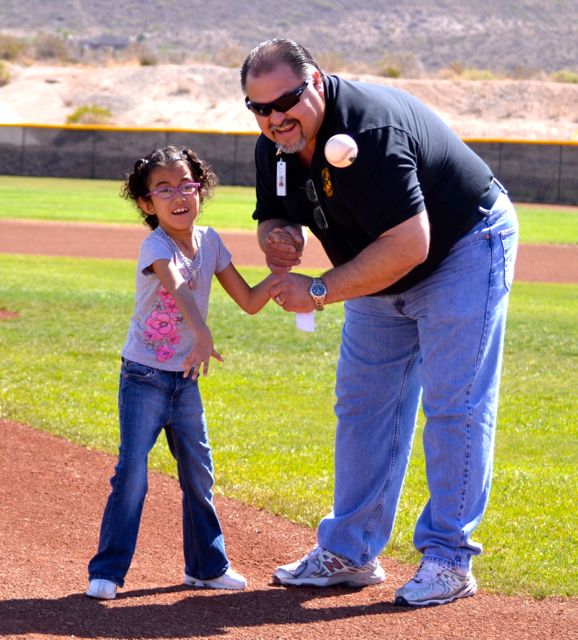 ---
Sierra Elementary second grader Isabella Salazar threw out the first pitch of the season with help from principal Moises Cardiel. (Photo by Karen Boehler)
---
For more information visit Pecos League of Professional Baseball Clubs LLC. http://www.PecosLeague.com 575-680-2212