Pupfish season kicks off under manager Kevin Nunn
---
5/10/2013-
By Karen Boehler
Pecos League writer

ALAMOGORDO — When the White Sands Pupfish open the season May 14 against Alpine, they'll be helmed by Kevin Nunn, a long-time baseball professional who hopes to take the 'Fish to the league title.

"I do have a lot of experience at the professional level," Nunn said. "I got to see a lot of baseball over the years."

Nunn, a native of East Grand Forks, Minn., has been married for 19 years to wife, Christy, and has three children: TJ, Nolan and McKenna. Baseball runs in the manager's family as his brother, Jim, has also coached high school and college teams, and at one point the two squared off in a high school showdown.

Kevin Nunn played for Team USA in the summer of 1986 then spent two years at Minnesota Crookston Junior College where he led the nation in batting average. He finished his degree and college playing days at Concordia University (Ore.) in 1990.

He worked his way up to Class A in the San Francisco Giants organization, played briefly in independent ball, then after he was released, "it was time to move up," he said.

He served as a part-time scout for the Toronto Blue Jays and Minnesota Twins; spent six years as the Edina American Legion hitting coach in Edina, Minn.; six years as the hitting and infield coach at Minnetonka High School in Minnetonka, Minn.; three seasons as the head varsity baseball coach at Waseca High School in Waseca, Minn.; and one year as the assistant coach at the University of Minnesota-Crookston.

Nunn has been the hitting coach at Dakota Wesleyan University for two years, and continues to serve as a hitting coach at youth clinics put on by the Minnesota Twins. Those clinics are something Nunn said are near and dear to his heart.

"I'm a big fan of working in the community," he said. "I just believe the community can make the team."

Nunn travels to cities across the country, meeting with up to 1,000 youth — not including their parents — at a time, and said he knows he's made an impression when he comes back to that city.

"You might go to a community with the Twins, and not go back for three years, and one kid will come up, 'Hey! Do you remember me?' Then you just sorta, 'Yeah, yeah. I do.' Sometimes you might, but most of the time you don't, but it's 'How you doing?' So now we know we touched that community."

And that sense of community is what Nunn is already seeing in Alamogordo.

"Right now, the people are very, very nice," he said. "They always say the midwest people are friendly, but these guys are right along with them. I'm pretty happy to be here."

That sense of community will be evident when the Pupfish open their season Tuesday at home vs. Alpine. The season opener will start at 10 a.m., with all the community's elementary school students invited to the game.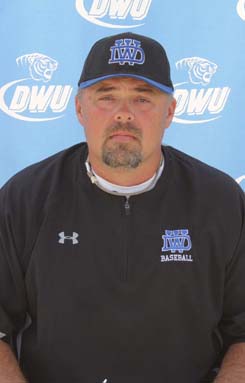 ---
Kevin Nunn

---
For more information visit Pecos League of Professional Baseball Clubs LLC. http://www.PecosLeague.com 575-680-2212