Pecos League Shuffle Continues
---
11/27/2010- The Pecos League of Professional Baseball continues to have an open shuffle on final cities for 2011 season. In the week of Dec 10th Pecos League officials are scheduled to meet with Eagle Pass, Carlsbad, Odessa, Bisbee and Del Rio about possiblity of scheduling games/putting teams in their cities for 2011 season..

Del Rio Texas had joined the league and hired an operational staff before Babe Ruth Baseball 13-17 year olds protested the Aviators taking field slots away from their youth program. This move could destroy the four month project by Al Arreola Jr, Ron Wrob and Andrew Dunn of putting a professional team in Del Rio.

Many have questioned the Pecos League for wanting to put in team in Del Rio from the beginning because of stadium issues and the distance from other cities. Del Rio will hold a meeting Tuesday Night November 30 to determine the fate of the team. Should Del Rio opt out of the Pecos League this would open up opportunity for other cities to bring baseball to their town.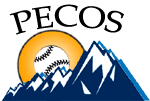 ---
---
For more information visit Pecos League of Professional Baseball Clubs LLC. http://www.PecosLeague.com 575-680-2212