New Fuego mascot will meet the public April 27
---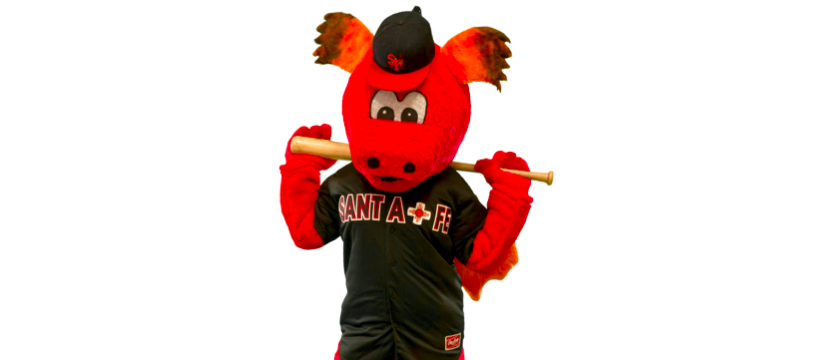 4/19/2013-
For the Pecos League

SANTA FE — For many young baseball fans, an encounter with a team's mascot is a highlight of the game. That will certainly be true this year in Santa Fe because the Fuego, along with team sponsor McGee Memorial Chapel, have created McGee the Dragon to bring added fun to a new summertime favorite in the City Different.

The crack of a bat, crowds cheering, children giggling at the mascot's antics — all the sights and sounds that make baseball America's favorite pastime are about to return to Santa Fe for a second season at Fort Marcy Park. To kick off the new season, fans and families will get a chance to meet the mysterious new mascot in person April 27 during the Play-a-thon on the Plaza, the Santa Fe Youth Symphony's annual concert. The combination of a baseball rally for the Fuego and live music presented by talented kids from across Northern New Mexico make this a perfect family event.

Fuego manager Bill Moore and McGee will take the stage from noon until 12:30 p.m. to lead the cheers. Following this introduction, Moore, along with several players plus McGee, will hang around to meet and greet fans, pose for pictures and sign autographs.

When asked about the affiliation, Russ Harman, managing director for McGee Memorial Chapel and Berardinelli Funeral Services said,"We're really happy to be a part of this. We've been a part of this community and celebrating families for generations, so what better way to do that than sponsor the Youth Symphony and Santa Fe's baseball team."

In 2009, the Las Cruces Vaqueros brought Independent baseball into New Mexico for the first time since the 1960s. Their success opened the door and the Pecos League of Professional Baseball Clubs was formed in 2010 with teams in Las Cruces, Roswell, Alamogordo, Ruidoso, Carlsbad and Alpine, Texas. The Santa Fe Fuego debuted in 2012.