Vaqueros get complete performance against Gears
---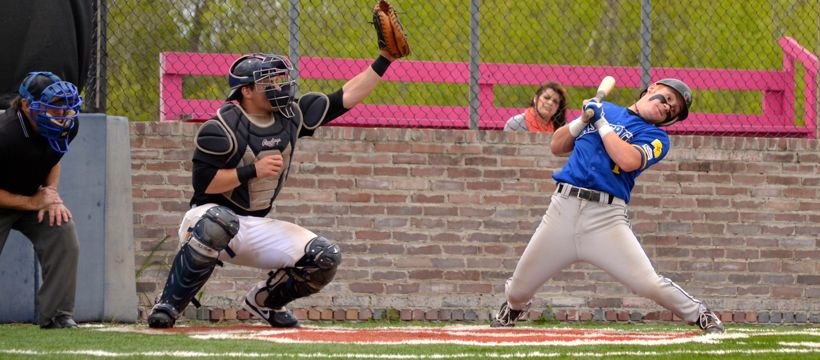 Dylan Stone vears out of the way of this Clayton Vanderlann offering


3/22/2013-
By Karen Boehler
Pecos League writer

HOUSTON — For four innings in Thursday's Pecos Spring League game between Las Cruces and Mesa, things stayed close, as the starting pitchers each kept the other side off balance. But after Garden of Gears ran out of relief pitching, the Vaqueros teed off on a pair of Gears relievers, getting an 18-5 victory.

"Finally put together a complete game," said Vaqueros manager Casey Dill. "We minimized the errors. We didn't walk a lot of guys. Didn't give a lot of free passes. And today we played a complete game for the first time in a while, and hopefully we can do it again."

Las Cruces went up 1-0 off starter Clayton Vanderlan — a guest pitcher from the Frontier League — when Carl Johnson singled, stole second and came home on a single by Edison Alvarez.

Joe Hicks doubled off Alvarez and got to third on a stolen base, but when stranded when Alvarez then struck out the side. Both pitchers had a quick second inning, but then the Vaqueros picked up five runs in the third, scoring on five singles, a walk and a sac fly.

Mesa came back in the bottom of the stanza, scoring two on a single by Vanderlan, a double by Kyeong Min Kim and a two RBI single by Hicks, closing the gap to 6-2.

After a double play got the Gears out of the top of the fourth, they made it 6-3 when Mark Heil singled, advanced on two hit batters then came home on a sac fly by Vanderlan.

But after that, a guest Gears pitcher opened the fifth with back-to-back home runs by Johnson and Alvarez, then walked three and hit one before giving up a single to Dylan Stone and double to Travis Fuquay. That was it for the reliever, and after hitting the first batter he faced — forcing in one more run — Yoshimune Tsujii got the next three batters.

Tsujii had a somewhat tougher sixth, giving up five more runs on two walk, a hit batter, doubles by Effrain Garcia and Langham and a costly error that made none of the runs earned.

Brandon Brown came on in relief for Las Cruces in the sixth, giving up a final two Gears runs. Brennan May reached on an error, stole second and scored when Zach Kreegar hit a high shot that curved in the strong winds and dropped for a double. Kreegar came home on a ground out and single by Kyle Zimmerman.

After the Gears said they had no more pitching, the game wrapped up after six.

Eight of the 10 Vaqueros playing got at least one hit, led by Alvarez, who was 3-for-4 with 4 RBI and two runs scored; Johnson, 2-for-3 with two runs and RBI; Stone, 2-for-3 with three runs and 1 RBI; and Fuquay and Langham, who were both 2-for-4 with two runs and RBI.

Las Cruces also had four doubles and two home runs.

"The first guy we saw was a Frontier League pitcher, and we hit him as good as anyone else they brought into the game," Dill said. "We came into the yard today ready to play baseball, and that's one thing we've been doing since the very beginning of the league. And today we finally put a complete game together. We had good pitching. Good defense and we hit the ball well. I think it's the first all-around complete game we've had in a long time. It was good to see."

Hicks led the Gears, going 2-for-3 with 2 RBI.

Gears manager Bill Moore wasn't going to pin the loss on the reliever, but did say the game could have been close.

"I'm not going to blame anybody," he said. "We had some guys hit some balls well. We scored enough runs to win a normal ball game."

The Gears will take on league-leading Houston Saturday at 10 a.m. at Coastal Baseball Park.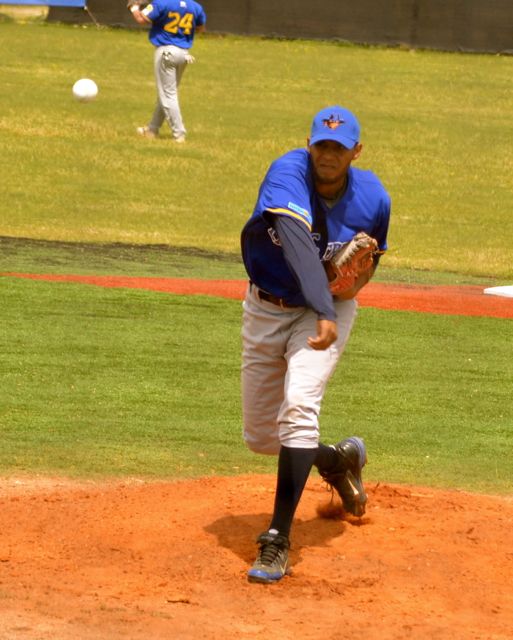 ---
Edison Alvarez struck out eight en route to a five-inning victory over Mesa. (Photo by Karen Boehler)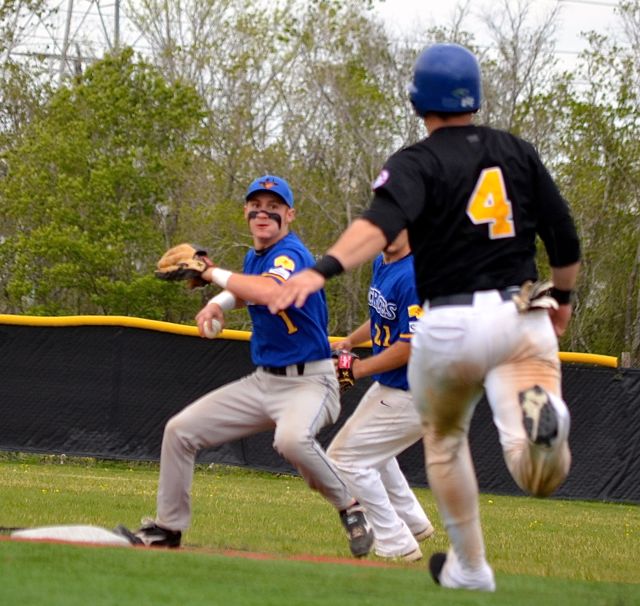 ---
Dylan Stone gets ready to turn a double play. (Photo by Karen Boehler)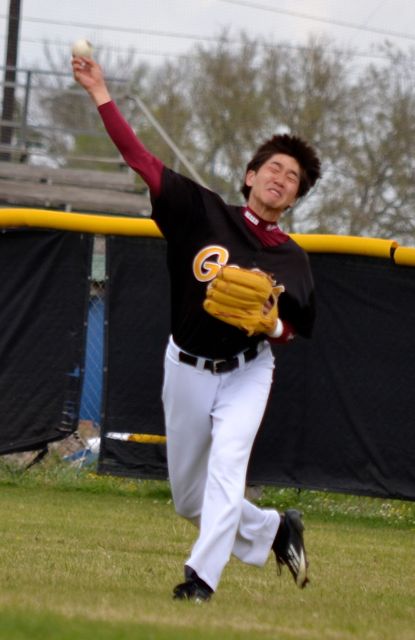 ---
Kyeong Min Kim throws in from left. Kim was 1-for-2 with a double and run scored. (Photo by Karen Boehler)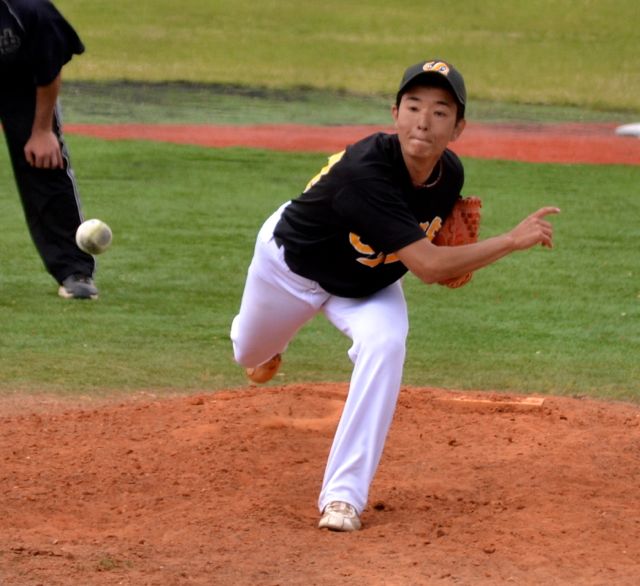 ---
Yoshimune Tsujii came in in relief in the fifth inning. (Photo by Karen Boehler)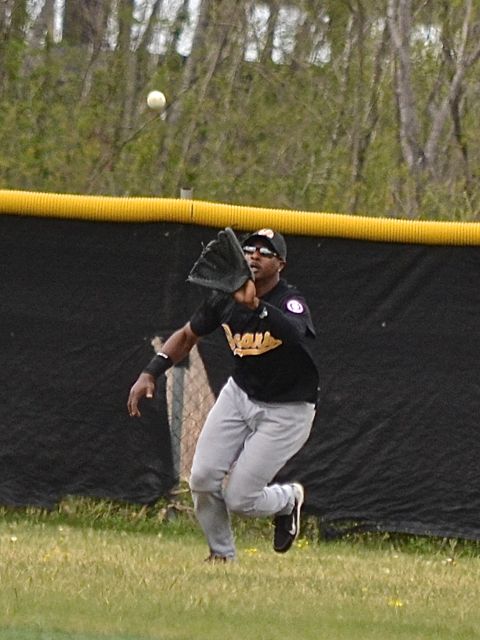 ---
Joe Hicks makes the catch in left. Hicks led the Gears at the plate. (Photo by Karen Boehler)
---
For more information visit Pecos League of Professional Baseball Clubs LLC.
http://www.PecosLeague.com
575-680-2212