Multi-talented Alvarez wowing fans on the mound and at the plate
---
3/17/2013-
By Karen Boehler
Pecos League writer

HOUSTON — Whenever Edison Alvarez is scheduled to pitch in the Pecos Spring League, people are there to watch. Alvarez, a 6-foot-3, 165 pounder from the Dominican Republic, has the most time with affiliated ball of any player in the league, which naturally has folks watching to see if he has what it takes to get back to that level.

Signed by the Minnesota Twins as a 16-year-old in his home town of Villa Gonzales, Santiago, DR, Alvarez pitched for three years in the Dominican Summer League, then moved to the Gulf Coast League before he was released. Why, he doesn't know.

"Baseball is like that," he said. "That happened. They didn't even tell me (why.) They just tell me the team was going to release me."

In four years of batting in the minors, Alvarez had a 10-9 record with a 2.34 ERA with 117 strikeouts over 154 innings pitched. His time with the Spring League is a chance for him to return to baseball, to as high a level as he possibly can, by showing he still can pitch.

"(The league) gives you the opportunity to show your talents and the other teams they can see you and they can pick you up from here to a higher level or affiliated teams. That's our goal, to play affiliated teams," Alvarez said.

When Alvarez signed with the Twins, it was as a right-handed pitcher. The scouts, he said, wanted to protect his arm, and develop his talent at one position.

But pitching right handed isn't all he can do. He said he grew up hitting and throwing both right- and left-handed, and can still go from either side.

He regularly bats third in the Vaqueros lineup, hitting regularly and with power. In five games, he's hitting .300 with a double, home run and 5 RBI. And while you hear folks complaining because the Pecos League uses National League rules — meaning pitchers have to bat — Alvarez isn't one of those.

"I love it. I love it, definitely," he said of coming up to the plate. "I think every pitcher would love to hit because we don't have too many chances to hit, so when you got places to places to hit, you love that place. If you're doing good, it's good. If you're doing bad you'd probably be a little ashamed."

His pitching credentials are equally impressive.

Although he only has one win, his two losses came when his team didn't back him up, making far too many errors in the field. Until Friday's game vs. the Apollos, he had a 0.00 ERA. (It's still a minisicule 0.58.) He's only allowed one run and eight hits in 12 innings pitched. All that mean his odds of getting picked up by someone are very good.

Alvarez started playing at at 11 years old when his family got him into the game.

"The brought me to the field and I started playing," he said.

He realized he wanted to be a professional baseball player when, as a youngster, Mets shortstop Jose Reyes came back to Villa Gonzales, where he also is from.

"He had his own car and everybody liked him, so I decided I would like to be like him," Alvarez laughed.

If Alvarez keeps playing like he has been though the Spring League, he just might get there.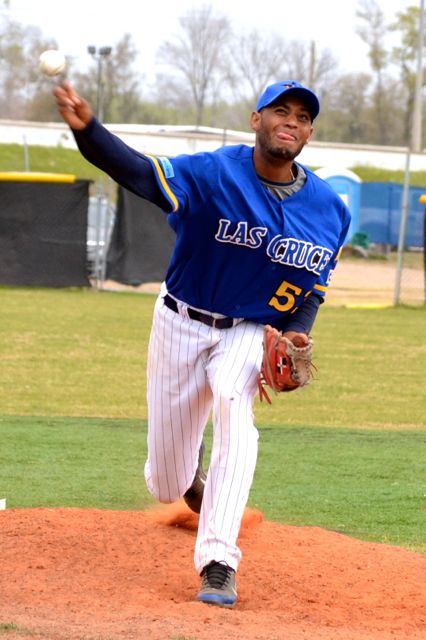 ---
Edison Alvarez

---
For more information visit Pecos League of Professional Baseball Clubs LLC. http://www.PecosLeague.com 575-680-2212